Miley Cyrus on the VMAs Red Carpet: A Study in Near-Nakedness
There's just so much to see.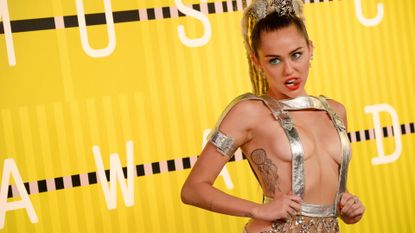 (Image credit: Getty Images)
Celebrities have been doing the naked dress thing since the dawn of time (or at least the internet). But Miley Cyrus has, I think, just topped them all. In an Atelier Versace-designed look that can only be described as a pair of gold overalls with a bejeweled loincloth attached, she's throwing down the nudity gauntlet.
And to great effect. (And little surprise.) She looks pretty damn impressive—it's like she's wearing nothing but confidence and tattoo ink.
It should be noted that there appears to be some kind of nude thong situation under that sparkly skirt, so she's not *totally* exposed.
And, of course, there was much hair swinging to celebrate.
To see the rest of tonight's red carpet looks, click here.
As the editor of Cosmopolitan, Jess oversees the editorial for all of Cosmo's efforts across print, digital, video, and emerging platforms. Previously she served as the digital director of Marie Claire, where she tripled the readership, and she's held print and hybrid posts at Glamour and Teen Vogue. In 2013 she launched an interactive e-commerce platform for a fashion-tech startup, and in a former life she was a ballet dancer and NYU film student. She lives in Manhattan with her scruffy dog George.