The 13 Best Celebrities to Follow on Snapchat
No, not DJ Khaled.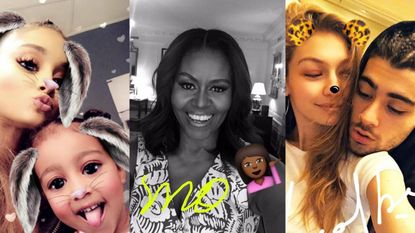 (Image credit: Snapchat)
Maybe you don't care about celebrities and you only use Snapchat to play with filters and stalk your younger brother's drunken antics. That's fine. But perhaps your ardent no-celebrities-on-my-Snapchat stance is simply because you aren't following the right accounts.
Consider DJ Khaled's jet ski (mis)adventures the gateway drug to more entertaining tomfoolery straight out of Hollywood. See below.
Chrissy Teigen (chrissyteigen)
She's Chrissy Teigen, dammit. Do it for the cooking snaps, the cute baby (hi, Luna!), and for the heavenly moments with the husband we begrudgingly share with her her husband John Legend.
Spencer Pratt (prattspencer)
Spencer Pratt literally chronicles his entire life on Snapchat. So if you miss his iconic presence on The Hills, this is your jam.
Chris Pratt (chrisprattsnap)
If Spencer isn't your jam, allow us to present an alternative Pratt.
Ariana Grande (moonlightbae)

Obviously, Ariana Grande is extremely on board with all the animal filters Snapchat has to offer. And sometimes North West makes appearances on her feed, so what's not to love?
John Mayer (johnthekangaroo)
All the (very weird) skincare secrets you never knew you needed.
Michelle Obama (michelleobama)
Who wouldn't want a glimpse into our former FLOTUS' life?
Gigi Hadid (itsgigihadid)
Come for Gigi, stay for Zayn.
Emily Ratajkowski (emrata)
One word: FOMO. (Okay, that's an acronym not a word, but still.)
Kylie Jenner (kylizzlemynizzl)
Sorry, but you knew this was coming. Following Kylie on Snapchat is basically a requirement of using the app. We're in this together. Crotch air-drying in a CVS bathroom and all.
Bella Hadid (babybellz777)
#GoalsGoalsGoalsGoalsGoalsGoals
Calvin Harris (calvinharris)

Still on point, even without the Taylor Swift sightings.
Jared Leto (jaredleto)
Leto's Snapchats are like artistic cries for help. Yeah, sometimes they're vaguely terrifying, but it's all in good fun.
Marie Claire (marieclaire)
Prepare yourself for lots of cocktail snaps. (FYI, we're mostly like Chrissy with a dash of Gigi, and we're just as weird as Jared Leto. Well, maybe not quite.)
Follow Marie Claire on Facebook for the latest celeb news, beauty tips, fascinating reads, livestream video, and more.
As Cosmopolitan's deputy editor, Rosa Heyman oversees a team of whip-smart editors and hilarious writers who bring you some of the best investigations on the internet, from dissecting the latest Kardashian drama to uncovering the link between white supremacy and misogyny. She currently manages the news and social teams and develops the strategy for how the brand best distributes content. You can usually find Rosa glued to her phone workshopping a cheeky caption for Cosmo's Instagram account.