Inside Fall's Sexiest New Show
Inside fall's sexiest new show.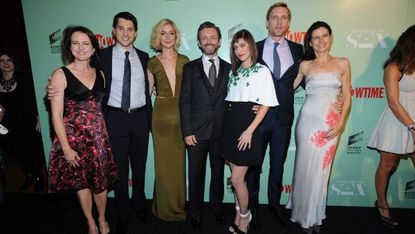 (Image credit: Marie Claire)
Last night on the red carpet for Showtime's Masters of Sex, the event's theme was loud and clear: Let's talk about sex. No one busted out the Salt-N-Pepa karaoke staple, but the premiere was the hottest thing to hit New York's Morgan Library and Museum since de Kooning.
Debuting Sunday, the series fictionalizes the lives of 1950s sex researchers William Masters (Michael Sheen) and Virginia Johnson (Lizzy Caplan). Though women were once seen by the medical community as passive receivers, the scientists' work proved that women have desires, too.
Critics are calling it the fall's best new show, and for good reason. Unlike recent period flops (ahem, Pan-Am), Masters is much more than a Mad Men knock-off. The nuanced series captures the sexual revolution, disguised in hospital whites instead of tie-dye. The show's creator, Michelle Ashford, allows Caplan and the other female characters to own and enjoy their sex lives—free from the parallel tropes of shame or, alternatively, Miley Cyrus hammer-licking. Think of it as the sexiest history lesson you've ever had.
And of course, the costumes rock (kudos to costume designer Ane Crabtree). "What's incredible about stepping into the costumes on set is, you're getting into character from the ground up," actress Helene Yorke said at the premiere. "You're wearing underwear that is the most insanely complicated thing. There is a girdle; there is a big bra, and little clippies that you clip your stockings to keep the stockings up." The result? "You stand differently and you feel different and you feel that you're in that time." Fellow cast member Caitlin FitzGerald agreed, describing that after the hours of makeup, hair, and costuming before she steps on set, "It's like I've time-traveled back to the 1950s."
Masters of Sex premieres Sunday at 10 PM EST on Showtime.