41 Celebrity Mothers and Daughters at the Same Age
Can you guess who is who?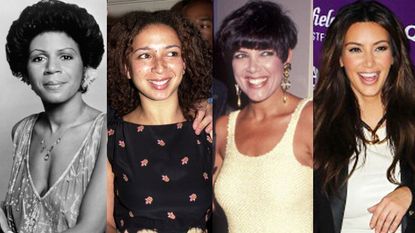 (Image credit: Getty Images)
From Reese Witherspoon's partner in crime Ava Phillippe to Cindy Crawford's mini-me Kaia Gerber, it's easy to see the resemblance between these celebrity mother-daughter pairs now—but it's even more striking if you examine pictures of the two at the same age. From their identical looks to what point in their careers they were, we're giving you the full rundown of just how similar these famous ladies are.
Heather Locklear and Ava Elizabeth Sambora at 20
At 20 years old, Heather Locklear had just landed her breakout role as Sammy Jo Dean Carrington on Dynasty. Her daughter with Richie Sambora, Ava, is following in her mom's footsteps. She made her acting debut in 2012 in Judd Apatow's This Is 40.
Robin Wright and Dylan Frances Penn at 27
When Robin Wright was 27 years old, she was a household name in Hollywood; one of her most iconic roles (as Jenny Curran in Forrest Gump) was just about to premiere. Robin's daughter with Sean Penn, Dylan, is a model and actress. You might recognize her as the mystery woman from Nick Jonas' "Chains" music video.
Diana Ross and Tracee Ellis Ross at 40
At 40 years old, Diana Ross was well into her singing career. Similarly, Tracee has established herself as a household name as an actress and a comedian, most recently as a lead on Black-ish.
Madonna and Lourdes Leon at 22
Kyra Sedgwick and Sosie Bacon at 26
Kyra Sedgwick had already been married to Kevin Bacon for several years and established herself as an actress in Hollywood by the time she was 26. As for her daughter, her recent role in 13 Reasons Why put her on the map to follow in her mother (and father's) footsteps.
Courtney Love and Frances Bean Cobain at 17
When Courtney Love was 17 years old, she was just getting her start in music and chasing fame. As for Frances Bean Cobain, Courtney's daughter with the late Kurt Cobain, she's been in the spotlight since birth.
Vanessa Paradis and Lily-Rose Depp at 19
At 19, Vanessa Paradis was well known as a French musician, actress, and fashion model—in fact, she got her big break at 14 with the song "Joe le taxi." Lily-Rose, Vanessa's daughter with Johnny Depp, also got a young start: at 15 in the movie Tusk. Now, the 20-year-old is a well-known model.
Candace Cameron Bure and Natasha Bure at 18
Candace Cameron Bure had been working in television for 11 years by the time she was 18. The child star's oldest daughter, Natasha, got her first acting credit at 13 years old, but music is her main passion. She appeared on The Voice when she was 18, the same age she is in this photo.
Kim Basinger and Ireland Baldwin at 23
After finding success as a model, a 23-year-old Kim Basinger started pursuing a career in acting (she eventually starred in L.A. Confidential and Batman). Her daughter, Ireland, with ex-husband Alec Baldwin is a highly sought-after model.
Blythe Danner and Gwyneth Paltrow at 46
When Blythe Danner was 46 years old (the age Gwyneth Paltrow is now!), she had been a working actress for 21 years. By the same age, Gwyneth has been working for 30 years. But it's fair to say Gwyneth had a leg up on her mom, given the careers of her parents (her father is the late producer and director Bruce Paltrow).
Kennya Baldwin and Hailey Bieber at 22
At 22 years old, Kennya Baldwin was still two years away from marrying her husband, Stephen Baldwin. Today, 22-year-old Hailey Bieber is one of the most famous faces in the world due to her modeling career and marriage to Justin Bieber last year.
Kris Jenner and Kim Kardashian West at 35
At 35 years old, Kris already had four kids at home. At the same age, Kim had two—but has since had two more.
Debbie Reynolds and Carrie Fisher at 40
Debbie Reynolds had been an actress for 24 years by the time she turned 40, with leading roles in classic movies like Singin' in the Rain and The Unsinkable Molly Brown. Carrie had reached a star status in her own right by 40, having already starred in When Harry Met Sally, Hannah and Her Sisters, and, of course, in the Star Wars franchise as Princess Leia.
Carrie Fischer and Billie Lourd at 26
At 26, Carrie Fisher had already starred in two Star Wars movies as Princess Leia. As for Billie Lourd, Carrie's daughter with Bryan Lourd, she's starred in the TV series Scream Queens and appeared in multiple Star Wars installments as Lieutenant Connix.
Lisa Bonet and Zoë Kravitz at 27
Lisa Bonet's role as Denise Huxtable in The Cosby Show skyrocketed her to fame, and her relationship with Lenny Kravitz got her loads of attention too. Her daughter with Lenny, Zoë, worked hard to be viewed as a serious actress in her own right, most recently starring in the hit HBO series Big Little Lies.
Melanie Griffith and Dakota Johnson at 26
Melanie Griffith started modeling at just nine months old and debuted on screen as Delly Grastner in Night Moves at 19. Her daughter with Don Johnson is also an actress. Dakota became a household name for her role as Anastasia Steele in the Fifty Shades of Grey franchise.
Demi Moore and Rumer Willis at 27
At 27 years old, Demi Moore had already had a few notable roles in cinema, including as Debbie in About Last Night... and as Jules in St. Elmo's Fire. Rumer, her oldest daughter with Bruce Willis, has followed in both of her parents footsteps and by age 27 had 31 acting credits to her name.
Phylicia Rashad and Condola Rashad in Their Mid-30s
In her mid-30s, Phylicia landed the role of Clair Huxtable on The Cosby Show and her life was forever changed. Her daughter with Ahmad Rashād is also an actress, but she's better known for her theater work, primarily her portrayal of Lynn Nottage in the 0ff-Broadway play Ruined, which won a Pulitzer Prize.
Jerry Hall and Georgia May Jagger at 24
Jerry Hall was already a world-renowned model by 24 and had made her transition into acting with the '80s film Urban Cowboy. As for Georgia, Jerry's daughter with Mick Jagger, her modeling career began at 16 and she's recently moved on to fashion design.
Kathy Hilton and Paris Hilton at 26
By 26, Kathy was married and the mother of two girls, Paris and Nicky. Here's a look at what Paris looked like at the same age, when she was still very much a regular fixture in the tabloids.
Goldie Hawn and Kate Hudson at 37
By the time Goldie Hawn and Kate Hudson were both 37 years old, they'd led similar careers. Both were known for their charming lead roles in romantic comedies.
Yolanda Foster and Gigi and Bella Hadid at 20
Minnie Riperton and Maya Rudolph at 28
At 28 years old, singer-songwriter Minnie Riperton was in the prime of her career thanks to her 1975 single "Lovin' You." The age of 28 was similarly significant for Maya, who was cast in Saturday Night Live that year.
Peggy Lipton and Rashida Jones at 40
By 40, actress and model Peggy Lipton was already a big name thanks to her role as Julie Barnes on Mod Squad and her marriage to Quincy Jones. As for Rashida, she had already been part of several successful shows, including The Office and Parks and Rec.
Susan Sarandon and Eva Amurri at 31
Susan Sarandon had already starred in cult classic The Rocky Horror Picture Show by 31 and had been steadily working as an actress for years. The same goes for Eva, who had 33 acting credits to her name by the time she was 31.
Reese Witherspoon and Ava Phillippe as Teenagers
Reese Witherspoon was already a working actor at 18, but had yet to star in most of the movies she's known for today. As for Ava, turning 18 meant graduating from high school and pursuing modeling. One of her biggest breaks to date has been starring in Rodarte's Fall 2018 collection look book.
Janet Leigh and Jamie Lee Curtis at 23
Janet had already signed with MGM studios and was starring in pictures like Little Women and The Romance of Rosie Bridge by 23. After marrying fellow actor, Tony Curtis, Jamie Lee Curtis was born. She also pursued acting and become a household name after starring in Halloween at 20.
Cindy Crawford and Kaia Gerber at late teens
Cindy Crawford got her first taste of modeling during her junior year of high school in a local publication called DeKalb Nite Weekly and by the time she was 17, Elite Model Management was representing her. Kaia is also a model and by the age of 18 she'd already walked in fashion shows for Chanel, Versace, and Marc Jacobs.
Jayne Mansfield and Mariska Hargitay at 27
At 27, '50s bombshell Jayne Mansfield was under contract with 20th Century Fox and had appeared in films like The Wayward Bus and Too Hot to Handle. Her daughter, Mariska, was only 3 years old when her mother passed away in a car accident, but followed in her Hollywood footsteps. At 27, Mariska began starring in the hit TV show Law and Order: Special Victims Unit, which is going into its record-breaking 21st season this year.
Lori Loughlin and Olivia Jade Giannulli at 18
At 18 years old, Lori Loughlin had already gotten her start as an actress in Hollywood. Similarly, Olivia Jade Giannulli had established herself as a beauty influencer by 18, but the recent college admissions scandal has halted both of their careers.
Christie Brinkley and Sailor Brinkley-Cook in Their Early 20s
Christie Brinkley was on the precipice of conquering the modeling world at 23, as she landed her first Sport's Illustrated cover a few years later. Now it's her daughter Sailor's turn. In 2017, the mother-daughter duo appeared in Sport Illustrated together, along with Christie's eldest daughter from her marriage to Billy Joel.
Andie MacDowell and Rainey and Margaret Qualley in Their Mid-20s
At 29, Andie MacDowell had just received her breakout role–playing Dale Biberman, Emilio Estevez's girlfriend in St. Elmo's Fire—and was on the brink of some of her biggest roles. Similarly, her two daughters, Rainey (left at 29) and Margaret (right at 24) are both pursuing acting careers. Most recently, Rainey was in Ocean's Eight and Margaret was in Once Upon a Time...in Hollywood.
Linda McCartney and Stella McCartney at 26
Linda Eastman was only 26 years old when she was introduced to Beatles Mania and married singer, Paul McCartney. Their daughter, Stella McCartney, launched a fashion collection in 1995 and at 26 earned an Elle Style Award for Best New Designer.
Priscilla Presley and Lisa Marie Presley at 22
Priscilla Presley was only 22 years old when she married the King of Rock and Roll, Elvis Presley. Lisa Marie also married young, saying "I do" to Danny Keough when she was just 20 (though the marriage didn't last).
Jada Pinkett Smith and Willow Smith at 19