29 Times Celebrities Went Out in Disguise
Is that you, Biebs?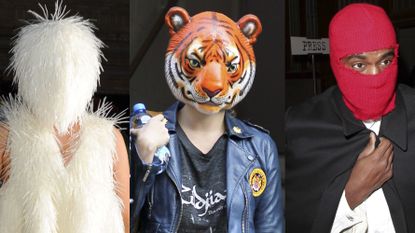 (Image credit: Getty Images)
Sometimes famous people just want to hit the mall without being attacked by the papz. Other times, it's unclear what's going on behind the mask. Here, a look at the most noteworthy times celebs attempted to hide their stardom.
1/14
2/14
Katy Perry
Katy demonstrates how to properly use your scarf/airplane blanket to ward off unwanted photos at LAX in 2013.
3/14
Katy Perry
Katy Perry showing that pillows can work as well, in 2016.
4/14
Lady Gaga
Lady Gaga arrives at the Rosalind Ball in 2014 proving she doesn't need to see — you only need to see her.
5/14
Jerry O'Connell
Jerry spoofs Shia LaBeouf at his own pop-up art installation in 2014.
6/14
Shia LaBeouf
Shia not being famous wearing decidedly normal hiker boots and sunglasses in 2013.
7/14
Dustin Hoffman
Bags were clearly popular circa early early aughts.
8/14
Drake
In May 2016, Drake disguised himself for Jimmy Kimmel Live and asked people what they *really* thought about him. The results are priceless.
9/14
Heidi Klum
As a *very* convincing elderly woman in 2013.
10/14
Willow Smith
Willow whipped her pink hair back and forth (not really) while shopping at Louis Vuitton in 2012.
11/14
Charlize Theron
Charlize masquerading in 2014.
12/14
Ashlee Simpson and Pete Wentz
Ashlee and Pete serving #RelationshipGoals on the streets of NYC in 2010.
13/14
Kesha
Kesha's 2010 mask is how I feel on Monday mornings at the office.
14/14
Lady Gaga
This 2011 street style shot is the inspiration for what I would wear to my rich husband's funeral when he mysteriously dies.
Simedar Jackson is an esthetician, content creator, and lover of sci-fi fiction living in Brooklyn, New York. She is passionate about creating space for Black and Brown people in the beauty and wellness industries by providing access to culturally nuanced education and services that meet their needs. You can find them doing their skincare routine, reminding friends to reapply SPF, and watching reruns of Love Island.