Why the Fourth of July Is Special to Meghan Markle and Prince Harry
Get ready to swoon.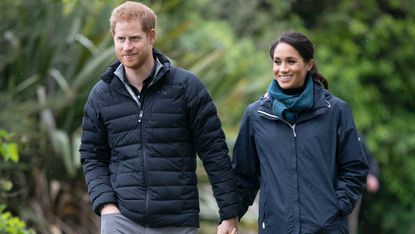 (Image credit: Getty)
Meghan Markle and Prince Harry have a romantic connection to the Fourth of July! Apparently, the royal pair had their second date on the American holiday and that's when their connection really blossomed.
Harry begins part 3 of his explosive memoir Spare about how he met his wife, Meghan. After he saw a video of her with a mutual friend named Violet, he thought he'd "never seen anyone so beautiful." The prince asked Violet to introduce him to Meghan.
Harry and Meghan later met at Soho House while she was in London. They must've really hit it off because they has their second date the following night on (wait for it...) July 4!
But, wait! There's more. Harry even brought Meghan a gift to apologize for being late for their first date.
"She walked in, wearing a pretty blue sundress with white pinstripes. She was aglow. I stood and said: I bear gifts. A pink box. I held it forward. She shook it. What's this?" the Duke of Sussex wrote. "She opened the box. Cupcakes. Red, white, and blue cupcakes, to be exact. In honor of Independence Day. I said something about the Brits having a very different view of Independence Day from the Yanks, but, oh, well."
The couple kissed and continued to have a great second date. "Again the conversation flowed, crackled," he wrote. "Burgers came and went, uneaten. I felt an overwhelming sense of Overture, Prelude, Kettle Drums, Act I. And yet also a sense of ending. A phase of my life—the first half?—was coming to a close."
Cue the fireworks!
Celebrity news, beauty, fashion advice, and fascinating features, delivered straight to your inbox!
Paulina is the Weekend Editor at Cosmopolitan.com. When she isn't covering celeb and pop culture news, she can be found listening to Taylor Swift, watching a teen drama (One Tree Hill is her favorite), or perfecting her skincare routine.