Prince Harry and Meghan Markle's New Strategy: No More "Dishing Dirt" on the Royal Family, Apparently
The Sussexes are in a rebranding phase.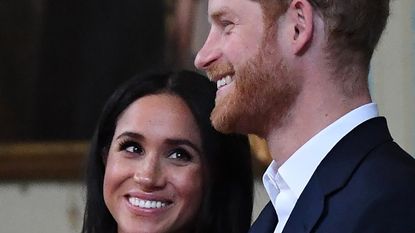 (Image credit: Getty)
It appears that Prince Harry and Meghan Markle are trying a new strategy out for size: No more "dishing dirt" on the royal family.
It's all a part of what's being dubbed the "Sussex rebrand," according to The Daily Express, and the couple "are set to take a new course and stop making damaging claims against the royal family," the outlet reports. Instead of focusing so much on the royal family, Harry and Meghan will be "carving out new projects, building on their Archewell brand, and distancing themselves from the Firm."
Harry and Meghan were only married for 20 months—from May 2018 to January 2020—when they stepped back as working members of the royal family in exchange for a life in the U.S. Since then, they've appeared in a bombshell interview alongside Oprah Winfrey in March 2021, released an eponymous Netflix docuseries, Harry & Meghan, in December 2022, and, in addition to numerous interviews in print and on television, Harry published his explosive memoir, Spare, last month. All of these projects have been mostly predicated on being tell-alls of Harry and Meghan's experience inside the royal family, and the couple has been talking about their experience as a married couple in the Firm longer than they actually were a married couple in the Firm.
But, according to The Daily Express, Spare is the last of the Sussexes' "look back projects," which Harry himself said in so many words to ITV's Tom Bradby: "Now we can focus on looking forward," he told the interviewer, "and I'm excited about that."
This new approach "will be aimed at improving their reputation and making amends with Harry's family," the outlet reports. Royal expert Afua Hagan tells The Daily Express that Harry and Meghan will shift towards projects that will be "less about what happened to them before" and more about new content, like supporting charitable causes and continually building Archewell, their shared nonprofit. She said there won't be any need to talk about the royal family in the way they've done so in the past, but that doesn't mean interviewers won't try to go there—"What interviewer wouldn't ask them?" she says—but Harry and Meghan probably won't take the bait, as they "are reaching a saturation point" with the number of attacks against the royal family.
"They can't keep going over and over and over the past forever," Hagan says. "It's just going to be painful." Hagan adds it's vital for the couple to bury the hatchet and "get on with their lives."
Public relations expert Shannon Peerless of branding agency 10Yetis told The Daily Express that she doesn't think the Sussexes will be able to escape the fervent interest surrounding their relationship with the royal family: "Whilst the drama may die down for Harry and Meghan in the not-too-distant future, the royal feud will unfortunately follow them around for years and years to come," she says. "Even if a reconciliation occurs, which it certainly could, the spotlight will be so heavily focused on them all that the rumor mill will never be far from churning into gear again."
As a part of the rebrand, royal historian Marlene Koenig suggested even a potential renaming, switching from the Duke and Duchess of Sussex—and, vis a vis, being known as "the Sussexes"—to simply going by the last name of Mountbatten-Windsor, which is the surname their children, Archie and Lilibet, carry.
"It would make much more sense and take away tension," Koenig says.
If the couple opt to do this on their own, she says, it would show both the U.K. and the Firm that they are prepared to "stop cashing in" on their royal status, she says.
"They need to be more than just their titles and move beyond using their connections to establish a new life in America," Koenig says.
All of this said, we're still hearing buzz that Meghan may be in talks to write a memoir of her own, which no doubt will at least have some focus on her 20 months as a working member of the royal family.
Contributing Royal Editor
Rachel Burchfield is a writer whose primary interests are fashion and beauty, society and culture, and, most especially, the British Royal Family. In addition to serving as the royal editor at Marie Claire, she has worked with publications like Vogue, Vanity Fair, ELLE, Harper's Bazaar, and more. She cohosts Podcast Royal, a show that provides candid commentary on the biggest royal family headlines and offers segments on fashion, beauty, health and wellness, and lifestyle.