The New 'Fifty Shades Freed' Trailer Is Here and It Has *Everything*
No really, everything—possible adultery, potential car accidents, abduction, and yes, sex.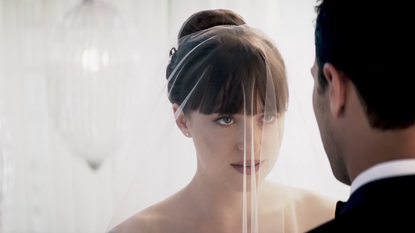 (Image credit: Universal)
It's that time of year again—no, not holiday season, or the beginning of awards season, but the time when you must begin the months-long process of waiting for Valentine's Day to arrive so that you may once again see Jamie Dornan doing sex stuff in a Fifty Shades movie. What are we going to do in 2019 when there are no more Fifty Shades movies to keep us going? Woof, don't think about it.
RELATED STORY
Anyway, so much happens in the new trailer for Fifty Shades Freed that I can't help but think this movie is going to be at least three hours long. There's a hot architect creeping on Christian! Jack is back and trying to abduct Anastasia! Christian and Ana are getting married! Ana gets run off the road! The Red Room is back! Elena is still in the picture somehow! Ana puts a gun in her waistband! Jamie punches somebody! Buckle your seatbelt and get ready for one hell of a ride in the Submissive Special, because this trailer is as crazy as Jose thinking he still has a chance with Ana.
I'm the senior entertainment editor at Cosmopolitan.com, which means my DVR is always 98 percent full. I love romance novels, bourbon, and canceling plans so I can watch Lost for the 50th time.