The 14 Worst Things About Hugh Hefner, as Revealed in Holly Madison's New Book
From his incessant mansplaining to the constant infighting he created among girlfriends, Madison describes her life in the mansion as anything but happy.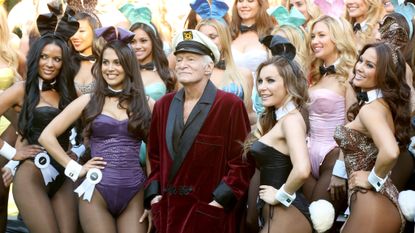 (Image credit: Getty)
"I didn't immediately realize that all girlfriends were required to sleep with Hef," Madison writes.
The photos "only amplified the massive pressure to always look perfect and cause the girlfriends to spend hours critiquing their appearances," Madison writes. (She also describes Hef as a "hoarder" with "endless desire for momentos.")
When Madison told him she doesn't do drugs, she says Hef replied, "Usually I don't approve of drugs, but you know, in the '70s they used to call these pills 'thigh openers.'"

You should also read:

Holly Madison Reveals What It Was Really Like to Be with—and Sleep with—Hugh Hefner
Madison says they would take turns pleasuring Hef, but he always finished by himself. Madison reveals that she made her first foray into Hef's bedroom after a night out with "roughly a third of a bottle of vodka sloshing around in my stomach." "There was zero intimacy involved," she writes. "No kissing, nothing. It was so brief that I can't even recall what it felt like beyond having a heavy body on top of mine."
This was Bedroom 3, which came with three beds and a private bath. "Though they never stayed over when I was there, there were still toys scattered across the bedroom floor," Madison writes, "which made for an incredibly odd and, frankly, creepy juxtaposition."

You should also read:

The 15 Worst Things Playmates Have Said About Living in the Mansion
Shortly after Madison moved in, she recalls, one girlfriend moved out of Bedroom 5, a small room that was coveted because it was a single, affording whoever occupied it much-needed privacy that was otherwise hard to come by in the mansion. It was assumed that April, who became a girlfriend only several months before Madison, would move into Bedroom 5, but instead she asked Hef if she could have Bedroom 3 entirely to herself. This was seen as unfair by the rest of the girlfriends based on how bedroom hierarchy had previously worked. But Hef approved her request, forcing Madison to move out of the room. Hef was also known to hate red lipstick, Madison says in her book. When Madison came home from the salon after a makeover that included shorter hair and red lipstick, Hef reportedly told her, "I hate the whole look. I hate the makeup and I hate the red lipstick." He added, "You look old, hard, and cheap." When Kendra Wilkinson moved in later and appeared before Hef wearing red lipstick, Madison braced herself for his wrath, only for him to tell Wilkinson, "Why, that red lipstick looks absolutely wonderful on you, Kendra!"
When Madison witnessed two of the girlfriends come in past 9 one night, Madison writes, Hef "kicked his feet, mustered up some questionable crocodile tears (was he really crying? I thought), and told them if they wanted to 'stay out late' they could move out."
"He made it abundantly clear that he preferred us in very over-the-top, sort of trashy outfits (think BeDazzled rhinestone bustiers and skirts so short there was barely a point in wearing them)," Madison writes. Compliments bestowed upon one girlfriend's appearance were noted and that very look would be adopted by the rest of the girlfriends on the next night out. For attiring themselves, Hef provided each girlfriend with $1,000 weekly "clothing allowance" and unlimited beauty services courtesy of his account at the José Eber salon in Beverly Hills. Plastic surgery also came courtesy of Hef, Madison says, the most commonly requested procedures including boob jobs, nose jobs, and liposuction. (Madison writes about working up the courage to ask Hef for a nose job.)

You should also read:

Holly Madison Hated Dating Hugh Hefner So Much That She Tried to Drown Herself
Madison writes, "the protocol was that we stay at Hef's table all night." Dancing was permitted so long as it was right in front of Hef's table. Girlfriends were allowed to leave only to go to the bathroom. When Hef left the party, usually at 1 a.m., the girlfriends "had to go upstairs with him." But some of the girlfriends snuck back down to the parties to meet men and celebrities. Only, they'd have to avoid the mansion's in-house video crew, who would place a highlight reel from the party at Hef's door the next morning.
"During movie nights"—which were scheduled to occur three nights out of the week at the mansion—"he would lean over to me to explain the plotlines and time periods in the most condescending of ways," Madison writes. Describing all her dialogue with Hef as "superficial," she said he refused to discuss books, politics, or current events with her.
She adds that Hef argued that the money the three got for posing for Playboy, which was filmed for the series, constituted their payment for the show as well. Whereas Madison reports amateur models got $25,000 for a pictorial, reality stars $40,000 to $50,000, and former girlfriends of Hef's, the Bentley twins, got $100,000, the three Girls Next Door ladies only got $25,000 for their shoot.
And warned her to watch her diet.
A mansion staffer would take photographs of women visiting for the first time, Madison says. The photos (mostly Polaroids) were saved for Hef to review the next day. "He would label them A, B, or C (based primarily on their looks but also on how scantily clad they were) before having them catalogued in his social secretary's office," Madison explains. Madison would eventually discover she received an "A."
You should also check out:
Holly Madison Reveals What It Was Really Like to Be with—and Sleep with—Hugh Hefner
The 15 Worst Things Playmates Have Said About Living in the Mansion
Holly Madison Hated Dating Hugh Hefner So Much That She Tried to Drown Herself
Amy Odell is the editor of Cosmopolitan.com. Chief amongst her interests are cats and Beyonce. She is a feminist (thank you for asking) and ex-fashion journalist. She is the author of the hilarious book of essays, Tales from the Back Row: An Outsider's View From Inside the Fashion Industry.