Charlize Theron on the Ugly Side of Motherhood
Talking new movie Tully with Theron, screenwriter Diablo Cody, and co-star Mackenzie Davis.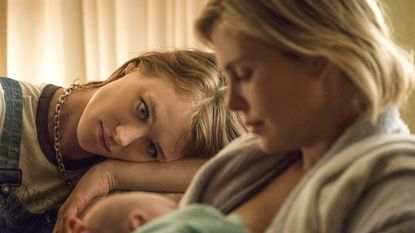 (Image credit: Courtesy )
Marie Claire Newsletter
Celebrity news, beauty, fashion advice, and fascinating features, delivered straight to your inbox!
Thank you for signing up to Marie Claire. You will receive a verification email shortly.
There was a problem. Please refresh the page and try again.
Charlize Theron stars in this month's Tully, screenwriter Diablo Cody's chilling dramedy, as Marlo, a harried stay-at-home mom. Her lifesaver: Tully, a twenty-something night nanny (Mackenzie Davis) who's nothing and everything she appears to be.
MARIE CLAIRE: TULLY IS ONE OF THE REALEST DEPICTIONS OF MOTHER-HOOD EVER SEEN ON-SCREEN. WHAT DID YOU WANT TO CAPTURE THAT YOU DIDN'T SEE ELSEWHERE?
DIABLO CODY: I actually wrote this script for therapeutic reasons—it was something I was living through. I've never seen an accurate representation of what it feels like to be underwater when you're struggling to care for your kids and to honor the person you used to be.
RELATED STORIES
CHARLIZE THERON: There was something so authentically true about everything in Diablo's script. I couldn't find a note of something that wasn't true, and I think that,for me, ultimately was the reason why I really wanted to be a part of it. We often gloss over what mothers go through, and we don't necessarily always get the entire truth told about what it takes to be a mother and what it takes to go through every single moment of motherhood. The uneasy, unpretty stuff.
MACKENZIE DAVIS: The script addressed all of the war-zone shit of being female and being a mother and having your identity shift in such a dramatic way. I was so into knowing all the dirt, the real dirt.
MC: THAT SAID, THE FILM IS STILL RELATABLE, WHETHER YOU HAVE KIDS OR NOT.
DC: Emotions are universal. And the relationship between Marlo and her husband in this movie is something people can relate to. A lot of us know how it feels when a relationship matures, and maybe some of that initial sparkle is gone, but you have to find something to cling toto keep it going.
MC: NOSTALGIA ALSO DRIVES THIS FILM.
CT: For Jason [Reitman, Tully's director] and Diablo and I,this theme is something we can see within ourselves and with our friends and the conversations that we hear. That kind of longing or romanticizing your young adulthood is something people don't talk about very truthfully because,for some reason, we feel like we didn't grow into the adults we were supposed to grow into or that something is lacking in our lives. I'm interested in characters who explore that part of themselves. I think those people are more well-adjusted. It's the ones who don't acknowledge it who are way more scary as humans, and I am always like, Oh, there is something that I don't completely trust there.
MD: Tully is in that sweet spot of her 20s right before you start being disappointed with who you are. And all the potential, all of your dreams feel like you haven't quite reached them yet. You're old enough to feel momentum and young enough to think that you have all the time in the world. It can be nauseating in large doses, but in small doses, it's a really nice reminder not to be so cynical.
MC: IT'S IMPOSSIBLE NOT TO FEEL FOR MARLO AND WANT TO CONNECT WITH HER.
MD: It's harrowing to watch Marlo in the movie doing everything alone. You just want to shake her, or shake her husband, and be like, "Notice this!"
MC: "HARROWING" IS A GOOD WORD.
MD: That scene where Charlize is picking up the baby and putting her down over and over...even just being there onset and watching them film, I almost had a panic attack. It's just too much.
MC: IF YOU COULD TELL MARLO ANYTHING, WHAT WOULD YOU SAY?
CT: You think, This is my life forever, and it isn't.
DC: I would reach through the screen and tell her that in a few years things will settle down; it's just that moment she's in is so specific and so dizzying, and when it's happening, it feels like it's never going to end. I could be the lighthouse in the distance.
This article appears in the May issue of Marie Claire, on newsstands now.
Celebrity news, beauty, fashion advice, and fascinating features, delivered straight to your inbox!
As deputy editor, Jen oversees Cosmopolitan's daily digital editorial operations, editing and writing features, essays, news, and other content, in addition to editing the magazine's cover stories, astrology pages, and more. Previously, Jen was a senior editor at Marie Claire. Before that, she worked at GQ.