12 Things We Learned from 'Game of Thrones' Last Night
"What is dead may never die" ...right?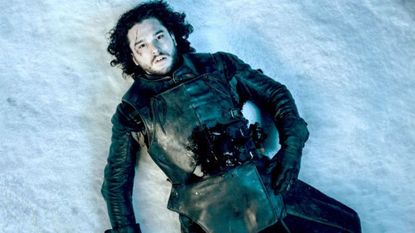 (Image credit: HBO)
SPOILER ALERT for Season 6, Episode 2, "Home"
Tonight, Game of Thrones provided a MAJOR sequel to its season premiere. Just as "The Red Woman" did, today's "Home" also yielded some major plot twists and surprises—perhaps even more shocking than last week's episode. Here are the major takeaways from the latest episode:
1) Bran sees his father again—but in the past. We finally found out what Bran was doing that season he was away: Warg training with the Three-Eyed Raven. In tonight's lesson, he travels back in time (while standing and walking in his visions) to go to what looks like Winterfell, back when his father Ned Stark was a boy. He and the Raven look on as Ned and his brother Benjen practice their sword fighting. Now we know that Bran's powers include not only going into the minds of animals, but also traveling back in time as himself. The only issue is that no one can see him while he's there.
2) Lyanna Stark makes her first appearance. Ned's sister Lyanna, who supposedly died during the uprising of Robert's Rebellion, when she was kidnapped by Rhaegar Targaryen, also appears in Bran's vision as a child. As Bran tells the Raven, she has a tomb in the bowels of Winterfell, but he doesn't know much about her. "My father never talked about her," said Bran.
3) Hodor wasn't always Hodor. He used to be named Wylis, and he could speak. He knew the Starks because he was a stableboy at Winterfell during Ned's childhood.
4) The Night's Watch surrender to the Wildlings. Just as Sir Davos suggested in last week's episode, the Wildlings team up with members of the Night's Watch to avenge Snow's death. They storm Castle Black, but aren't met with a fight. Instead the men in black drop their weapons, and the invaders imprison Alliser Thorne and the rest of Jon's murderers.
5) Tommen is ready to step it up. King Tommen didn't allow his mother Cersei to attend Myrcella's funeral in an attempt to keep her safe. He felt guilty for leaving her in prison and letting her undergo public shaming without protecting her. Though Cersei is upset she didn't get to attend her daughter's funeral, Tommen visits her (his first time seeing her since she was put in jail) to ask for her forgiveness and help. "You raised me to be strong, and I wasn't. But I want to be. Help me," he pleads, and Cersei response with an embrace. Will we be seeing a stronger side from Tommen?
6) Daenerys' dragons are freed, thanks to Tyrion. Convinced they know he's their ally, Tyrion visits Daenerys's two remaining dragons in the dungeon. Though there is tension at first, he is able to approach and pet them, but he gets too comfortable as he sets them both free from their chains. The scene ends with Tyrion making a hurried escape, though there's no sign of whether the beasts have made it outdoors.
On another note, Tyrion's connection with the dragons is interesting. In the scene prior to his visit, he tells the room (including Missandei, Grey Worm and Lord Varys) a brief history of Aegon Targaryen's dragons. Later on, while visiting the reptiles, he calms them by telling them a story of how he wanted a pet dragon as a gift for his name day when he was younger. Are they innocent anecdotes or strong hints at Tyrion's possible Targaryen lineage?
7) Arya is not a beggar anymore. After getting taunted and beaten by the waif, Arya gets intercepted by Jaqen H'ghar. He tempts her with shelter, food and eyesight if she says her name, but she responds each time with, "The girl has no name." Having passed the test, H'ghar leads her off the streets, telling her she's not a beggar anymore.
8) Ramsay: 3. House Bolton: 0. Ramsay has achieved crazy killer status once again. After hearing word that his father Roose Bolton's wife Walda gave birth to a boy, he realizes that the child replaces him as heir. Ramsay kills his father on the spot and tells his servants to send a raven saying Roose was poisoned by their enemies. Her finishes his mission by feeding Walda and her newborn son to the dogs. "I prefer being an only child," he says.
9) Theon is going back home. Theon decides to return to the Iron Islands and refrain from taking Sansa to Castle Black. "I would've taken you all the way to the wall. I would've died to get you there," he told Sansa before taking off. Now, she's left with Brienne and Podrick to complete the journey. Moments before, we see Brienne telling Sansa about the last time she saw Arya, which was when she was still traveling with the Hound.
10) Balon Greyjoy dies. Before Theon can reach home, his father falls to his death. While crossing a rickety bridge (which seems like a bad idea in a rainstorm) at his castle, the Greyjoy patriarch encounters his younger brother, Euron, whom he thought was long dead. Euron reveals his plot to rule the Iron Islands, Balon stabs him in the stomach, and Euron throws him off the bridge, sending him falling to his death. The following day at his funeral, his daughter Yara Greyjoy threatens to feed the guilty party "to the sharks while they live." Ironically, their catchphrase is, "What is dead may never die."
11) Melisandre tests her powers. In an act of desperation, Davos begs Melisandre to use her priestess powers to bring Jon Snow back to life before the Wildlings, their allies, burn him on a funeral pyre. "Do you know of any magic that could help him? Bring him back?" he asks. Melisandre tells him, "There are some with this power" but she doesn't know if she is capable herself. She's so downtrodden after her false prophesies that she's completely doubting her beliefs. "Everything I believed, the great victory I saw in the flames, all of it was a lie." She's "never had this gift," she told Davos, but he responds with a question: "Have you ever tried?"
Melisandre washes the blood off Jon Snow's body and places bits of his hair into a fire. She puts her hands on him, prays, and repeats her chants—to no avail. Feeling defeated, she leaves the room and the others follow, even Davos. You think her powers have failed until...
12) JON SNOW COMES BACK TO LIFE. Welcome back, Jon. We missed you.
Follow Marie Claire on Facebook for the latest celeb news, beauty tips, fascinating reads, livestream video, and more.
Celebrity news, beauty, fashion advice, and fascinating features, delivered straight to your inbox!
Erica Gonzales is the Senior Culture Editor at ELLE.com, where she oversees coverage on TV, movies, music, books, and more. She was previously an editor at HarpersBAZAAR.com. There is a 75 percent chance she's listening to Lorde right now.