Here Are the Most Exciting New Shows This Fall
Witches and aliens and Murphy Brown, oh my.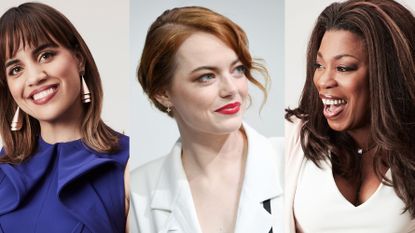 (Image credit: Getty Images)

When the golden age of TV intersects with the age of reboots, you get a pretty stellar, quite familiar-looking lineup of new shows this fall. While some buzzy shows don't have a release date yet , the ones below are announced for the fall season.
Here are some of the new series to keep an eye out for:
Grand Hotel (ABC)
Eva Longoria will produce this English-language adaptation of a super popular primetime Spanish show, Gran Hotel. There's a dubbed trailer for the original series (that's below), if you want to get a sense of the vibe. Think of the show was a Spanish Downton Abbey, with lots of propriety, a potential murder mystery, and plenty of class intrigue, set against the backdrop of a beautiful luxury hotel. Consider me sold.
Murphy Brown (CBS)
A reboot of the 1990s hit show about a star reporter on a news show, played by the icon Candice Bergen, who juggles her fast-paced job with trying to have a family and love life. The original lasted 10 critically beloved seasons, and became one of the original feminist workplace comedies. She hilariously and poignantly took on politics, gender roles, abortion, single moms, and way more. The reboot brings back Bergen and a bunch of the original cast and puts them in 2018. Murphy Brown takes on Trump? I'm here for it. It premieres September 27.
The Gilded Age (NBC)
There can be too many cop shows, but there can never truly be too many horny period dramas. This one is created by Julian Fellowes, the mastermind behind Downton Abbey, and follows the New York City captains of industry in the 1880s. The idea for the show has been kicking around since 2012, and the network is optimistic that it will run either later this year or early 2019.
Maniac (Netflix)
Netflix announced a new series starring Jonah Hill and Emma Stone, reunited from their Superbad days, and directed by Carey Fukunaga (from the first season of True Detective), based on a Norwegian hit show of the same name. It follows a man who is institutionalized but lives "a fantasy life in his dreams." It sounds a little like an irreverent Walter Mitty, which is fun. Mostly, though, I'd follow Emma Stone to the ends of the earth.
The Village (NBC)
This one looks like This Is Us, but is set in a New York City apartment building and the residents who live and love there. You get the idea: Tears will be jerked.
Abby's (NBC)
Don't call it a reboot, even if it is suspiciously similar to Cheers. This show follows the proprietress (Natalie Morales) of an unlicensed backyard bar in San Diego, but it's the names attached that have us particularly intrigued. Among the producers is Michael Shur, who's also worked on The Office, Parks and Recreation, and The Good Place (a.k.a. three of the funniest shows created in modernity). Say no more! I'll just be over here setting my DVR.
Charmed (The CW)
Though there's been some drama surrounding this reboot of the hit late-90s, early-aughts show about three witch sisters, the bad blood seems to have been put aside for the time being, thank goddess. The new version of the series is written by two writers from Jane the Virgin (another super-modern, deeply humanizing CW show), but I'm hoping it has more of a creepy Riverdale vibe. Either way, witches are very in right now so it seems like a timely reboot.
Wow, the CW is killin' it with the paranormal this fall. Not a straight reboot of the original alien-themed show from the '90s, Roswell, this new story follows the daughter of undocumented parents who returns to her hometown of Roswell, New Mexico (site of a real-life incident that may or may not have been an extraterrestrial crash site) to find that her crush is actually an alien. Hate when that happens. Here's hoping this is the beginning of a new wave of UFO TV shows—an alienaissance, if you will.
Chilling Adventures of Sabrina (Netflix)
Tonight blood will cover the moon.A sign of something coming soon. pic.twitter.com/GKiApL4FGSJuly 27, 2018
See more
Set in the larger Riverdale universe, this buzzy Sabrina the Teenage Witch reboot stars Kiernan Shipka in the role made legendary by Melissa Joan Hart. It's supposed to be a pitch-black revisit, in the way Archie and the gang got all Twin Peaks on us in their own reboot. Frankly, we can't wait. (The series drops on Netflix all at once, on October 26.)
Celebrity news, beauty, fashion advice, and fascinating features, delivered straight to your inbox!
Cady Drell is a writer, editor, researcher and pet enthusiast from Brooklyn.