Prince Harry Asked Kate Middleton for Her Approval Before He Married Meghan
The two are "very close."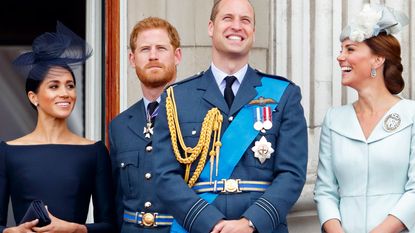 (Image credit: Getty Images)
Well, it's official: Kate Middleton and Prince Harry (opens in new tab) are on their way to becoming the world's cutest in-laws. According to royal reporter Katie Nicholl, the Duchess of Cambridge and Harry share a super special relationship—so much so that before the prince tied the knot with Meghan Markle in May (opens in new tab), he reportedly sought Kate's approval (simply because he values her opinion that much).
"Harry and Kate are very close, she's been like a mentor to him and he wanted her seal of approval," a source told Nicholl in Grazia UK (opens in new tab). Since giving said approval, Kate has welcomed Meghan into the family with wide-open arms. Alongside guiding Meghan through official outings (like their first solo date at Wimbledon (opens in new tab)), Kate reportedly touches base with the new Duchess at least once a week. "Kate has told Meghan she is always welcome at Apartment 1A, where the Cambridges live," Nicholl explains.
Kate's warmness to Meghan is likely due to her close-knit relationship with Harry—it's even been speculated that Kate's presence has helped Harry deal with his late mother (opens in new tab)'s void. "There was no filling the hole left by Diana's death, and Harry seemed to be growing up without someone emotionally available he could lean on. Kate has helped fill some of that gap," Newsweek reported in 2017 (opens in new tab).
"When she and William got engaged, Harry called her the big sister he never had. He often pops into their apartment at Kensington Palace, where she cooks him a meal—roast chicken is reportedly a particular favorite."
Okay, cute!
RELATED STORY
Ruby was the beauty editor at Cosmopolitan, where she covered beauty across print and digital. Her work has appeared on The Zoe Report, Fashionista, and StyleCaster. Follow her on Instagram.