Kate Middleton Took Prince George to School the Day After She Gave Birth to Louis
As one does.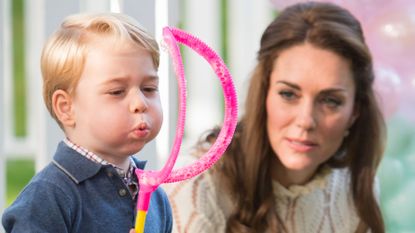 (Image credit: Getty Images)
Considering Kate Middleton posed for a series of photos just seven hours after giving birth to Prince Louis in April (and looked ridiculously good while doing so), it doesn't come as much of a surprise that the Duchess of Cambridge resumed her life fairly immediately. But if you thought Middleton would, say, take the following day to recover from birthing a human child, think again. According to royal correspondent Rebecca English, Middleton took Prince George to school the very next day.
Need we not forget that George—who celebrated his fifth birthday yesterday on a private island—looked very nervous on his first day of school at Thomas's Battersea. So, it makes sense that Kate rallied like a literal champ to support her eldest. "The couple have made a point of doing the school run themselves as much as possible," says English. "Kate was seen dropping off her son the morning after she gave birth to her third child, Prince Louis."
Although Kate and William have worked hard to make George's private life as normal as possible, English reports that the royals will eventually explain what his title really means. "They know there will come a time when they will have to sit down and talk to him about the implications of his royal status and why so many people are interested in him," she explains. "But they are determined to do that at George's own pace and feel that can all wait a bit."
In the meantime, they'll keep normal-ing as best as they can (which, to the Cambridges, means doing a school run 24 hours after giving birth). We are not worthy, Kate.
RELATED STORY
Ruby was the beauty editor at Cosmopolitan, where she covered beauty across print and digital. Her work has appeared on The Zoe Report, Fashionista, and StyleCaster. Follow her on Instagram.