'House of Cards' Season 6, Surprisingly, Still Needs More Claire
The ghost of Francis lingers.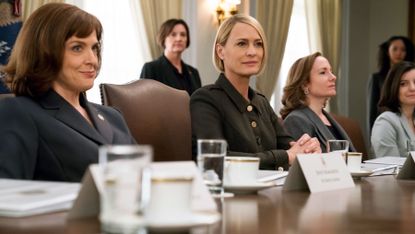 (Image credit: David Giesbrecht/Netflix)
Marie Claire Newsletter
Celebrity news, beauty, fashion advice, and fascinating features, delivered straight to your inbox!
Thank you for signing up to Marie Claire. You will receive a verification email shortly.
There was a problem. Please refresh the page and try again.
This article contains spoilers for season six of House of Cards.
When the fifth season of House of Cards ended, Claire Underwood (played perfectly by Robin Wright) broke the fourth wall, looked into the camera, and said, "It's my turn." True HoC fans couldn't have been happier with this turn of events: The show had been running on empty with Francis Underwood's (Kevin Spacey) continued murder plots and deep-voiced threats, and when Spacey was accused of sexual assault and fired from the show, Claire seemed like the perfect person from which to launch a new kind of House of Cards—one built and run by women.
"The reign of the middle-aged white man is over," says now-President Claire Underwood in one of Season 6's episodes—all of which dropped on Netflix last Friday—echoing the rhetoric of #TimesUp. It looked like this season we'd finally meet the real Claire Underwood—a woman ready to fight for women, ready to step out from behind her powerful and ruthless husband's shadow, ready to lead a movement. Unfortunately, that's not really what happens.
For starters, the narrative arc stretching from last season into this one never fully allows Claire to escape Francis' lingering drama—at least not long enough to be her own president. Her key opponents this time around are Bill and Annette Shepherd, a brother-sister duo (a thinly-veiled nod to the Koch brothers) who own Shepherd Unlimited, a billion-dollar conglomerate whose offshoots in agriculture, electronics, trade, etc., are directly affected by decisions made by the White House. The Shepherds are here to claim what Francis owed them—backdoor dealings and a seat at the table for every decision the President makes, from trade with Russia to selecting a cabinet. It should be an adjunct, but this feud takes up way too much of the show and Claire's precious time.
Plus, it's infuriating that neither Claire nor Annette realize the two have more in common than they think. Both are smart, power-hungry women who've lent their intelligence and resources to men who don't deserve it. The former schoolmates are too busy proving themselves competent or better than one another (and their male counterparts) to realize that together they'd be a bipartisan force.
Then there's Doug Stamper—Francis' dedicated right hand who would do anything for the tyrant, even in death. He refuses to let Claire tarnish Francis' legacy, or at least what's left of it. Doug and Claire go back and forth with threats and promises. Claire holds a pardon for murder over Doug's head, Doug holds damning audio tapes over hers. Even from the grave, Francis is dictating Claire's every political move.
There is one scene in which hope is restored, when you think Claire is finally breaking free of Francis' drama and giving the series the strong, female-led narrative it deserves. In the fifth episode, Claire fires her entire cabinet and replaces each with a woman. She swears them in with hands on the Constitution and asks them to repeat the words: "I do solemnly swear to take no prisoners." The scene fades to black and you're left believing that when episode six starts, Claire and her badass group of female cabinet members are centerstage, ready to shake up the White House with new legislation and a few murders here and there (I mean, it is House of Cards). Instead, Claire announces the staff changes and moves right along to the regularly scheduled program of cleaning up Francis' mess. It just feels like a missed opportunity.
Look, there's enough palace intrigue in Season 6 to stay entertained—especially if you've come along for this much of the House of Cards ride. Plus, it's the first example we've seen, in a post-#MeToo world, of how a canceled man doesn't have to mean a canceled show. But still. It feels like creators could have made a Statement, instead it was more of a continuation than a revolution. Even some sprinkled-in feminist mantras felt like lip service, and weren't enough to make the final bow stand out from any other season. Although Kevin Spacey and his character are out, the presence of middle-aged white men lingered.
RELATED STORY
Celebrity news, beauty, fashion advice, and fascinating features, delivered straight to your inbox!
Alexis Jones is an assistant editor at Women's Health where she writes across several verticals on WomensHealthmag.com, including life, health, sex and love, relationships and fitness, while also contributing to the print magazine. She has a master's degree in journalism from Syracuse University, lives in Brooklyn, and proudly detests avocados.