The 8 Best Celebrity Holiday Specials Ever
Chrissy and John were great, but have you seen Pee Wee Herman and Oprah?!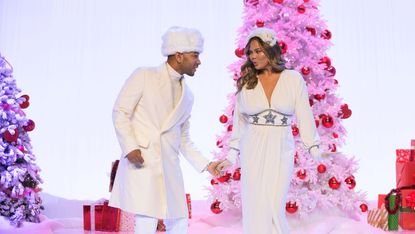 (Image credit: NBC)
On Wednesday night, we got to witness A Legendary Christmas with John and Chrissy, a star-studded television event to get us all into the holiday spirit. The special made me feel like I was transported to a different era of entertainment: Derek Hough danced the night away in the glamorous living room, Stevie Wonder dropped in to collaborate with Legend, and there was even some cheeky caroling from the likes of Meghan Trainor and Darren Criss. It all gave me some serious Golden Era of TV variety show vibes. (Also, if you didn't get some watery eyes when all four members of the adorable Teigen/Legend clan appeared together to wish us a happy holiday, you are literally Ebenezer Scrooge.)
The whole show served as a reminder that this kind of sincere positivity is peak holiday entertainment. Since the mid-20th century, holiday television programming in America has become its own genre. Of course, it pales in comparison to the British Christmas TV machine, an entirely sovereign echelon of entertainment: Any television program—be it comedy or drama—is practically expected to deliver an extended Christmas special episode. But here in the U.S., when a celeb has reached a certain station of lovability, family-friendliness, appeal across genres, and musical talent all mashed together, they're often deemed worthy of taking the reins of the elusive Network Primetime Holiday Special.
Soft-lens earnestness is front-and-center as charismatic culture icons break the fourth wall with glamorous friends in bold-colored turtlenecks against a snowy backdrop. These specials can vary slightly—some feature comedy sketches, some showcase a solemn telling of the Biblical story of Christmas, and some are no more than holiday album advertisements—but each celebrity special culminates with a heartwarming, slightly corny message about the holidays and togetherness.
That these sparkly evenings, with nary a drop of cynicism, continue to be produced year after year proves the format's staying power—and suggests, perhaps, that America wants permission to sincerely enjoy saccharine content at least once a year.
With Chrissy and John as inspiration, I decided to revisit my favorite celebrity holiday TV specials, from the birth of the phenomenon to present day. Below are the best, weirdest, and most memorable touchstones to satisfy your celebrity holiday TV special craving.
8) Dean Martin's Christmas in California (1977)
Making Spirits Bright is just one of multiple Christmas albums Dean Martin recorded, but it's the one that played in my house and in the car on loop every year growing up. I forever associate Christmastime with Dino and his smooth, reassuring voice. Christmas music and Christmas television specials are a large piece of his storied career, and this 1977 NBC show is where he tried something different. It's hosted in sunny California—a break in format from the stereotypical snowy cabin setting—and features drop-ins from Martin's friends like Jonathan Winters, Linda Lavin, and Dionne Warwick.
Nearly all of the singing is done only by Martin himself, who croons straight into the camera lens. Plus, we're treated to a song that's not about Christmas at all—"Bummin' Around"—literally just Dean Martin hanging out in the sun on his vast property and feeding his Andalusian ponies.
At this point in his career, it's clear that Dino was pretty much allowed to do whatever he damn well pleased with a 90-minute primetime slot.
7) The Carpenters at Christmas (1977)
This one really has it all: Broadway-level choreography and costumes, a sock puppet show, Harvey Korman dancing alone in an empty bowling alley, and the real-life version of that dreamy zoom-in effect on Instagram stories. It's 1977 and our hosts, Richard and Karen Carpenter, are getting ready for the big Christmas party at Karen's house. Richard, however, faces apathy about going or even celebrating Christmas this year because, as he puts it, "Christmas isn't what it used to be."
The next hour is spent meeting characters (including a hopeful child found on the street whose one life dream is to sing with Karen Carpenter) who help restore Richard's holiday cheer. They managed to fit 12 songs into one evening, and The Carpenters at Christmas gave us the gift of a beautiful Karen solo recording of "The Christmas Song" that we get to listen to forever.
6) Lady Gaga & The Muppets' Holiday Spectacular (2013)
We honestly did not deserve this fabulous evening of killer Gaga Christmas vocals and delightful shenanigans with The Muppets. I was going through a rough time in Winter 2013, and catching this special was like flipping a little switch that reminded me I could keep my head up by holding onto innocence, hope, and RuPaul.
While this is only one of many excellent holiday TV specials that heavily feature The Muppets, I declare that they have no better or more fitting co-host than Stefani Joanne Angelina Germanotta. Highlight of the evening? The gender-flipped "Baby, It's Cold Outside" with a red gown-wearing Lady Gaga and her fictional beau on a lounge chaise, Joseph Gordon-Levitt. We are blessed.
5) The Perry Como Christmas Show (1974)
While this particular special is from 1974, Perry Como did notable Christmas TV specials for decades. His 1953 special aired in black-and-white on Christmas evening and is almost entirely one tight shot of him singing and reading to children sitting at his feet. Over the years his specials evolved alongside television itself, and the 1974 special is colorful in more ways than one. He welcomes The Carpenters as musical guests and has Peggy Fleming do an ice skating routine. (This is a trend in holiday specials of a certain era: The host takes a break from the action to spotlight a famous figure skater on a rink that, we are left to assume, has always simply existed on the host's property.)
A particularly anachronistic joy of this one is Como bantering in a comedy sketch with Rich Little, who is playing Jack Benny playing Santa Claus, where the two spar about current politics and the economy. (Recall that 1974 was the year of Watergate.) How festive!
4) A Rosie Christmas (1999)
To ring in the final holiday season of the 20th century, we were treated to Rosie O'Donnell at the height of her lovable network TV reign. What O'Donnell has always been so good at is presenting other talent that she admires to the rest of us with enthusiasm, and this special does just that. O'Donnell provides a platform for peak 1999 musical moments from *NSYNC, Savage Garden, Trisha Yearwood, Gloria Estefan, and Marc Anthony.
Forgoing the traditional "plot" of a celebrity Christmas special, A Rosie Christmas instead wastes no time, giving us as many back-to-back performances as possible. The acts from this evening recorded an accompanying CD, and I defy you to play me a more fun and varied Christmas album. Billy Joel, Cher, and Angelica Pickles from The Rugrats?! Yes, please! But the musical comedy sketch parodying A Chorus Line, starring Kristin Chenoweth and O'Donnell as rival elves auditioning for a job for Santa, takes the whimsical cake of the evening.
3) A Colbert Christmas: The Greatest Gift of All! (2008)
Stephen Colbert and Elvis Costello are trapped in a cabin. That's all you need to know. In what is certainly the most purely comedic Christmas special on this list—and the only one that didn't air on a major network—Stephen Colbert spends the entire evening trying to escape his bear-surrounded snowy cabin.
The offbeat humor is a breath of fresh air, calling out the commercialism of Christmas, via a catchy satirical song ("Royalty earning Christmas song/I've got plenty more so go buy a modem/Log on to iTunes and pay to download 'em/Pay! For another Christmas song!") and the revelation at the end of the special that "the greatest gift of all" is, in fact, a copy of the very special you are watching. With classy celebrity drop-ins like Willie Nelson and John Legend, I really cannot recommend this underrated gem enough.
2) The Judy Garland Christmas Show (1963)
This special serves as a time capsule for a tragic time in America, when commercial entertainment attempted to soothe the public. On December 22nd, 1963, exactly one month after the assassination of President John F. Kennedy, The Judy Garland Christmas Show aired on CBS. It was fairly quickly forgotten in the chaotic cultural landscape of the time, even deemed a "lost tape" until it resurfaced on television in 1990. Not only are we bestowed the honor of Judy Garland in fur, but she sings Christmas songs and showtunes to us with her real family against a decked-out studio set.
While the non-Christmas songs in the "narrative" are a bit forced—Liza Minnelli and Tracy Everitt perform "Steam Heat" from The Pajama Game because they're cold from ice skating—they're still delightful to watch. Minnelli was 17-years-old, and watching her and her mother perform together over the hour is iconic and joyous. Something remarkable about this network primetime TV special is that it is full of mistakes. Jack Jones flubs his lyrics and laughingly acknowledges it during "Sleigh Ride," awkward improvised conversation is forced from the smaller children to fill lingering camera time, and Judy Garland earnestly calls Mel Torme "Mort."
The facade of the evening is a picture-perfect family and the notion that everything seamlessly comes together for Christmastime, so it's a bit painful to watch the forced cheeriness, now knowing how much turmoil the Garland/Minnelli clan was really in. The little mistakes that bleed through the broadcast end up accidentally symbolizing how no family is perfect at the holidays, despite appearances.
1) Christmas at Pee Wee's Playhouse (1988)
"Pee Wee! How is Santa supposed to get all of this down that little chimney?" "I already thought of that. I'm having the chimney expanded!" This is perhaps the most famous episode of Pee Wee ever, and rightly so: Pee Wee is a perfect fictional candidate to have his own Christmas special, exuding kindness, inclusion, and positivity. This fast-paced, colorful special tips the celebrity-having-friends-over format on its head, while wrapping it all up at the end with the same earnestness that all of the above specials contain.
We open with a charming animation of elves, followed by a very serious-looking men's choir in uniform, and are then gifted endless high-caliber cameos for the duration of the evening from the likes of Charo, Joan Rivers, Whoopi Goldberg, Little Richard, Oprah, and more. Everyone is game for the surrealism of Pee Wee.
It is such a refreshing joy to not have a single ounce of ironic detachment from cool famous people shoved at us like so much modern media is guilty of doing. This is, in my humble opinion, the best celebrity Christmas TV special of all time. Two words: Fruit cake.
For more celebrity news, beauty and fashion advice, savvy political commentary, and fascinating features, sign up for the Marie Claire newsletter.
Celebrity news, beauty, fashion advice, and fascinating features, delivered straight to your inbox!