Marie Claire Editors Tell You Their Favorite Things You Probably Missed in 2018
We have excellent taste.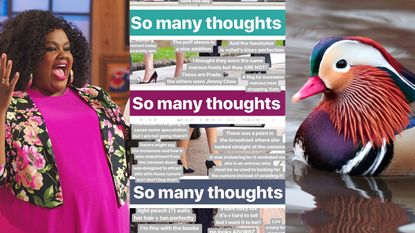 (Image credit: Netflix/Elizabeth Holmes/Getty)
Twenty-eighteen is coming to a close, and it's been the longest year. Like, really, this year felt like it was 19 years, right? With a never-ending news cycle, a midterm election, and one terrible tragedy after another, this year was a marathon. But not everything was bad! A slew of celebrities got engaged over the summer, Prince Harry and Meghan Markle got married and pregnant, new products hit the market, new shows came out, and we couldn't stop making recommendations. Here, the shows, accounts, and Internet happenings that captured our attention in 2018.
I have been a birdwatcher for maybe four years now, and until 2018 I either hid this fact or mentioned it in a kind of shrugging way ("Ha-ha, yeah it's a little nerdy!"). But then came the mandarin duck, a rare species that likely escaped from a home zoo and made its way to Central Park, capturing hearts and minds—first of the city, then the nation. People suddenly became interested in the same birdwatching Twitter accounts I'd been following, they were curious about which ducks call New York home (might I recommend our beautiful wood ducks?), birding became...trendy. Though I have some hipster tendencies that make me annoyed when people join my bandwagon, with birding it's the opposite: People who really care about birds want—nay, need—other people to care about birds too. It's how the hobby of birding can sustain itself, it's how you can get communities to take conservation seriously, and it's how I no longer have to feel dorky that I keep a pair of binoculars at work and at my apartment, just in case. (Okay, I still feel a little dorky about that.) —Cady Drell, Culture Editor
So Many Thoughts
To know me is to know that at any given moment at least one-third of my brain is occupied by the royals, which is why I so tremendously appreciate the Windsor fodder Elizabeth Holmes' Instagram series 'So Many Thoughts' provides. Though she technically started her addictive royal photo annotations in December of last year (inspired by the Cambridges' thought-provoking Christmas card), SMT really took off in 2018, gaining attention and many, many fans thanks to the Duchess formerly known as Meghan Markle's numerous pre-wedding appearances—not to mention that quiet, understated wedding in May—a jam-packed Australian royal tour, and Kate Middleton's is-that-a-repeat? outfit choices. @EHolmes is now a must-read whenever a member of the monarchy steps out of the house: Is there a message hidden in the fashions? Am I the only one who thinks they're matching on purpose? Does Louis' little face make your heart explode? Get all the thoughts and feels on Elizabeth Holmes' Insta stories. —Sally Holmes, Digital Director
Neutrogena Hydro Boost Hydrating 100% Hydrogel Mask
I've always had a deep love for skincare, but I've been a little...skeptical regarding masks. I'd never had a mask experience that really made me feel like the glowing goddess I am. But then came long these masks from Neutrogena, and my skin has never been the same. It's full of hyaluronic acid, a known skin brightener that my body absorbs like a sponge, and the hydrogel mask is slippery, but not so slippery that you're immobile. My favorite part is taking the mask off and slathering my face and hands with the leftover essence. I am a mask hoarder now; I have a drawer full of them. Further testimony can be provided by the barista at my coffee shop, who went "Wow," when he saw my glowing skin post-mask but pre-coffee. —Amanda Mitchell, Editorial Fellow
Okay, call me biased (I am the editor of the column), but This Week in Timothée Chalamet is the single greatest collection of writing to come out in 2018. (Where is Cady's Pulitzer?! #JusticeForCady) Truly, before Cady foisted Timmy upon us, I had lukewarm feelings at best about the whatever-the-male-term-is-for-ingénue. Now, I feel weirdly possessive of him and his success. (He has talent and a great jawline, so his success is almost guaranteed, but still.) It's funny! It taught me how to type l'accent aigu! It's nice to read something that's not about mass shootings, or natural disasters, or incomprehensible tweets! —Danielle McNally, Features Director
Super Mario Party
When my boyfriend excitedly announced on a Friday night that he bought Super Mario Party for the Switch and we had to stay in and play, I shrugged and said sure. I was intrigued, but not excited. I don't play video games (I prefer to watch from the sidelines or, if I'm being really honest, go on Instagram). Plus, my knowledge of the game extended only so far as Mario is a guy who wears overalls and a red hat. I also thought Super Mario Party and Mario Cart were the same thing.
I know I'm making a complete fool of myself to the gamers out there, but before you shun me , I have to say…I loved SMP! It's easy to learn and the graphics are amazing. I became deeply invested in winning these mini games (my favorite's the tricycle race/it's the only one I'm actually good at), and between the colors and challenges, my mind was mesmerized for hours. That night, we played until all the wine and cheese had run out and I was feeling delirious from lack of sleep. Thanks, Nintendo. —Marina Liao, Fashion News Editor
LOLA
In May, Lola—better known as the tampon subscription company—launched their newest line, Sex by Lola, which includes condoms, lube, and personal wipes. As with all their products, Lola promises that they'll always use organic, non-toxic, minimal materials, and will be transparent with their consumer. I love that I never have to make last minute runs out to the pharmacy for tampons or condoms; instead, they're delivered to my door every month so I'm always prepared. It's cheaper than buying them at the store, too! Being able to customize my order and know exactly what's in it makes me feel in control. Technology can be used for good, who knew? —Morgan McMullen, Digital Designer

Magic for Humans
If you missed the magic that is Magic for Humans—the Netflix original series starring comedian-slash-magician-slash-endearing-human Justin Willman—get thee to a screen, pronto. Whether or not you think 2018 needed more suspended reality, Magic for Humans is a thing of pure joy and wonderment that everyone can enjoy. It has risky-business tricks (what would you do if a stranger threw your cell phone into the ocean?), logic-defying illusions (HOW DOES HE PULL HIS WIFE OUT OF A DUFFEL BAG?!), and, of course, magic for Susans. Watch and be pleasantly bewildered. —S.H.
Headband of the Day
Chrissy Teigen is Queen Midas. Everything she touches turns to Internet gold. This year was no different: She totally owned DJT on Twitter (repeatedly). There was that time she enlightened the world to the unsexy realities of postpartum underwear. And she made headbands cool again: This summer, whilst on vacation with her genetically perfect family in Bali, Teigen decided to accessorize with a headband. And then she did the next day. And the next. And then her husband (you know, John Legend) wrote a catchy little jingle about it. Some small-minded people might dismiss Teigen as "just a model" (those people would be wrong), but she's exactly what the Internet needs right now: decent, honest, and just plain fun. Now, where can I get me a headband? —D.M.
Slothrust
In 2018, I discovered the band Slothrust. I just stumbled across them in the 'Alternative' section in iTunes. I googled them—a lot—and it seems like they are under the radar, but shouldn't be. The trio with a badass female lead singer/guitarist can go from poppy punk to grunge to haunting ballads. I have not been this excited by a new album (titled "The Pact") in, like, a year. —Carl Kelsch, Assistant Managing Editor
Sorel Ainsley Hiking Boots
I'm moderately outdoorsy, so I'm a little embarrassed to admit that until this fall I wore the same pair REI hiking boots since high school. Giant, green, extremely unappealing—I loved them. But on a muddy hike earlier this year, I noticed that the traction had finally gotten so worn down that they didn't really function anymore. Was I heartbroken? Yes. I thought I'd never love again. But I was on the Sorel site looking for a new pair of winter boots (a very different beast than hiking boots!) and noticed that the company actually made some pretty cute hiking boots. I decided to give them a shot. Sure, they were adorable, but they had to face the gauntlet. And so, on a recent vacation, I wore them hiking in the rainforest, wading through waist-deep water, shimmying up sheer rock walls—you name it. And guess what? They're not only still totally intact, but they're also still cute as fuck! By far the best purchase I made this year. —C.D.
Nailed It!
I watch a lot of television, but there's very little television I rewatch. When Nailed It!, starring (my future best friend) Nicole Byer and Chef Jacques Torres premiered all the way back in March, I found myself watching, and then rewatching, and then re-rewatching the first season over the span of two weeks. Nailed It!, along with Paddington 2, brought some of the happiest moments I had this year. The gist is this: Regular people try to recreate professional pastries, typically to hilarious results. Byer and Torres have taken over for Heidi and Tim in my heart for Best TV Hosting Duo, and the show is so pure and wonderful, you'll love it. —A.M.
Google Arts & Culture
Much like the Pokémon Go craze of 2016—but with the addition of a creeping sense of horror—the Google Art & Culture face-matching app was all anyone could talk about in the first weeks of 2018. The premise was simple: You took a selfie, and the app scoured a host of classic artwork from around the globe to find the one that most resembled you. If you, like me, ever wondered if you looked like a Founding Father first thing in the morning—congratulations, you were right! —Jenny Hollander, Deputy Editor

For more celebrity news, beauty and fashion advice, savvy political commentary, and fascinating features, sign up for the Marie Claire newsletter.
RELATED STORY
Celebrity news, beauty, fashion advice, and fascinating features, delivered straight to your inbox!