Chrissy Teigen's Headband of the Day Is the Best Thing on Instagram
Unrelated: Where can I get me a John Legend?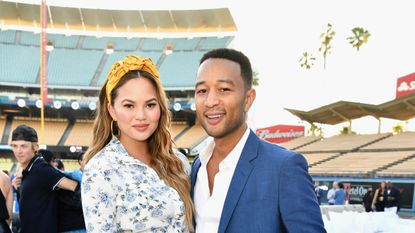 (Image credit: Emma McIntyre)
I would like to declare that Chrissy Teigen is officially the best person to follow on social media. Not only is she consistently funny and raw, but her family is freaking adorable, and her style choices are actual fire.
Case in point: While vacationing in Bali with her family for the last week, Chrissy has taken a break from calling out Thomas Markle on his sucky shenanigans and live-tweeting an earthquake to start a lowkey beauty series called Headband of the Day.
The Details
Every day, she posts a video to her Instagram stories of her latest headband pick, and has also conveniently stored 'em all up for your viewing pleasure in her Insta highlights (please go watch them now if you have no idea what I'm talking about).
Even husband John Legend has gotten in on the fun, singing a truly catchy little tune for the series: "Headband of the day, it's the headband of the day. Push your locks away with the headband of the day," he sings, as Chrissy models her latest headband for her followers.
I'm not the only one feeling the love. Chrissy has even started Tweeting when her Insta stories go live, so no one will miss the loveliness that is The Headband of the Day, and fans are feeling it.
I feel like John needs to add it as a bonus track on the next album - it's catchy as hellAugust 8, 2018
See more
John and Chrissy are truly making the world a better place, and it's also completely inspiring me to buy ALL of the headbands—and I'm guessing it's probably inspiring you, now, too.
Luckily, I've already spent way too long researching the prettiest Teigen-inspired wraps and headbands to shop and wear immediately. Shop them all below, and then live your best Chrissy life (disclaimer: John and his magical voice are sadly not included).
Steal Chrissy Teigen's Headband Style
Celebrity news, beauty, fashion advice, and fascinating features, delivered straight to your inbox!
Krystyna was the former Social Media Editor of Marie Claire where she oversaw all things social media and connected with MarieClaire.com readers. She came to Marie Claire from Racked.com, where she was the Community Manager. Before that, Krystyna was at Latina Mag and Cosmo for Latinas. She graduated with a Marketing major from Fordham University.