Our Lady of Shade
Nicki Minaj checks it on the regular. Cardi B rants against it. It broke the news about Khloe Kardashian giving birth. Kanye made a video to respond to a post about his wife. Tracee Ellis Ross name-checked it at an awards show. The Shade Room, which started as a tiny gossip site on Instagram five years ago this month, has exploded into a cultural force.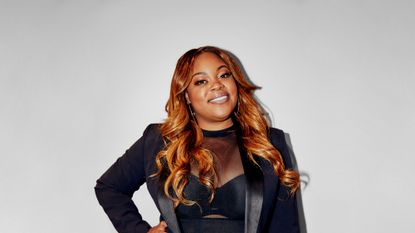 (Image credit: KATHRYN WIRSING)
It's 9 a.m. on a Monday in October inside the small downtown Los Angeles office that houses the hugely popular Instagram account-turned-media sensation the Shade Room, and senior editor Kyle Simpson is already on the trail of a story. He attended model Amber Rose's fourth-annual SlutWalk event yesterday and saw her cozying up to a new man. Now Simpson, who considers his specialty to be "tea"—slang for gossip and the type of stories that reveal how frequently the Venn diagram of black culture and popular culture is a single circle—is trying to figure out the identity of Rose's new beau and talking through what he knows. No, he didn't recognize him. Yes, he and Amber were very touchy. No, they didn't seem to care if anyone saw them.
Simpson begins his "evidence buildup," which includes pictures he snapped of the couple's PDA, and about 20 minutes later, he's confirmed the mystery man's identity. "I come with my facts," says Simpson, 24, who used to dream of working as a correspondent for E! News. The man in question turns out to be Def Jam music executive Alexander Edwards. Initially, Simpson has doubts about the legitimacy of Edwards's job title, but his sleuthing reveals a number of well-known music artists follow Edwards on Instagram, proving to Simpson that he's legit. Soon, the post is up on the Shade Room, breaking the news of Rose's new boyfriend. Watching it all unfold—the convergence of speed, accuracy, and a fine attunement to what the Shade Room audience wants to see and know about—it's clear why the account currently has more than 15 million followers and has become one of the most popular entertainment-news sources on the Internet.
The Shade Room was founded five years ago this month by Angelica "Angie" Nwandu in the living room of her "roach-infested" apartment in Hawthorne, California. She'd always loved celebrity gossip, and when she found herself unemployed, she spent all of her newly free time consuming it. One morning, she called a friend at 3 a.m. to relay the news that Rihanna and Karrueche Tran were both dating Chris Brown. "She was like, 'Girl, why don't you just start your own site?' " recalls Nwandu, 28. "I was a news site to my friends; I was reporting the news to them." She didn't know how to build a website, so she created an Instagram account and started posting. "If you told me when I was younger that I would be the owner of the Shade Room, I would be like, 'You're kidding,'" Nwandu says. "That is nothing I ever saw myself to be."

Nwandu's childhood was difficult and checkered with tragedy. At six, she lost her mother at the hands of her father and entered foster care. At age 12, Nwandu joined Peace4Kids, a program for foster youth to tap into their creative potential, where she learned she had a knack for poetry and discovered her love of writing. Nwandu attended Loyola Marymount University, majoring in business administration; she helped support herself by doing weaves for classmates for $45. Upon her graduation in 2012, she was introduced to actress and writer Jordana Spiro. They bonded over a screenplay Spiro was working on called Night Comes On that mirrored Nwandu's childhood. They decided to write it together, attending the Sundance Institute Directors and Screenwriters Lab, a two-week intensive program. Nwandu's boss at the motorcycle shop where she worked as an accountant called her during the program, instructing her to return to the shop and miss the second week of the course. She quit her job on the spot, with nothing more than a $5,000 writing grant that would float her for just a few months. (The film premiered January 19, 2018, at the Sundance Film Festival and won the NEXT Innovator Award.)
At first, the Shade Room was a one-woman hustle. She stalked established gossip sites, repurposed the stories on the Shade Room with her own unique commentary, and combed Instagram pages for celebrities' likes and comments on posts—something that would become a key evidence-building technique at the Shade Room. Nwandu's ability to speak to readers with language they understood—her voice is reminiscent of your best girlfriend bringing you up to speed—while delivering trustworthy news, on par with more-well-known gossip sites like TMZ, made her Instagram account an instant hit. "The first day, I got 300 followers. After the first week and a half, I had 10,000," Nwandu says. "At that point, I think I knew that I had something great."
She spent the first nine months blogging by herself and grew the account to half a million followers. When she realized she wouldn't be able to traditionally monetize the Shade Room (because you can't sell banner ads on Instagram the way you would for a website), she put together advertising packages for small businesses, offering promotional posts that she wrote herself.

In 2014, the Shade Room expanded from Instagram to Facebook, where it now has 4.2 million followers, and a traditional blog, which has become one of the most popular black-culture websites. Nwandu has taken funding from just one investor—venture capitalist Bryce Roberts, who invested $100,000 after reading about the Shade Room in The New York Times. "At the time, I think I was making only $5,000 a month, but I wasn't really concerned about the money; I was more interested in his expertise," Nwandu says of Roberts, who has invested in a string of successful startups, including Foursquare, Chartbeat, and Timehop. Cash flow is not a problem for the site today, which, like most media companies, earns the majority of its revenue from advertising. It's done big campaigns with companies like Toyota and McDonald's, but Nwandu says the majority of the company's ad buys still come from independent businesses. "We've never had a red quarter ever since I started making money," she says.
The Shade Room hired its first employee, a writer, in 2015 and moved into an office in 2017. The staff now numbers 10 people and includes writers in New York and Pittsburgh. The vibe at the L.A.-based office is a blend of professionalism and casualness that recalls a Silicon Valley startup. (As you might expect, staff members are on their cell phones as much as, if not more than, the laptops and desktop computers that sit in front of them.) The middle of the office is covered by green turf-like carpet, and there's a wall-size painting depicting a host of celebrities—including Kendrick Lamar, Cardi B, Snoop Dogg, Colin Kaepernick, Wendy Williams, and Drake—outfitted as players, cheerleaders, and fans at a football game, all hanging together like some sort of modern-day, all-black version of Grease. Across the room is a large painting of Beyoncé in her iconic wide-brimmed hat and stacked silver jewelry from the "Formation" music video.
Nwandu arrives, not a strand of her sleek honey-blond hair out of place. While the office dress code is decidedly low-key, she wears a black strapless jumpsuit under an oversize gray sweater, plus large hoop earrings. She starts the editorial meeting by asking everyone to name their favorite Shade Room post of the week, why they liked it, and, most important, why they think it did well. As with most Internet companies, it's immediately apparent how important the numbers are. "We have this saying where we just say, 'Numbers!' This post is going to do numbers," says managing editor Tanya Payne, 28. Five thousand comments is "good," while 10,000 is "a hit, like, 'Oh, you did well.'" The focus on comments rather than "likes" is one way the Shade Room has built a dedicated community. "It's nice if someone double taps," Payne explains, "but it's better that you felt so moved that you had to type a whole thing and click 'send.'"
When you're at the Shade Room, it's never "readers" or "viewers"—it's always, always "roommates." Most of the staff admits to having been a roommate before working at the Shade Room, and almost every post is designed with roommates in mind. "I think about the roommates before posting anything," says senior editor Thembi Mawema, 25. "It's kind of like the Shade Room is for the roommates by the roommates: They all let us know what they want." The sense of ownership among the roommates pays off in "likes," but it also keeps the Shade Room functioning. "We have 14.7 million followers," Payne says. "That's 14.7 million eyes sending you stuff and feeding you constantly." She estimates they receive thousands of direct messages over Instagram every day.
Many of those messages are the tips, photos, and rumors that power the feed. Last year, for example, staffers received a tip from an employee at the hospital where Khloe Kardashian was giving birth. All they were told was "Khloe's here." "You have to work with the clues you have," Payne says. "We said, 'What hospital?' They said, 'Oh, I can't tell you the hospital, but I'm in Cleveland.' Okay, boom. We know you're in Cleveland. We know if you're a Kardashian, you're going to look for the best hospital in Cleveland, so that narrows it down to, like, three. At that point, you kind of have to get creative and be like, 'Hey, I'm ordering flowers for so-and-so.…' You have to use your resources to validate the story."
Unlike other celebrity-focused sites, the Shade Room rarely pays for the tips it receives. Nwandu won't say how much it has doled out or which stories it thought were worth paying for, but she insists the site has purchased a story only three times in its history. Though many tipsters remain anonymous, plenty of roommates are happy to have their Instagram handles tagged by their favorite page as a form of payment for their contributions. "They want their credit," says Simpson, who left the site in late 2018. "They want their followers." Aside from loyalty, there's a clear stake that roommates seem to feel in the company. "I really do feel like people feel like the Shade Room is something that they own," Payne adds.
Over time, the celebrities they write about have become roommates as well, and now reliable celebrity engagement has become a hallmark of the site. Nicki Minaj often reads the feed and has become friendly with Simpson. He gives a shy smile when he reveals that he has her phone number and they've spoken a few times. Nwandu says singer Teyana Taylor has called the Shade Room her "fam," and at the 2018 American Music Awards, host Tracee Ellis Ross gave the site an on-air shout-out: "I might finally make it onto the Shade Room—and if you don't know what the Shade Room is, it's the black TMZ," Ross explained before waving at the camera and saying, "Hi, Shade Room!" with a big smile. Celebrities will also privately message the Shade Room to either confirm or deny stories or provide more information.
But controversy can come when the celebs step into the comments. After Tyson Beckford wrote, "Sorry I don't care for it personally" on a photo of Kim Kardashian, the social-media queen clapped back, commenting, "Sis, we all know why you don't care for it," which many interpreted as an insinuation that Beckford is gay. Kardashian was hit with accusations of homophobia, and her husband, Kanye West, stepped in, posting an Instagram video instructing Beckford not to talk to his wife. "We have a lot of celebrity friends, but they are never a friend for too long," says Nwandu, laughing. "At the end of the day, most of them are mature enough to know we have to post what we have to post. Those are the ones we can have a good relationship with."
The palpable sense of community is what makes the Shade Room thrive. That sort of familial energy is even built into the name itself. Drag queen Dorian Corey famously defined shade in the 1991 documentary Paris Is Burning by saying, "I don't tell you you're ugly, but I don't have to tell you because you know you're ugly." In other words, throwing shade means telling somebody about themselves—be it an insult or just the cold, hard truth—with subtlety and wit.
Nwandu's first post on the Shade Room explained the name. "I said, the Shade Room is the truth room," she remembers. But there's another layer there: "I think that shade goes deep into the culture. When you think about the black diaspora, a lot of times, we are so brutally honest with each other," Nwandu says. "I see it as so much deeper than what it is portrayed as in media. It's portrayed as just being petty, but I think it has to do with survival." More than once, Nwandu compares the platform to visiting your aunt's house over the holidays. "All your business is out on the table: whoever got bad grades in school, whoever got pregnant, whoever went to jail, whoever got in trouble with this and that—it's all coming out on the table. And we're going to laugh, we're going to talk, we're going to get on you, and then we're going to move on because we still love you," she says. "So that's kind of the environment we've built in this community."
Nwandu hates when the Shade Room is called a gossip site. She wants it to be recognized for presenting a diverse and complete picture of what it means to be black across the globe. "I think our site is about the culture—what's going on, what's happening, what's worth talking about, the trends, the hashtags, the challenges," she says. "All of the things that make black culture beautiful." As the Shade Room celebrates black culture, it's also creating it, whether it's popularizing slang, reimagining how people consume the information they want, or creating a new model for building an online community. Nwandu, however, prefers to see it another way. "It's just a reflection," she says. "We reflect back to the world our view of black culture."
There's no way to ignore the fact that the Shade Room built its brand and audience off revealing dirt. One of the site's first big scoops was of former NBA star and ex-husband of Khloe Kardashian, Lamar Odom, overdosing at a brothel back in 2015. But over the past three years, there's been a deliberate shift to make the site more positive. "I got a call with the writers and I said, 'Hey, look, I think that we need to intentionally balance up this platform,'" Nwandu says. The change was a response to her own negative feelings. "I was paying attention to my own personal spirit," she says. "There was a time when I would go on the Shade Room and I would just feel, like, ugh." It got so bad that Nwandu didn't even want to read the stories on the site. "I remember thinking, If I feel like this, what am I putting out to the people who are reading this? They may be feeling like this too if they come on here every day and consume what we're giving." Since making the change, Nwandu guesses there are three or four stories a week that the staff decides not to post. "It's just not worth it to me," she says. "I just don't want the brand to be known for some of the things that we could be posting." The shift not only increased readership, it altered the demographics. In the early days, Nwandu says, readership was 80 percent female; after the adjustment, which included incorporating more stories about sports and politics, readers are now 60 percent female.
Nwandu says she's approached almost daily by potential investors. "I've turned down a lot of money, and I would be lying to you if I said I didn't get scared," she says. "Every time I turn down money—and it's a bigger amount every time—I worry I made the wrong decision." She recognizes that to become a media juggernaut on the level of Buzzfeed, she will have to take more funding, but for now she's not interested. "The moment that you take investment money, it becomes about paying back that money," she says. "I don't want that; I want flexibility."
She also wants to retain control. There's power that comes from being a black-owned media company at a time when black celebrities and black art are finally, it seems, starting to get the recognition they deserve as consistent pop-culture forces rather than trends that ebb and flow. As films like Black Panther and Girls Trip prove movies with black people can, of course, appeal to all audiences, Nwandu hopes to capitalize on that popularity by focusing on what black audiences love. "African Americans consume more media than other groups because it's the only place you can have curated feeds to what we want to see," she explains. A 2018 Nielsen report showed black adults absorb almost two and a half hours more per day than the average U.S. adult. "I want to give them that content that we desire."
But she also struggles with the expectations of black celebrities who expect more leniency from the Shade Room than other publications. "It feels like a family to them, so they're like, 'Hey, you guys are supposed to be better than that,'" she says. She cites Cardi B as someone who gets upset when the site posts less-than-flattering stories about her. "Cardi B doesn't mess with us," Nwandu says. "She doesn't like us at all." But Nwandu points out they frequently give Cardi B a shout-out when she looks great on a red carpet or drops a new single. That aim for balance isn't always reciprocated. "When Kanye West wants to go to a platform where he can speak his mind, he's going to call TMZ. He's not gonna come to the Shade Room," Nwandu says. "He's not gonna come to any black media company. He's gonna go to the white media company. When they wanna give exclusives, they go to the white media companies." (Neither West nor Cardi B responded to requests for comment by press time.)
Even without those exclusives, the site rivals TMZ; the Shade Room has more than 10 million more followers on Instagram than TMZ does and has scooped it on several big stories, like Beyoncé going into labor in 2017. At the helm, though, Nwandu is a far cry from TMZ founder Harvey Levin, who has branded himself as the public face of the company. Nwandu is careful to advocate for recognition of the Shade Room, not the Shade Room and Angie. "I'm OK with [recognition] as long as it's related to business and talent—if it's about my writing and my business, that's fine—but I don't want it to be about my personality on the red carpet," she says. "That's not the type of person I am." I point out that even though she is the Shade Room, it's almost like she doesn't want to be somebody who would be covered on the Shade Room. "I don't desire fame," she says, adding that she wants to be able to go to the grocery store without her hair done and not worry about being seen. "I see how horrible it is. Who would want to be famous like that?"
A version of this article originally appeared in the March 2019 issue of Marie Claire.
RELATED STORY
Celebrity news, beauty, fashion advice, and fascinating features, delivered straight to your inbox!