Who Is John Paul Jones, Infamous Contestant from 'Bachelorette' and 'Bachelor in Paradise'?
Ah, John Paul Jones. He's already made quite an, uh, impression with the other bachelors and the viewers at home. Hannah shocked just about everyone by picking him as her final rose in the very first episode.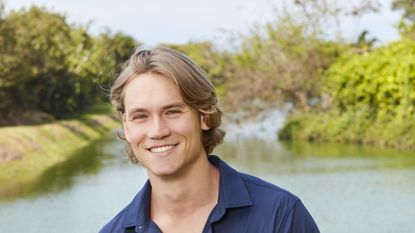 (Image credit: Craig Sjodin)
Ah, John Paul Jones. From the very premiere of The Bachelorette, John Paul Jones (opens in new tab) (only refer to him by his full name, please) made quite an, uh, impression with the other bachelors and the viewers at home. Viewers have already noted that he looks like a '90s rom com antagonist/the villain of the week from an OC episode/the soccer player in college with his collar flipped up. Hannah shocked just about everyone by keeping him on several episodes, but by the time he left, she and the audience had totally flipped on him. His quirkiness and overall weirdness became a fun part of a season mostly dedicated to drama, and some fans have even begged producers to make him the next Bachelor.
So who is John Paul Jones, who goes by John Paul Jones, and will never let you forget that he's John Paul Jones? John Paul Jones!
He's from Maryland.
I wouldn't normally characterize Maryland as "the South," but it is technically south of the Mason Dixon. So, like many of Hannah's bachelors, he's from the South.
Like every bachelor, he makes sure to share with everyone that he's a family guy:
Annnnd he loves to travel/sightsee (while also still being extra):
He's quirky.
As we saw from the premiere, he introduces himself in such a way as to ensure you will never, ever forget him. Per his bio (opens in new tab): "When referring to John Paul Jones, always use his full name: John Paul Jones." He also repeated his name to Hannah approximately one million times when he met her. He also, uh, "rarely uses words that are less than three syllables long," apparently? I don't even know what that means.
He's in the midst of high-profile Bachelorverse relationship drama.
So if you've been watching Bachelor in Paradise, you'll know that there was a whole long saga with Tayshia Adams (opens in new tab). They were into each other, Derek kinda got in on the love triangle by vibing with Tayshia (and JPJ went on a date with Haley, lest we think that Tayshia was the instigator here), JPJ lost his mind and screamed at Derek several times (DUDE) and then Derek finally ended up leaving.
I'm kind of on Derek's side here—no one deserves to be screamed at, especially on a show this nuts—but Tayshia reluctantly came back towards JPJ. En route to overnights, JPJ went all in, saying he was straight up in love with her. Tayshia...was not. She said she wasn't sure if she could get there, and they both left totally broken and miserable:
It was a really long and windy road for the couple. HOWEVER. Spoiler alert: This may not be the end to the Tayshia-JPJ story. You'll have to wait until Tuesday, or read our spoiler post (opens in new tab). Hopefully JPJ is done with the yelling instead of talking through his issues like a normal person—not cool, man. But I love Tayshia, so.
He's already infamous for reciting a poem.
Before he left in tears, JPJ was the life of the party on Bachelor in Paradise, including vomiting several times over hot sauce (opens in new tab) and then recovering by eating tacos and quoting Inglourious Basterds. Trust me, it's funnier and weirder than it sounds. But his most epic scene so far involved a Shakespearean poem. JPJ sat underneath a bunch of pillows trying to remember/re-memorize Romeo's speech about Juliet in Romeo and Juliet (it's not totally clear how he'd even get the information considering no one on the show can use their phones or the Internet) so he could recite it to Tayshia:
@JohnPaulJonesJP laying on the floor memorizing a poem for Tayshia is really they type of man I need in my life #BachelorInParadise pic.twitter.com/C3TzAdo46GAugust 14, 2019
See more
And then he went up to her and promptly forgot most of it. I loooooved this scene with my whole heart:
And fans were INTO IT.
Me RN if John Paul Jones recited me a poem he memorized #BachelorInParadise pic.twitter.com/RaO5tJXwH9August 14, 2019
See more
I feel like Tayshia was every single fan of Bachelorverse shows—initially very confused, but then charmed against her will, then FULLY on board with JPJ in a big way. She even referred to him as a "hot Heath Ledger," which people took issue with (Heath Ledger was already hot!). But the point is, this was a huge moment of success for JPJ and an important development in their relationship.
He works at "John Paul Jones."
How do we know this? Because he will tell you, a lot. Per his bio, he's a financial analyst.
"I, John Paul Jones, didn't come all the way out here, and give up a promotion at John Paul Jones just to be sent home" #theBachelorette pic.twitter.com/3uG5L1BR42May 14, 2019
See more
I think he might have done some acting?
See also:
Which would make a ton of sense, given his extra, extra persona.
Some fans think the producers made Bachelorette Hannah Brown pick JPJ.
Some bachelors on The Bachelorette stick around for drama early in the series, only for them to get axed while the "real" contestants take center stage. Such is the case of this fan theory (opens in new tab), which speculates that producer influence led to JPJ making it to the next episode. I'm on record as finding him delightfully, hilariously annoying. But then a funny thing happened: Fans began to love his OTT weirdness. I mean, just look at this deleted scene in which he has Hannah cut his hair:
I mean, you cannot make this stuff up.
He developed a cult following.
During Men Tell All, he got a chance to sit in the hot seat. Ladies chanted his name, and a girl came up and cut a lock of his hair (also, that's weird, right?). We also got a look at his greatest hits:
Him screaming during the labor simulator—epic. Fans of his really hoped he'd be the Bachelor so we could get endless quirk:
Reasons why John Paul Jones should be the next bachelor:-Looks like Prince Charming-Is great with babies-Is the biggest mood -Likes chicken nuggets and minds his own business #TheBachelorette pic.twitter.com/PNF2mVqOUqJune 4, 2019
See more
Genuinely, it was a 180 degree turnaround. Meanwhile:
And it nabbed him his starring role on BiP.
JPJ's surprising popularity made him a good fit for BiP. Just check this out:
We have SO MANY QUESTIONS. Meet us on the beach for #BachelorInParadise in 2 weeks! pic.twitter.com/FB811f1CkcJuly 23, 2019
See more
In the trailer we really saw him in his element: putting sun tan lotion in a very special place for Haley Ferguson, getting into a fight with Derek Peth, weeping liberally (as you do on BiP), and just generally being JPJ.
Go here (opens in new tab) to read more about everything we know about this season of Bachelor in Paradise, including what we might know about JPJ's future.

For more stories like this, including celebrity news, beauty and fashion advice, savvy political commentary, and fascinating features, sign up for the Marie Claire newsletter.
SUBSCRIBE HERE (opens in new tab)
RELATED STORY
Katherine's a Boston-based contributor at Marie Claire who covers fashion, culture, and lifestyle—from "Clueless" to Everlane to news about Lizzo. She's been a freelancer for 11 years and has had roles with Cosmopolitan and Bustle, with bylines in Parents, Seventeen, and elsewhere. It's "I go to dinner," not "Her huge ego," but she responds to both.