Where Is Jed Wyatt From The Bachelorette Now?
We just got a ton of new details about Hannah Brown's season of The Bachelorette, and it all centers around the musician/singer/dancer from Tennessee: Mr. Jed Wyatt. While not the most controversial bachelor on the show, there's just been a ton revealed about Jed that might make him pretty controversial after all.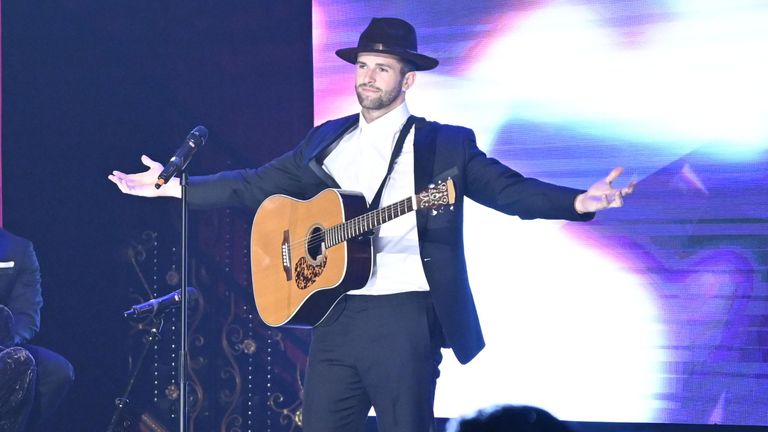 (Image credit: John Fleenor )
Major spoilers ahead for The Bachelorette. Whoa. We just got a ton of new drama from Hannah Brown's season of The Bachelorette, and it all centers around the musician/singer/dancer from Tennessee: Mr. Jed Wyatt. While not the most controversial bachelor on the show (we all know who it is at this point), there's just been a ton revealed about Jed that might make him preeeetty controversial after all. Here's everything we know, thanks to People and Bachelor guru Reality Steve.
Jed and Hannah were engaged, but broke up.
Oh boy. In late June, Reality Steve exclusively spoiled that Jed and Hannah are together, but called off their engagement. This was huge news—considering that Hannah ends her season engaged to Jed, and it might be edited as "she's finally getting her happy ending," this is a massive, massive right turn from the show trajectory. Then, in early July, more bad news, per Reality Steve: The couple are now not together or engaged. You can read about how it all went down here, and since the breakup was filmed, we'll get a chance to learn allllll about it "After the Final Rose." So there's more drama to come.
More seriously, poor Hannah just can't catch a break, considering that we had allll that drama with Luke (plus a surprise second proposal on the show?), some negative news from her second runner-up Peter Weber (Jed might not have been the only one with a pre-show girlfriend), and now some very heavy drama from the guy she did pick. Ouch.
Reality Steve speculated that the ended engagement probably resulted from all the negativity surrounding Jed's pre-show love life. Fans are asking whether she might get back together with Tyler, which Steve knew nothing about. Also, this was Reality Steve's attitude about what Hannah should do with her relationship with Jed, so we know he's in her corner:
It was a surprise that Hannah picked him.
Earlier in June, Reality Steve reversed course entirely, going from an initial spoiler that Tyler Cameron was our final guy to say that it's Jed Hannah picks for the last rose. Apparently, she was indecisive all the way up to the morning of, and it was a close thing. It was an epic discovery. Also, Steve said there has been so much hearsay and rumors about this season.
And his heart may not be in the right place.
Steve had previously insinuated that this talk about Jed being there for the platform it would afford his music (which Jed admitted to in a one-on-one but insisted he was falling in love) is real, and that he wasn't feeling good about their coupling in the long-run. And in fact, Jed has gotten back to singing in his post-show life:
He reportedly had a girlfriend before the start of the show.
Ugh. In an exclusive to People, sources claim that Jed was in a relationship with musician Haley Stevens when he left to join The Bachelorette. "He told me [early on] that he had applied," said Haley. "He said, 'It's probably not going to happen, but it's a huge opportunity. I'm only doing this for my music.' He only did it for his career." Apparently he reassured he that it was fake love, not real romance, and that he'd see her when he got back.
According to Haley, he ghosted her when he got back to Nashville, and Haley finally had to call him up, per People. "He said, 'Hey how have you been?' and I said, 'How do you think I've been?'" she said. "I asked him, 'You didn't think I deserved a phone call?' And he said, 'I didn't know what to say.'" And that, apparently, was the last time they spoke.

Sources for Reality Steve spotted some sexy comments from Jed on Haley's Insta:
And even unearthed an ad they did together:
He might have been texting another girl pre-show.
The other person won't speak publicly, but Reality Steve says he's seen the messages. And this is how he describes them:
Guys, this is really messy. Like, next-level messy.
Jed has spoken out—vaguely.
Up until the end of June, Jed has remained pretty quiet about the whole situation beyond saying people should focus on spreading "actual love." But yesterday, he finally broke his silence in a looong Instagram post that mostly indicated that he couldn't say much—probably because of his contract with the show—and saying that people have been threatening his family. "I ask that you please understand how much the actions being taken towards myself, my family, the men on the show, and above all, Hannah, are affecting all of our mental and physical health," he writes.
This is a valid point—abusive behavior isn't warranted, especially not in the context of a TV show that's designed to be dramatic and entertaining. I doubt very much that Jed knew the impacts the show would have on him and his family when he signed on.
Either way, the statement still says very little about Jed's actions before the show. I'm still highly intrigued to hear what he has to say for himself, and what angle he'll take on "After the Final Rose." Remorseful? Defensive? A mixture of the two? His attitude during the actual breakup between Hannah and him will be very telling, as well. His show behavior in the final episodes will have an immense impact on how the fans will view him—and whether, at the end of the day, he'll become almost as prominent a show villain as Luke Parker.
For more stories like this, including celebrity news, beauty and fashion advice, savvy political commentary, and fascinating features, sign up for the Marie Claire newsletter.

Katherine's a Boston-based contributing editor at Marie Claire online who covers celebrity, fashion, entertainment, and lifestyle—from "The Bachelor" to Everlane to Meghan Markle. She also edits the Couples + Money series, so she's always looking for volunteers at couples.money@hearst.com. Igoe: "I go to the store," not "Her huge ego".