The Best Sci Fi Movies of 2019
The only worlds that seem crazier than our own.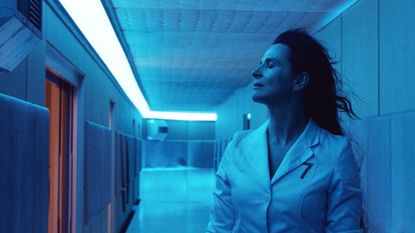 (Image credit: A24)
The thing about science fiction is that even though it tends to be about a high-concept setup, it's usually about something more fundamental. That makes it the perfect genre for our times, and in 2019, we've so far gotten a lot of sci-fi movies that explore what it means to be a person—especially a person living in chaos. There's an android striving to understand her past, a monster trying to be heard, and a band of criminals struggling to hold onto their humanity in deep space.

Below are the best sci-fi movies of 2019. We'll update as more of them come out.

What We've Seen So Far:
Alita: Battle Angel (February 14)
Who's In It?
Rosa Salazar, Mahershala Ali, Christoph Waltz, Jennifer Connelly.
What Is It?
Robert Rodriguez directed this uncanny-looking flick about an android woman who is found in a junk heap, revived, and raised by a loving scientist surrogate father. With the futuristic world under constant threat, she realizes that the key to its survival might be finding out about where she came from. Cue quest!
Captain Marvel (March 8)
Who's In It?
Brie Larson, Samuel L. Jackson, Lashana Lynch, Jude Law, Annette Bening, Gemma Chan.
What Is It?
Just before the release of Avengers: End Game, we finally got the origin story of the strongest Avenger of them all: Captain Marvel. Played by Brie Larson, Carol Danvers—a.k.a. the Cap herself—is a fighter pilot who taps into a secret alien power in order to save Earth from an intergalactic war. Casual.
High Life (April 12)
Who's In It?
Juliette Binoche, Robert Pattinson, André Benjamin, Mia Goth
What Is It?
A group of criminals serving life sentences are sent on a rocket ship to find alternative energy sources from a black hole, but Binoche's Dr. Dibs is also using them for various experiments (many involving artificial insemination and conception in space). It's gory, trippy, sexy, and very strange—and the way its timeline unravels will have you guessing the true nature of the voyage until the very end. Directed by French auteur Claire Denis.
Detective Pikachu (May 10)
Who's In It?
Kathryn Newton, Justice Smith, and of course Ryan Reynolds as Pikachu. What else do you need to know?
What Is It?
One reviewer called it, not unkindly, "relentlessly weird." And what would you expect from a live-action Pokemon movie in which Pikachu is a gruff, put-upon detective who can't remember anything and who helps a boy find his missing father? It's weird! And also genius. But the question remains: Is Pikachu hot?
Godzilla: King of the Monsters (May 31)
Who's In It?
Kyle Chandler, Millie Bobby Brown, Vera Farmiga, Ken Watanabe, Bradley Whitford.
What Is It?
Sure, Godzilla movies can be hit or miss in terms of actual content, but it's never short on spectacle. And this installment goes hard: All the titans of the Godzilla universe, including my girl Mothra, have come to play, and only Godzilla can protect Earth from the other giant monsters. Perfect summer action flick fodder.
What We Can't Wait to Check Out:
#10YearChallenge? Challenge Accepted. #Zombieland2 pic.twitter.com/cA1DL1bVZQJanuary 29, 2019
See more
Who's In It?
Basically the entire cast of the first movie, but ten years older. That means Emma Stone, Woody Harrelson, Abigail Breslin, Jesse Eisenberg—plus, according to IMDB, Bill Murray will be there again. (This is especially shocking to anyone who's seen the first one.)
What Is It?
A funny, delightfully violent story of survival in a post-apocalyptic world inhabited by zombies. The first movie took apart a lot of the tropes of classic zombie movies (seriously, why was no one ever looking in their backseat?!), and ultimately was about how holding onto humanity is the best way of staying alive. TBD what the new one will be about, but we're excited to find out.
The Lighthouse (TBD 2019)
Who's In It?
Willem Dafoe and Robert Pattinson.
What Is It?
Though the story of two men trapped in a lighthouse premiered at Cannes to rave reviews, descriptions of the film are still murky. Reviewers have called it extremely weird, dark, gory, and also weirdly hilarious? Robert Pattinson has inexplicably become the king of strange-yet-genius sci-fi turns, so sign us up.
Warning (TBD 2019)
Who's In It?
Alice Eve, Alex Pettyfer, Lana Condor, Patrick Schwarzenegger, Benedict Samuel, Charlotte Le Bon.
What Is It?
According to Deadline, Warning "explores loneliness, death and the meaning of life when vastly disparate lives collide in interweaving stories set in a near future Earth." So it sounds a little Black Mirror-y, plus it has an all-star cast of hotties.
For more stories like this, including celebrity news, beauty and fashion advice, savvy political commentary, and fascinating features, sign up for the Marie Claire newsletter.
RELATED STORIES
Celebrity news, beauty, fashion advice, and fascinating features, delivered straight to your inbox!