26 Mind-Blowing 'Game of Thrones' Facts Only a Superfan Would Know
Sam Tarly would be so proud.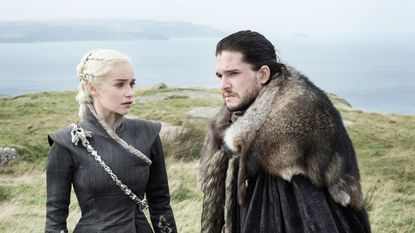 (Image credit: HBO)
This post contains spoilers for Game of Thrones, including all the season seven episodes that have aired so far, so please proceed with caution, just like you would when Cersei enters the room.
1. Sophie Turner adopted Lady the direwolf IRL.
While Lady didn't last long on the show (Ned Stark was forced to execute the poor pup in place of Nymeria at Cersei's command back in season one), Zunni, who played her for two episodes, is still very much part of the Thrones family. In 2013, Sophie Turner revealed to the Coventry Telegraph that her family adopted Zunni from the show. "Growing up I always wanted a dog, but my parents never wanted one. We kind of fell in love with my character's direwolf, Lady, on set. We knew Lady died and they wanted to re-home her. My mum persuaded them to let us adopt her."
2. Jon Snow could have looked like Ramsay Bolton.
As Iwan Rheon told Interview in 2016, it was down to him and Kit Harington to play Ned Stark's bastard son. "It could've been so different. I'd be dead now," Iwan said. "I think they made the right choice; it would've been a very different Jon Snow if I played him."
3. Alfie Allen's sister is singer Lily Allen.
In 2014, Lily claimed in an AMA that she was once approached about making a GoT cameo to play Theon's sister Yara. Alfie shot down that remark, later telling Vulture, "[I]t's not true…and that's the only thing I'm going to say about that." Lily offered one final thought about the topic, telling an Australian radio station one month later, "I'm not even allowed to mention the letters of what the show starts with. Alfie put me under strict orders." Fun fact: In 2007, Lily released a song about her brother not having a job. It's called "Alfie." In the music video, Alfie is played by a puppet.
4. The look of Dany's dragons on the show was inspired by geese and cat behavior.
In a 2013 interview with Wired, effects supervisor Sven Martin said the show turned to "big goose animals" and studied how they moved their wings when they were not flying. They also looked at the movements of bats flying and instructed Emilia Clarke to stroke her dragon stand-in "a little bit like a cat."
5. Sorry, that wasn't really Kit Harington's butt in the cave.
Jon Snow and Ygritte had, hands down, one of the sexiest cave sex scenes of all time when he finally lost his V-card in "Kissed By Fire" (season three episode five). There was a great butt moment but as Kit revealed in GQ nearly one year after the episode aired, "It wasn't my ass." Six weeks before the shoot, he broke his ankle due to "young male stupidity, really" and a crew member with long black curls stepped in as Kit's butt double.
6. The Mountain is actually a gentle soul IRL and he has a tiny Pomeranian called Ástríkur.
Behold Hafþór Júlíus "Thor" Björnsson and his pup, AKA "my Lion."
7. The horse heart Dany eats in front of Khal Drogo in season one was actually made of solidified jam.
According to Emilia Clarke, the jam concoction was so awful she didn't really have to act. "[It] tasted like bleach and raw pasta," she told The Mirror. "I ate roughly 28 hearts throughout the days we filmed that scene. Fortunately, they gave me a spit bucket because I was vomiting in it quite often."
8. In A Song of Ice and Fire, Yara Greyjoy's first name is actually "Asha."
Prior to introducing Theon's sister on season two, producer David Benioff explained why the show was going to move forward with the name Yara. "We're a little bit worried about the Osha/Asha sounding to close together," he told Access Hollywood in 2011, referring to Osha the wilding.
9. Jack Gleeson, who played Joffrey Baratheon, was this cute little boy in Batman Begins.
If you're a Jack Gleeson fan, this clip and Game of Thrones are pretty much all you've got for his reel. In 2014, Jack announced he was retiring from acting at the young age of 21. "I just stopped enjoying it as much as I used to," he told Entertainment Weekly. And now there's the prospect of doing it for a living, whereas up until now it was always something I did for recreation with my friends, or in the summer for some fun. I enjoyed it. When you make a living from something, it changes your relationship with it. It's not like I hate it, it's just not what I want to do."
10. Producers David Benioff and D.B. Weiss know the ending in case George R. R. Martin gets "hit by a truck" (GRRM's words, not mine).
In 2011, GRRM told Entertainment Weekly, "I know the ending in broad strokes. I don't know every little twist and turn that will get me there, and I don't know the ending of every secondary character. But the ending and the main characters, yeah." Benioff told Variety in 2015, "We know what the ending is, and we're barreling toward it," adding that there are no intentions of stretching it out "just because we're all having a good time doing it and people are making money off it."
11. Maester Aemon was blind on- and off-screen.
Peter Vaughan was partially blind when he was cast as the blind elder Maester Aemon of the Night's Watch. Less than two years after his character died from old age on the show, Vaughan passed away in December 2016 at the age of 93. His agent confirmed to The Telegraph that "he died peacefully with his family around him."
12. The OG pilot—which featured GRRM in a cameo—has never aired.
Despite having a director in Tom McCarthy (Spotlight, The Station Agent), the show's original pilot bad - so bad that Weiss and Benioff's friends, who were used as guinea pig viewers for the episode, had no idea Jaime and Cersei were brother and sister after 60 minutes. In 2012, GRRM told Empire that he made a cameo as a Pentoshi nobleman and one of the guests at Dany and Khal Drogo's wedding. "However, subsequently we recast the part of Dany, so the entire Morocco wedding sequence was cut, and my brilliant cameo was left on the cutting room floor." (via Syfy.com)
It's true: the OG pilot had different actors—Jennifer Ehle and Tamzin Merchant initially played Catelyn Stark and Daenerys Targaryen, respectively. Rude, since it's impossible to imagine anyone other than Michelle Fairley and Emilia Clarke in those roles.
13. Tyrion has appeared in more episodes than any other character.
As of season seven, episode five, "Eastwatch," 65 episodes of aired and Peter Dinklage's Tyrion Lannister has appeared on 59 episodes, followed by Lena Headey's Cersei (57), and Kit Harington's Jon Snow (55).
14. Maisie Williams and Sophie Turner have matching tattoos that say "07.08.09."
The date refers to when both actresses found out they were cast as Arya and Sansa Stark, respectively, in the series. The two got inked in September 2016 and debuted their matching designs during Emmys weekend a few days later.
15. Dean-Charles Chapman played two different characters on the show.
You know what Tommen rhymes with? Martyn. Okay, fine, the rhyming is a stretch, but the connection both characters—Tommen Baratheon and Martyn Lannister—have to the actor Dean-Charles Chapman is pretty major. A hot second after playing Martyn, who was held prisoner by the Tullys and later killed off with his brother Willem in season three, Dean-Charles took on the more royal role at the beginning of season four. Oh, GoT, you just love to recycle actors, don't you.
16. George R. R. Martin has one of the dragon eggs from the GoT set.
In 2011, designer Gemma Jackson gave the egg prop to GRRM as a wedding gift when he married longtime love Parris McBride. According to Emilia Clarke in a 2015 interview with Harper's Bazaar, Jay-Z bought one of the original eggs as a gift for Beyoncé. So where's the third? Fess up, Littlefinger. I know you know.
RELATED STORY
17. To date, 14 actors from the Harry Potter movies have appeared on Game of Thrones.
The exclusive club includes Natalia Tena (Nymphadora Tonks/Osha), Michelle Fairley (Hermione's mother/Catelyn Stark), David Bradley (Argus Filch/Walder Frey), Ciaran Hinds (Aberforth Dumbledore/Mance Rayder), Daniel Tuite (a Ministry wizard/Lothar Frey), and most recently, Jim Broadbent (Professor Slughorn/Archmaester Ebrose).
18. The Lyanna Mormont face that went viral after "Battle of the Bastards" (season six, episode nine) was shot close to 60 times.
Director Miguel Sapochnik told The Wrap that actress Bella Ramsey "had no idea when a camera was on her or another cast member" and "stayed in character and in the scene throughout." What a champ.
19. Ramsay Bolton's death was supposed to be even more gruesome than what aired.
Mat Krentz, Imagine Engine visual effects supervisor, told Variety in 2016 that the scene was shot with multiple takes. "They did a pass of the dog on green screen, then Ramsay on green screen, and then we also had a background plate, which we put together," he explained. A CG jaw was also made and animated to emulate the act of flesh ripping, but that portion was scrapped and the show went with a 2D composite.
20. Jon Snow is wearing a rug from Ikea.
GoT costume designer Michele Claption revealed during a talk at the Getty Museum in L.A. in 2016 that the capes adorned by the men of the Night's Watch are actually IKEA rugs. The news didn't take off until 2017, shortly after season seven premiered, which prompted Ikea releasing their own hilarious instructions on how to construct your own Jon Snow-approved cape for your own outings beyond the wall.
21. The actor who plays Hot Pie has a bakery IRL.
Ben Hawkey, whose beloved character Hot Pie briefly returned to the show in season seven, has opened a GoT themed bakery called You Know Nothing John Dough. There's no physical bakery, so you can't recreate any pie eating scenes opposite Hot Pie - Ben teamed up with London-based delivery service Deliveroo, selling Direwolf loaves made from whole wheat cornbread and orange zest, among other treats.
22. Fake scenes were filmed for season seven to trick paparazzi and more importantly, impatient fans.
Also, during the Is Jon Snow Dead or Alive phase of the show between seasons five and six, Kit had to hide under an umbrella during production. An umbrella? That's practically inviting the public to look. Couldn't they have used a giant tent instead?
23. The most expensive death scene ever filmed (so far) did not involve dragons.
During the GoT panel at South by Southwest 2017, Benioff and Weiss confirmed that Arya's first killing from her list—where she gouges Ser Meryn Trant's eyes out in "Mother's Mercy" (season five episode 10)—cost the show a lot of money. "She couldn't really poke out his eyes," Benioff explained.
24. Varys's IRL brother also works on the show as a sound-mixing guru.
Ronan Hill, brother of Conleth, who has played the wise and bald one for seven seasons, has won three Emmys for his work on the show.
25. The most viewed episode (to date) is the season six finale, "The Winds of Winter."
Some 8.9 million viewers tuned in to watch Arya slit Walder Frey's throat like butter in June 2016. (This is the same episode with the incredible 9-minute long scene featuring the wildfire massacre and GoT composer Ramin Djawadi's "Light of the Seven.") The second most-viewed is "Mother's Mercy," the season five finale, with 8.11 million viewers. (Fun fact: "The Winds of Winter" is also the longest episode to date at 69 minutes).
26. To date, George R. R. Martin has written four episodes of Game of Thrones.
These include "The Pointy End" (season one), "Blackwater" (season two), "The Bear and the Maiden Fair" (season three), and "The Lion and the Rose" (season four). In 2015, GRRM wrote on his LiveJournal that after much thought, "I've decided not to script an episode for season six of Game of Thrones. Writing a script takes me three weeks, minimum, and longer when it is not a straight adaptation from the novels. And really, it would cost me more time than that, since I have never been good at changing gears from one medium to another and back again." He ended the post with, "My energies are best devoted to Winds," referring to the book he's been working on for approximately 234 years.
In July 2017, GRRM took that sentiment one step further. Again, from his LiveJournal: "Look, I probably won't be writing episodes of ANY television shows until WINDS OF WINTER is done and delivered, and that goes for the five GAME OF THRONES successor shows as well."
Follow Marie Claire on Facebook for the latest celeb news, beauty tips, fascinating reads, livestream video, and more.
Marie Claire email subscribers get intel on fashion and beauty trends, hot-off-the-press celebrity news, and more. Sign up here.
Peggy is Cosmopolitan.com's entertainment writer, specializing in Leonardo DiCaprio, This Is Us, and the royals. She's also a proud Canadian and pug lover. When Peggy's not obsessing over Leo's latest lover or gut size, she can be found watching old episodes of Friends or Gilmore Girls. Her dream is to one day live on a pug farm and write children's books, with illustrations by her very talented husband Greg.