Jon Snow's Butt Was the Highlight of the 'Game of Thrones' Finale
"The Dragon and the Wolf" and the butt.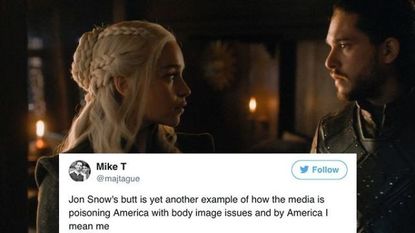 (Image credit: HBO)
This post contains spoilers for the Season 7 finale of Game of Thrones.
Now that you've had a few good hours of sleep to digest everything that happened on Sunday's Game of Thrones Season 7 finale, it's time to talk about Jon Snow's butt. Yes, I'm referring to the sighting of Kit Harington's perfectly rounded behind, which made a magical appearance between the sheets with Emilia Clarke's Daenerys and between Bran's voiceover of who Jon's parents really are ("He's never been a bastard, he's the heir to the Iron Throne"). For those who were not able to get past the now-confirmed fact that Dany is Jon's aunt and therefore not appreciate anything else about this scene, look, I understand. For those who just want another excuse to gawk at Jon's butt, you've come to the right place. Let's get to it, shall we?
RELATED STORY
Setting the scene here, Jon knocks on Dany's cabin door as they're sailing into the night.
Pretty sure the alternative dialogue here was something to the tune of, "Boat sex?" "Yes."
Sorry to keep you waiting, here are some lightly (I really mean it) edited screencaps of Jon's fantastic, rounded moment.
And here it is in GIF form, just in case.
Naturally, Twitter was abuzz at the sight of Jon's butt. (That, along with Littlefinger's death, were pretty much the only good things that happened on the episode.)
On one hand, that was a bit much. On the other I am always down for a little Jon Snow butt #gameofthrones pic.twitter.com/05vj7lCy4TAugust 28, 2017
See more
Jon Snows butt is all I needed to complete my night. #GameOfThrones #JonSnow pic.twitter.com/HO8BjAVXf1August 28, 2017
See more
I hope Jon Snow's butt gets an IMDb credit for that appearance. #GameOfThonesAugust 28, 2017
See more
If your first thought was, I've definitely seen this butt before, congrats! You hold an imaginary diploma in Jon Snow Anatomy 101. Season 6 Episode 3, "Oathbreaker," featured not only the resurrection of a dead Jon (thanks to the Lord of Light and Melisandre), but also this most glorious scene when he sat up and Ghost was like, WTF? You're back?
There was also an epic bulge moment from the previous episode, "Home":
If you've been keeping track, Sunday's finale was the second time Kit's real butt was shown on the GoT, and the third time Jon Snow's butt has been featured. In 2014, Kit revealed to GQ that the butt everyone saw in his iconic Season 3 cave sex scene with Ygritte actually belonged to a crew member. "It wasn't my ass," he said, adding that he broke his ankle due to "young male stupidity" just before the shoot. Based on Sunday's display and Sunday's display alone, all is forgiven. Season 8 showrunners, if you're still writing the episodes, please include more of this.
Follow Marie Claire on Facebook for the latest celeb news, beauty tips, fascinating reads, livestream video, and more.
Celebrity news, beauty, fashion advice, and fascinating features, delivered straight to your inbox!
Peggy is Cosmopolitan.com's entertainment writer, specializing in Leonardo DiCaprio, This Is Us, and the royals. She's also a proud Canadian and pug lover. When Peggy's not obsessing over Leo's latest lover or gut size, she can be found watching old episodes of Friends or Gilmore Girls. Her dream is to one day live on a pug farm and write children's books, with illustrations by her very talented husband Greg.