Criminal Minds' 15th Season: Every Detail We Know
The final season of Criminal Minds is upon us. Here's what we know about the release date, guest stars, and more.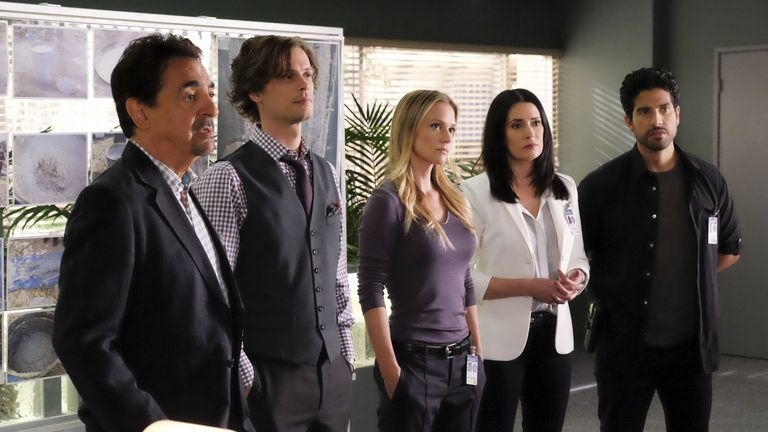 (Image credit: CBS Photo Archive)
After 14 seasons of mutilation and the term "un-sub" being thrown around approximately every four minutes, beloved crime procedural Criminal Minds' 15th and final season is upon us. The last season will have just ten episodes—most thus far have had at least 20—and will heavily feature longtime Criminal Minds stars Joe Mantegna, Matthew Gray Gubler, Kirsten Vangsness, Paget Brewster, and A.J. Cook, along with a handful of recent cast additions, as well as longtime guest star Jane Lynch.
Unlike its first 14 seasons, the final season began airing in CBS' mid-season slot rather than in the fall of 2019, as was initially expected. Here's what else we know about the last season of the show that made everyone in America double-check their doors were locked before they went to sleep (as any longtime viewer knows, the suburban family is the least safe of all!).
Oh, thank God. Lynch has played Reid's genius mom on and off since the very first season; her character, Diana, suffers from schizophrenia, and Reid had Diana committed when he became an adult. In season 12, Diana was kidnapped, and after she was saved by the BAU (because, of course), she and Reid had an emotional reunion. That's the last we saw of Diana—until now!
"I see a happy ending in store for Reid, which is something that we're all looking forward to, including with his mom," Gray Gubler told Parade.
Said Messer to TV Line: "You see what our team does when they're not in the roundtable room getting briefed, getting on the jet and going to another city...If we had our way entirely, we wouldn't have had a crime to solve."
I mean, wouldn't you be? This show has been running longer than Friends did, for crying out loud.
They even got matching rings to commemorate their time on the show.
The key to the final season will be Rossi's much-anticipated showdown with The Chameleon, played by Michael Mosley. Rossi "will be concluding the 10 episodes with a showdown with [the Chameleon]," said showrunner Erica Messer in a January interview with Deadline.
Daniel Henney told TV Line: "Overall, I'd say [Season] 15 has more of an arc through the episodes than previous seasons. Our unsub, Chameleon, is played by Michael Mosely, and he's definitely into some gruesome, creepy stuff."
So, business as usual, then!
Ooh. In the same interview with Deadline, Messer teased that stars in the form of old un-subs and old cast members could return for a final goodbye.
She also mentioned that she'd be reluctant to kill off any of the most beloved and long-standing characters. "I know it's a drama, but I'm less likely to injure or write someone off in a way that says they're not breathing anymore," she said. (Full interview is here.)
The cast members most in demand by fans would likely be Aaron "Hotch" Hotchner, played by Thomas Gibson; Derek Morgan, played by Shemar Moore; and Jason Gideon, played by Mandy Patinkin. For two of those three actors, coming back would be complicated—Gibson was abruptly fired from the show over anger-management issues (Gibson denies that he was violent, as the network claimed), and Patinkin has described his tenure on Criminal Minds as his "biggest public mistake," adding that the show "was very destructive to my soul and my personality" and suggesting that it shouldn't have been made in the first place.
Shemar Moore is a different story. Moore has returned twice for guest spots and, plot-wise, showrunners left the door open for him to return in the future. It sure seems like he maintains a good relationship with the show and its network—but he's also the lead on S.W.A.T., which is currently airing, so scheduling conflicts may have arisen. (Ironically, until season 15, S.W.A.T. had replaced the Wednesday slot that Criminal Minds used to occupy. The audacity!)
Don't mind me, it's just some dust in my eye! I'm fine!!
The final episode has already shot; the series wrapped up in May.
I wish that love interest were me, but it's not: Rachel Leigh Cook, who you might remember from She's All That and Josie and the Pussycats, guest stars as a love interest to Reid. At the beginning of the season, we see JJ and Reid's friendship begin to recover from JJ's confession that she had been in love with him—and when it does, Leigh Cook arrives to steal Reid's heart. JJ gives Reid her blessing about his new love interest, telling him: "Whoever this conversation was with, she put a smile on your face I haven't seen in a really long time."
Said Messer to TV Line of JJ's confession: "We can't … pretend it didn't happen. It's definitely a huge driver for the first handful of episodes that will help add layers to those characters again."
In a different interview, she confirmed of Reid meeting Max: "He's not going to be alone."
One of the show's current leads, Aisha Tyler, told TV Line that the finale of the show would be "massive, explosive and transformative," and full of "really good surprises." Messer also said that it would be a "tearjerker."
I mean, look at them on this Watch! cover.
In an interview after filming wrapped up, Kirsten Vangsness said: "I'm lucky, I keep in touch and stay very connected with everyone. They're my family and I can't say there is one I miss more than the others!"
Matthew Gray Gubler's maniacal grin (almost un-sub-like, you might say) is pretty fitting here, no?
For more stories like this, including celebrity news, beauty and fashion advice, savvy political commentary, and fascinating features, sign up for the Marie Claire newsletter.