The 5 Huge Emmys Moments Everyone's Talking About Today
Sean Spicer, is that you?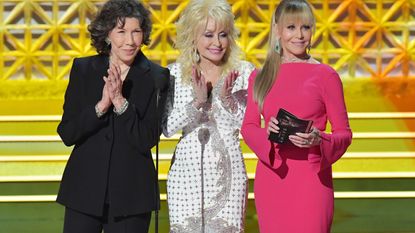 (Image credit: Getty Images)
In case you missed the TV extravaganza that was the Emmys—a night fueled by sick Donald Trump burns and filled with well-deserved wins for many actors and writers of color—here's a primer on all the entertainment that kept Twitter buzzing late into the night.
Rachel Bloom saying she'll re-sell her Gucci dress after the Emmys.
Rachel Bloom (@Racheldoesstuff) says @gucci wouldn't dress her, so she bought her own #Emmys gown https://t.co/6dJKpseZHj pic.twitter.com/sMVnCnXhtISeptember 17, 2017
See more
In a moment of subtle shade on the red carpet, Crazy Ex-Girlfriend's Rachel Bloom gave the realest response when asked the standard "Who are you wearing?": She bought her black lace Gucci dress off of consignment site The RealReal (opens in new tab) since the brand wouldn't dress her. It's notoriously difficult for women beyond standard sample sizes to find designers who will lend gowns to them, so her answer was refreshingly honest and hilarious, especially when she followed it up by saying, "Take a look on The RealReal for the dress tomorrow."
When Spicey hit the stage as Colbert's "yes man."
Yes, really, there was a moment when Sean Spicer rolled out a mini press secretary podium for a bit where he told Colbert tonight's show brought in "the biggest Emmys audience in history." (Right after a long Trump roast, FWIW). Melissa McCarthy, for one, looked stunned to see him. It was a divisive moment for many who didn't think his comedic spotlight was appropriate.
Whoa: actual Sean Spicer comes out to discuss the numbers at the Emmies. Many people are gasping. (I do not love this.)September 18, 2017
See more
everyone who had a hand in bringing spicer on stage should be deeply, profoundly embarrassedSeptember 18, 2017
See more
Dolly Parton on stage with her 'Nine to Five' co-stars.
.@LilyTomlin, @DollyParton, and @Janefonda take a not-so-subtle jab at Trump at the #Emmys pic.twitter.com/Vl33e4oxS2September 18, 2017
See more
The reunion we never knew we needed was the cast of the '80s office satire Nine to Five: legends Dolly Parton, Jane Fonda, and Lily Tomlin. They took turns to throw barbs at Donald Trump and Dolly cracked a set of dirty jokes. Needless to say, the crowd went wild.
Lena Waithe making history as the first person of color to win an Emmy for Comedy Writing.
Representation matters. Go @LenaWaithe!! #Emmys #Emmys2017 pic.twitter.com/wSFvPO7T8oSeptember 18, 2017
See more
Hollywood still has a long way to go, if the #OscarsSoWhite controversy is any sign, but last night the Emmys championed diversity. Among well-deserved wins for artists of color, Lena Waithe became the first person of color to win an Emmy for her comedy writing on Master of None and took to the stage with Aziz Ansari to deliver one of the best acceptance speeches of the night. She ended her speech with these words: "The things that make us different—those are our superpowers."
Julia Louis-Dreyfus winning her sixth consecutive Emmy award for her role in 'Veep.'
The Emmys has historically been Julia Louis-Dreyfus' for the taking. She's won more than a handful of Emmys for her hilarious portrayal of President Selina Meyer in Veep (and numerous others for Old Christine and Seinfeld). Tonight she made history with the most number of wins for an actor in the same consecutive role, nabbing her sixth Emmy (where no one seemed more Kris Jenner-level proud than Kevin Spacey).
Kevin Spacey is going to re-watch Julia Louis-Dreyfus' acceptance speech before he goes to bed #Emmys pic.twitter.com/xzaA3QoEkdSeptember 18, 2017
See more
Oprah announcing 'Handmaid's Tale' for the winner of the Best Drama Series Emmy.
In case you were wondering where Oprah went during John Oliver's second Emmy win (he gave her a shout-out both times he accepted an award since she was sitting in the front row), the Queen of TV was prepping backstage to announce the last award of the night for Best Drama Series. She read the win for Handmaid's Tale in her signature game show–volume, "You get a car" voice and Twitter had a field day.
Oprah is wearing a white pantsuit so that she can accept the Democratic nomination right here. #Emmys pic.twitter.com/NZlWVJEw0WSeptember 18, 2017
See more
Congrats to 'The Handmaid's Tale' on their Emmy win but also because Oprah yelled the name of the show #EMMYS pic.twitter.com/RBmTAVNwefSeptember 18, 2017
See more
Follow Marie Claire on Facebook for the latest celeb news, beauty tips, fascinating reads, livestream video, and more.