Watch the 'Shadow and Bone' Cast Play 'How Well Do You Know Your Co-Star?'
Wow, one of the actors really hates birthday cake.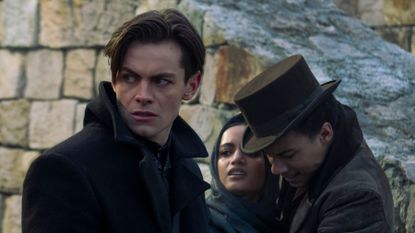 (Image credit: DAVID APPLEBY/NETFLIX)
If you've been missing the world-building in epic shows like The Witcher or Game of Thrones, have we got just the thing for you: Netflix's Shadow and Bone. The series—based on Leigh Bardugo's bestselling "Grishaverse" novels—is set in the fictional world of Ravka (opens in new tab), a country divided by regions of light and darkness (also known as the monster-populated "Shadow Fold (opens in new tab)"). After Alina Starkov (Jessie Mei Li) discovers that she has the power to summon sunlight, the orphan gets entangled with the corrupt Ravka military general in her quest to vanquish the Fold. The show's scale practically demands an ensemble cast to carry the complicated storylines (opens in new tab) on their backs. Watching them work so well together onscreen made us ask: How well do they know each other offscreen?
So we sat down with castmates Ben Barnes, Jessie Mei Li, Kit Young, Amita Suman, Archie Renaux, and Freddy Carter to put their knowledge of each other to the test. Watch the video to see which of the show's stars gets melons—yes, melons—instead of cake for their birthday, among other fun facts. Like, what was Barnes' first paid job? And who calls bingeing a show, "getting your biscuits?"
See who snags the "How Well Do You Know Your Co-Star?" crown in the video, and don't miss Shadow and Bone season 1, now streaming on Netflix.

stream 'shadow and bone' on Netflix (opens in new tab)
RELATED STORIES
Zoe Guy is the digital fellow at Marie Claire, where she covers pop culture, hot celebrity gossip, movies and TV. She's obsessed with Martin Scorsese's adaptation of The Age of Innocence, anything written by Jesmyn Ward and stan Twitter.