Who Is Blake Moynes From 'The Bachelorette'?
Bachelor fans are about to see a lot more of him.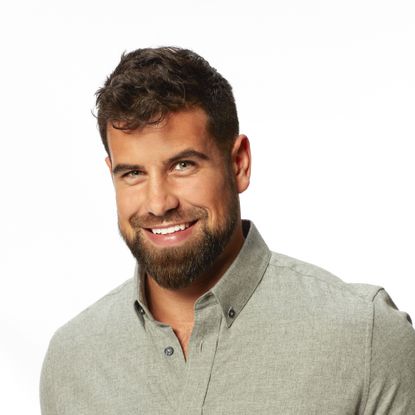 (Image credit: Craig Sjodin)
Marie Claire Newsletter
Celebrity news, beauty, fashion advice, and fascinating features, delivered straight to your inbox!
Thank you for signing up to Marie Claire. You will receive a verification email shortly.
There was a problem. Please refresh the page and try again.
The best/worst time during any given season of The Bachelor or The Bachelorette is when a random, former contestant from another season makes a ~surprise~ guest appearance in an effort to win over the new lead's heart. And it quite literally always causes drama. (See: Nick Viall on Kaitlyn Bristowe's season; Heather Martin on Matt James's season; many, many more.) For Katie Thurston's season, that time came during week four: We saw the return of 29-year-old Blake Moynes, who vied for now-host Tayshia Adam's final rose as a contestant on her season. Moynes made it all the way to Katie's final four—even amid controversy about his quote-unquote being there for the right reasons and their communication before he joined the show. So, what do we know about Moynes?
Blake fell for both Clare Crawley and Tayshia Adams.
Blake was a contestant on Clare Crawley's (short) season of the The Bachelorette—you might remember that he also reached out to Crawley prior to filming. After she picked Dale Moss early on, Moynes become a part of Adams' cast, where he fell quickly and hard for the new leading lady.
He had strong feelings for both women. After his breakup with Adams, he told Us Weekly: "The connection [I had with Tayshia] was very slow. But every time that we'd make a step, I think I opened her eyes more and more and more...I walked in with a red flag over my head [because I had feelings for Clare Crawley]....If it was Tayshia from the beginning, I think my story would have been a little bit different." (Adams, of course, is one of the hosts of Thurston's season, so that's...interesting!)
Some in Bachelor Nation are wary of Moynes, given his history of falling hard and fast for leads (just as we now know he has for Katie). Nick Viall said on his podcast: "Blake is going to get crap, obviously, for someone who fell in love with Clare without validation, fell in love with Tayshia without validation. So, when he's [saying], 'I'm in love with Katie,' it's fair to question [it]...[Not to] question that he believes what he says. I just kind of question, like, 'Do you just kind of love hard, bro?'"
Blake reached out to Katie before her season.
Thurston confirmed this, saying to Us Weekly: "I definitely knew who he was, which also Tayshia's ex-boyfriend! So that's weird. We had chatted before, but usually what happens is, like, the guys will reach out to the women once they're eliminated and be like, 'Good luck, you did great.' Like very generic, you know? And so to see him, I was like, 'Why is he here?' Like, 'What's happening?'"
She spoke more about their initial communication on the Chicks in the Office podcast. "I will say coming off my season with Matt, people were really shipping [Blake] and I before...So I was a little familiar with who he was and his background." But she was still thrown when he showed up, she added. "I was shocked. I was not expecting that at all."
And Moynes said on the Click Bait podcast: "When I actually reached out that first time, after the first episode, her responses were very cold back. She was nice, but she didn't open up her dialogue in any way. It was shut down right then and there...She came out of that limo with that vibrator, I was like, 'Yeah, I like what she's about.' … It was a simple reach out, It was like, 'I f–king love that you did that. That was f–king awesome, like, good for you,' this and that."
Later, Katie said: "He wasn't very obvious with his intentions, and we brought that up. I was like, 'I didn't even know you were interested in me.' He just very casually tested the waters but didn't try too hard. I wasn't interested."
Moynes, for his part, has poked fun at his repeated Bachelorette experiences. When a fan wrote of Michelle's season on Instagram, "And on what episode can we expect Blake to come in?" Moynes joked, "Waiting on Michelle to respond to my DM first …"
Some in Bachelor Nation are a little wary of him. Said Ashley Iaconetti to Us Weekly: "Honestly, like, I don't feel it with any these guys. Blake is just a little crude for me. He's so not my cup of tea. I don't know, there's just been certain conversations where it's just, like, there's a lack of romance there. There's a lot of sexuality…I'm so much of a romance person it's hard for me to connect with that. I think that's also just total personal preference. If he's right for Katie, then that's awesome."
Blake works in wildlife management.
Moynes is an outdoorsy dude and he dreams of an outdoorsy girl. As a wildlife manager, He has his own line of merch (proceeds support wildlife conservation). According to his ABC bio, he supports a different endangered species every year. He's also passionate about the environment and runs yet another Instagram account that supports conservation.
He adopted a rhino via the nonprofit Care For Wild Rhino Sanctuary, the world's largest orphaned rhino sanctuary that specializes in the care of orphaned, injured or sick rhinos. He also is a cat and dog dad. (And again, has the merch to prove it.)
Blake is from Hamilton, Ontario, in Canada.
Thurston is from Renton, Washington, so should Moynes win, someone is moving or they have a 16-hour commute for dates. As for Moynes' family: His mom, Emily, is a life coach who runs her own company, Rebuild a Kick-Ass Life, and specializes in coaching women to break away from toxic relationships and know their own self-worth. She separated from Moynes' father when Moynes was a kid, and he was raised by his mom alongside his brother and sister, Taylor and Cody.
So what do we think—third time's the charm? No spoilers in this post, but if you do want to know how the season goes for Blake, Katie, and the others, you can read our spoiler-filled guide.
Celebrity news, beauty, fashion advice, and fascinating features, delivered straight to your inbox!
Megan DiTrolio is the editor of features and special projects at Marie Claire, where she oversees all career coverage and writes and edits stories on women's issues, politics, cultural trends, and more. In addition to editing feature stories, she programs Marie Claire's annual Power Trip conference and Marie Claire's Getting Down To Business Instagram Live franchise.