Tayshia Adams' 'Bachelorette' Cast: Every Detail We Know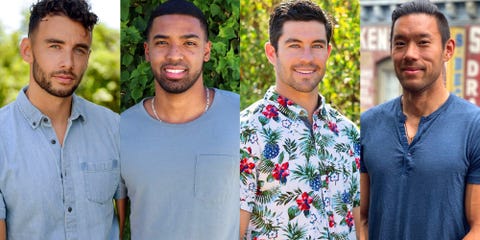 Spoilers for this season of The Bachelorette ahead. If you're here, you'll know that Clare Crawley isn't the only Bachelorette of the 2020 season. Five episodes in, Crawley will leave the show with her frontrunner Dale Moss—the man Crawley fell in love with on sight—and she'll be replaced with fan favorite Tayshia Adams, who will take on the mantle of the Bachelorette for the rest of the season. There's still a lot that hasn't been confirmed, but we know that Adams' season has finished filming and that her cast was a mix of men from Crawley's season and new contestants.
Which brings us to: We do have a list 20 men we believe are part of Adams' cast, thanks to Reality Steve and Instagram account bachdetective. This list is made up of some of Crawley's cast of 31 men, as well as some of her alternates who weren't initially brought onto her season (but were held in reserve in case someone tested positive for COVID-19 or there were other issues with production). Crawley had made two rounds of eliminations before she quit the show, which means that Adams is working with a smaller number of contestants than normal. We'll keep this post updated.
This content is created and maintained by a third party, and imported onto this page to help users provide their email addresses. You may be able to find more information about this and similar content at piano.io