What We're Reading: New Yorker Short Stories
Impress your friends with this week's buzzy new book.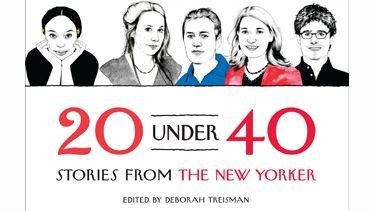 (Image credit: Courtesy of Farrar, Straus & Giroux)
If anyone knows who's who in fiction, it's The New Yorker. So we're loving their new compilation of stories from their buzzy "20 Under 40" — the young writers whose names will be on everyone's lips in the next few years, if they're not already.
20 Under 40: Stories from The New Yorker

Editor: Deborah Treisman, who has edited fiction for The New Yorker for more than a decade.

Genre: Über-literary short fiction

What Happens: 20 of the biggest (and/or best) names from the fiction world—from Jonathan Safran Foer and Gary Shteyngart to Nicole Krauss and Téa Obreht—present a huge range of short stories. So, you know, kind of a lot of stuff happens.

Why Read It: I'm the first to admit that sometimes the fiction pieces in The New Yorker can be a little, well, skippable. But much of the time, they're anything but. Let's just say these stories fall into the latter category.

Details: Farrar, Straus and Giroux, $16, December 7