Not Dressing Up for Halloween? 8 Other Ways to Look Festive
We've got eight different ways you can look Halloween-festive without having to transform yourself into a sleazy professional or ironic pun.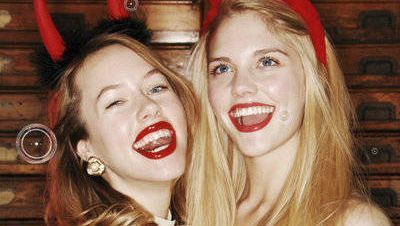 (Image credit: Amazon Prime)
We totally get it: You either don't have time or simply don't want to wear costumes every year on Oct. 31, but there's no need to be a party-pooper, too. We compiled eight different ways you can look festive without having to transform yourself into the all-too-typical sleazy professional or ironic pun outfits.
1. Superhero t-shirt: Thanks to pop culture, superheroes are more popular then ever which has resulted in countless t-shirt options. Throw on your favorite superhero tee with whatever makes you comfortable (we vote jeans), and you've got yourself a cute costumes-que outfit.
2: Cat-eye eyeliner: This makeup look is trendy-yet-bold option, allowing you leeway for it to be considered festive. Go as dramatic or as safe as you want to give yourself a stand-out look for the evening.
3. Bring out the ugly holiday sweater: We all know that ugly sweater parties are just huge around Christmas time, so why not throw it on a few months early? Go ahead — tap into your inner Grandma and rock the tackiest sweater out there.
4. Witch hat and animal ears: Wear them with jeans, leggings, a blouse, t-shirt, or anything, really. Boom. It's that simple.
5. A cute, themed manicure: : If you sport a standard black manicure with an orange jack-o-lantern on the accent nail, no one will question your Halloween spirit.
6. Skull jewelry: Skulls have grown to be a very popular trend in recent months, so it shouldn't be too hard to find them on bracelets, rings, or earrings in any mainstream store.
7. Colored locks: Ever wondered if you could pull off (temporary) pink tips, la Lauren Conrad? Now's your chance to test the waters without regret.
8. The non-costume costume: It's simple: Just pick a look and go with it. Whether it's all-black, mismatched, or animal print, make yourself stand out and you'll be playing along perfectly.
Celebrity news, beauty, fashion advice, and fascinating features, delivered straight to your inbox!