TOMS' Safari-Themed Spring Collection Has Deeper Meaning
Inspired by the life of legendary photojournalist Dan Eldon, the new line is meant to spread the message that the journey is the destination.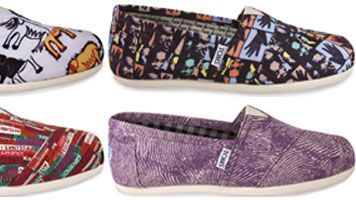 (Image credit: Courtesy TOMS Shoes)
At Marie Claire, we're all about fashion that has a purpose, and one of our favorite socially-conscious brands is TOMS Shoes (opens in new tab). The company gives away one pair of its shoes to a child in need for every pair bought. And as of this past September, it had supplied shoes to a million children around the world. Not only does every purchase go directly to an amazing cause, but the shoes are actually cute and comfortable, too.
For the Spring 2011 collection, TOMS has drawn inspiration from another champion of social activism, legendary photojournalist Dan Eldon. As the youngest journalist ever hired by Reuters, Eldon chronicled his adventures throughout Africa in his many journals and photos — until he was stoned to death by a mob in Mogadishu, Somalia in 1993, at the age of 22.
"About a year ago, I was packing for a surf trip to Costa Rica and once again stumbled upon Dan's book," TOMS Founder and "Chief Shoe Giver" Blake Mycoskie tells us. "Dan was an unstoppable spirit trying to make change in the world… It struck me that the TOMS community should know [his] story."
The design team sifted through the images and sketches Eldon left behind and translated them into the spring collection. The result is a line whose message is two-fold: do good in the world, and embrace adventure.
The styles range in attitude from fun to serious — an assortment of bright colors, African-inspired prints, and Eldon's most iconic photographs. Our favorite designs: a playful elephant sketch, a stripe-y Safari pattern, and a black-and-white image of Eldon's fingerprint taken from his adventure-filled passport. And, of course, the one emblazoned with the motto by which Eldon lived: "The Journey is the Destination." What better reminder that every step should be an adventure?
You can find TOMS in retailers nationwide, or online at toms.com (opens in new tab).