The Summer 2012 Reading Guide
Whether you're a 50 Shades kind of girl or prefer something with a touch of Jane Austen in your beach bag, these page-turners will keep you in good company for the duration of summer.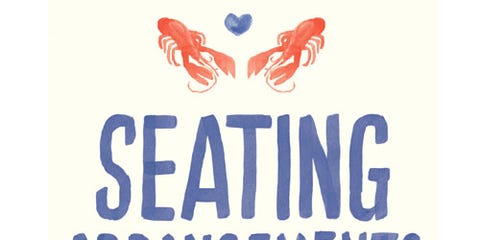 Whether you're a 50 Shades kind of girl or prefer something with a touch of Jane Austen in your beach bag, these page-turners will keep you in good company for the duration of summer.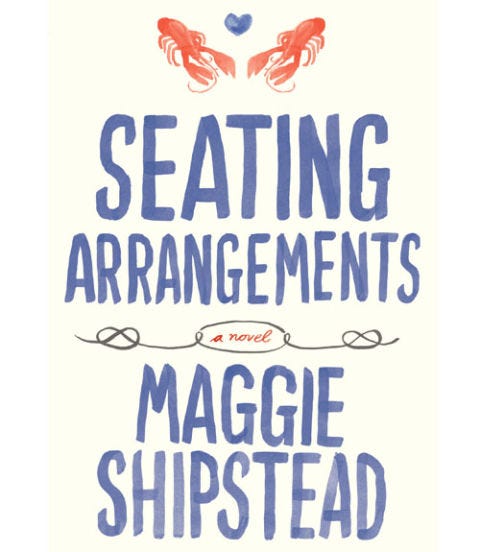 Seating Arrangements By Maggie Shipstead
A seersucker-clad wedding in Nantucket takes a close look at social statuses when family members, long-time rivals and freshly broken-hearted bridesmaids collide.
AUTHOR DISH

What was your inspiration for the book?
I kind of started with someone who I knew in college. He got hit by a golf cart on Nantucket and had his leg cut open but the person driving the golf cart wouldn't apologize. So if you read the book, you'll recognize that.
The names in the book—Winn, Biddy, Piper, Triden, Oatsy—where'd you come up with those?
I got a lot of the names actually off this plaque in this weird WASP-y Rhode Island resort where they had a list of people who had been their lawn boy champions since the 1950s. I wrote these outrageous New England names probably a year before I started writing the book.
Your cover is very gender neutral, which reminded me of Meg Wolitzer's article in The New York Times about women writers being on the "second shelf."
I love the cover! First because I think it's beautiful and friendly, and second because it's perfect for the book, which has a lot of beach-read elements but is told mostly from the perspective of a 59-year-old man. We went through a few covers. It started gender-neutral with a beautiful twilight sky and a whale weathervane, then we had a slew of watercolor covers and then there were a few of women in bikinis from the back or girls on the beach. So I wrote a very long email to my editor explaining that these covers weren't appropriate for my book. Ultimately they agreed, but it was sort of tense for a while. I thought people would pick up that book expecting a story very different from what they'd get.
So the backdrop of this wedding, is it based on one you've been to?
Well, no, but I've been to a fairly observant Jewish wedding in the middle of winter and I've been to a very WASP-y wedding on a farm in Princeton under a tent in a thunderstorm. But I don't think I would have written a book about a wedding if I'd have known then what I know about publishing now because it's hard to describe what this book is about without sounding completely disposable and silly, which it's not. A lot of smart women's fiction has that problem.
Seating Arrangements was published June 12.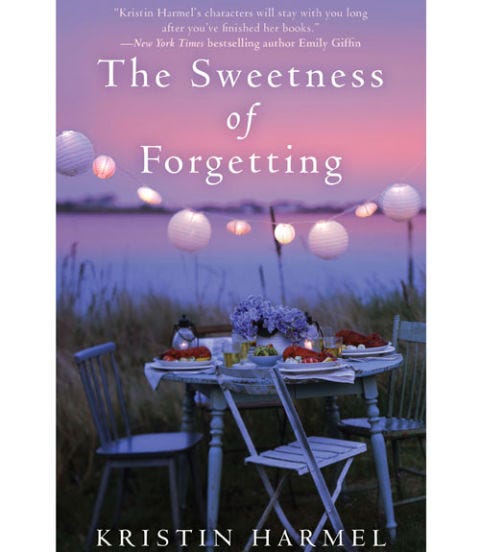 The Sweetness of Forgetting by Kristin Harmel
Hope, a divorced mother who runs a bakery on Cape Cod, reconnects with her grandmother, whose onset of Alzheimer's spurs the revelation of a family secret about the Holocaust.
AUTHOR DISH
Baking seems like a main theme in this book.
I love that the main character's family history is tied into things she's been baking but she doesn't know about it. I did a few trips to Paris for research, which were fabulous trips because I was basically buying and tasting pastries.
How did you tap into the emotions of life after divorce?
I am a child from a divorced family so I've spent many years thinking about it. But when I sat down to write about a character who was divorced, I think I drew from conversations I had with divorced people.
Where did the Holocaust come into play for the story?
I didn't find out until I was 20 that my dad was half Jewish. And years ago, I was writing a story for People about Give Kids the World, an organization for sick children led by a Holocaust survivor who was in a concentration camp from ages 13 to 18. He felt like his childhood was being stolen from him so he wanted to give sick children their childhoods back.
You say this is a book you've always wanted to write.
Yes, I started writing chick lit when chick lit was at its height and I was only 24 but, you know, now I'm 33 so this sort of mainstream, commercial women's fiction is where my heart lies. It's hard to break out once you've had four books published in one genre.
The Sweetness of Forgetting will be published August 7.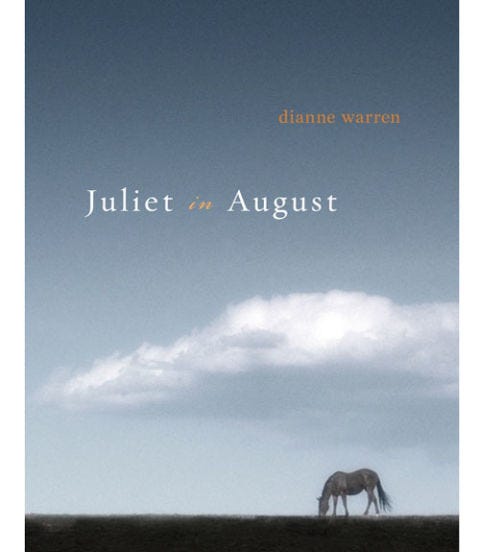 Juliet in August by Dianne Warren
The Canadian town Juliet plays the main character in this tale of how a quirky cast of characters handles knowing everyone's business but not speaking of it.
AUTHOR DISH
You're from Saskatchewan in Canada—is this book inspired by your life?
I would be lying if I said there's nothing in the book that I didn't pull from people I met. There were a couple of brothers in my town that ran the drive-in movie theatre and an electronics store. They were so eccentric. I remember going into their shop for something one day—and I can't claim that the two brothers in my novel are anything like them—but the idea of these two brothers running the theatre at night and fixing people's radios during the day was where they come from.
It seems like the time frame of the book could almost have been a short story.
It did start as a short story. It was really just about the character, Lee. But then I thought I really wanted to go in depth with the character. But it's not a collection of short stories because none of the sections can stand-alone.
Do you have a favorite summer beach reach?
What comes to mind is Larry McMutry's Lonesome Dove. I was reading that at the lake with our two kids. I remember feeling bad that I wasn't spending enough time with the kids because I had my nose buried in this book and I just couldn't stop turning the pages.
Canadians are often mocked for one reason or another in American pop culture.
Well, on Mad Men, one of the characters, Megan, she's from Canada so that's a different picture. I do know what you're saying. But I think that our two countries are really not all that different. People in Canada are not offended by the jokes because we do kind of laugh at ourselves, too.
Juliet in August will be published July 5.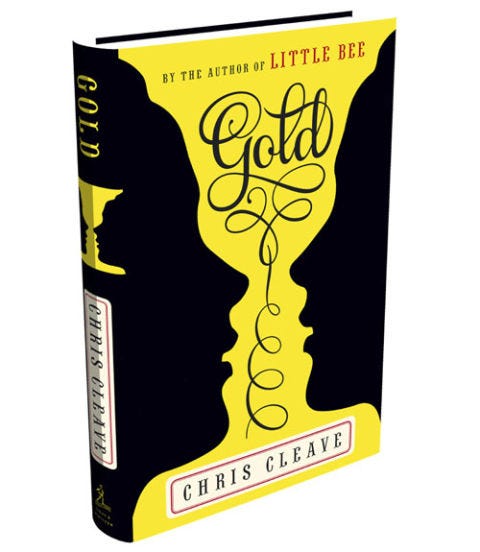 Gold by Chris Cleave
Olympic cycling hopefuls Zoe and Kate take rivalry to a new level when family problems threaten their dreams of coming out on top in London.
AUTHOR DISH
One of your main characters, Zoe, graces the cover of Marie Claire UK in the book.
Well, Marie Claire is one of the magazines I like—it's stylish and smart, has the lifestyle features and it's admirable. I didn't actually work that out until you said it just now. Wow, this is the interview for the magazine that Zoe's in. that's interesting. I think it's a good match, right?
Of course! The back of your book—where there is usually a summary—has just a few notes teasing the reader with barely a thing about the plot.
I rather like that because I think my plots have a lot of surprises in them and there's not so much you can tell without giving them away. So, I think my publicity team likes to say, "This is how the book will make you feel." If it's intriguing enough to get people to read the first page of the book, then they might want to turn the page and read the next one. And then I've done my job.
Zoe and Kate are very intense characters.
Well, there was an Olympian who I really admire named Rebecca Ramirez who won the silver medal for Britain in rowing in Athens. She thought silver was just not good enough so she changed sports from rowing to cycling and won the gold in Beijing. I was absolutely fascinated by the psyche of someone so extreme.
Kate's daughter Sophie is very sick with leukemia in the book. What inspired that part of the story?
I was interested in the extreme of sickness that would be the mirror that held up to the extreme of health. I was talking to one kid when I did research at Great Ormand Street Hospital and I was asking him whether he was scared or worried and he said, "I'm not scared of dying, I'm scared of my Dad being sad. Yeah, sometimes I feel bad and I keep that for myself." It was the most heartbreaking thing and inspired a scene with Sophie when she hides that she gets sick.
Where does all the Star Wars love come from?
I have kids who are eight, five and three—all of them are mad into Star Wars. And for me, it's been an allegory of life and the struggle between good and evil and I love the ambiguity of it. Just the romance of being taken out of your ordinary world and realizing you're someone special—believing that maybe you're just waiting to be discovered.
Gold will be published July 3.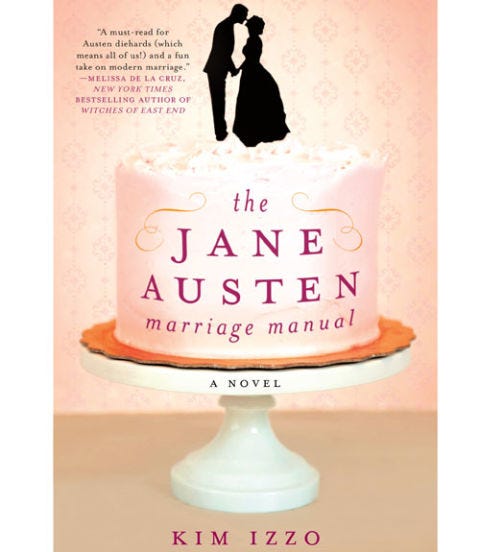 The Jane Austen Marriage Manual by Kim Izzo
Kate—a Jane Austen-devotee—finds her world falling apart, until a new writing assignment presents her with the quest of finding out if she can truly marry a man for his money.
AUTHOR DISH
Aside from your love of Jane Austen, what inspired Kate's story?
I reached 40 and was feeling low with my life and thought, oh, why didn't I marry for money when I had the chance in my twenties?
Are any of the characters based on real people?
Well, the character Griffith is based on this brilliant English man who I fell in love with but we had many obstacles in our past. So I always thought of him as "the one that got away" and this book was sort of a fantasy homage to this lost love kind of thing.
Did you feel close to your characters?
Like we were friends and I miss them sometimes. It used to be fun when I had to edit the novel, to get back in that world. It was a really fun adventure.
If you were to have dinner with Jane Austen, what would you ask her?
If she knew any dashing eligible bachelors for me.
The Jane Austen Marriage Manual was published May 22.
This content is created and maintained by a third party, and imported onto this page to help users provide their email addresses. You may be able to find more information about this and similar content at piano.io