The Best Butt-Kicking Action Movies of 2018
Sequels and prequels and reboots, oh my!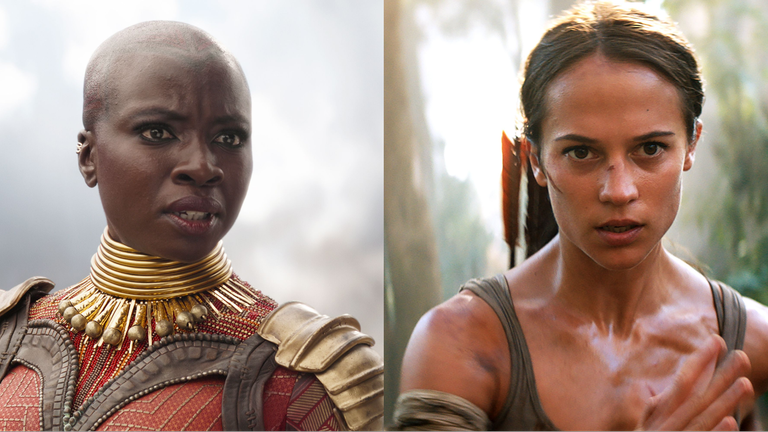 (Image credit: Walt Disney Pictures + Warner Brothers)
If you're a fan of outlandish fight scenes, high stakes, improbable stunts and Marvel's Chris trifecta, then this was a very good year for you. Twenty-eighteen's movie lineup is packed with action films—and yes, a lot of them are based on comic books, some of which are better than others. Here's what's in store.
1. 'Maze Runner: The Death Cure'
Release date: January 26
Starring: Dylan O'Brien, Kaya Scodelario, Thomas Brodie-Sangster, Nathalie Emmanuel, Giancarlo Esposito, Aidan Gillen, Walton Goggins, Ki Hong Lee, Barry Pepper, Will Poulter, and Patricia Clarkson
About: This is the conclusion of the Maze Runner trilogy, in which the Gladers must break into the Last City to finally get answers to their questions about the maze. File under: YA vibes.
2. 'Black Panther'
Release date: February 16
Starring: Chadwick Boseman, Michael B. Jordan, Lupita Nyong'o, Danai Gurira, Martin Freeman, Daniel Kaluuya, Letitia Wright, Winston Duke, Angela Bassett, Forest Whitaker, and Andy Serkis
About: After everything that went down in Captain America: Civil War, King T'Challa returns home to Wakanda to lead his country, but is challenged for the throne. Black Panther has to step up to prevent a world war.
3. 'Tomb Raider'
Release date: March 16
Starring: Alicia Vikander, Dominic West, Walton Goggins, Daniel Wu, and Kristin Scott Thomas
About: This reboot of the video game franchise, sees a young Lara Croft (Alicia Vikander has taken over the role from Angelina Jolie, who played her in the early aughts) set off on an adventure to solve the mystery of her father's death.
4. 'Pacific Rim Uprising'
Release date: March 23
Starring: John Boyega, Scott Eastwood, Cailee Spaeny, Jing Tian, Adria Arjona, Charlie Day Burn, and Gorman Rinko Kikuchi
About: Set about ten years after the first movie, Uprising stars John Boyega as a pilot-gone-rogue who has to lead a new generation of pilots when the Kaiju threat returns.
5. 'Ready Player One'
Release date: March 30
Starring: Tye Sheridan, Olivia Cooke, Ben Mendelsohn, T. J. Miller, Simon Pegg, Mark Rylance
About: In a dystopian future where the real world is awful, people escape to the OASIS, a virtual reality created by the eccentric James Halliday. When the 1980s pop culture-obsessed Halliday dies, he leaves a digital treasure hunt behind and the winner will get his fortune.
6. 'Rampage'
Release date: April 13
Starring: Dwayne Johnson, Naomie Harris, Malin Akerman, Jake Lacy, Joe Manganiello, and Jeffrey Dean Morgan
About: Based on the popular video game of the same name, Rampage is about a gorilla who grows to an absurd size thanks to an experiment gone wrong and must help the humans stop two other super-sized monster animals from destroying Chicago. You know, as you do.
7. 'Avengers: Infinity War'
Release date: April 27
Starring: Robert Downey Jr., Josh Brolin, Mark Ruffalo, Tom Hiddleston, Chris Evans, Chris Hemsworth, Jeremy Renner, Chris Pratt, Elizabeth Olsen, Sebastian Stan, Benedict Cumberbatch, Paul Bettany, Cobie Smulders, Benedict Wong, Zoe Saldana, Karen Gillan, Vin Diesel, Dave Bautista, Bradley Cooper, Pom Klementieff, Scarlett Johansson, Benicio del Toro, Tom Holland, Anthony Mackie, Chadwick Boseman, Danai Gurira, Paul Rudd, Don Cheadle, Letitia Wright, and Winston Duke
About: The culmination of literally years of Marvel Cinematic Universe world-building, Infinity War pits ALL of the Avengers against Thanos, with the fate of the universe at stake.
8. 'Deadpool 2'
Release date: May 18
Starring: Ryan Reynolds, Morena Baccarin, T.J. Miller, Leslie Uggams, Brianna Hildebrand, Stefan Kapičić, Zazie Beetz, Josh Brolin, and Jack Kesy
About: Deadpool tries to save a young mutant boy from death at the hands of a time-traveling Josh Brolin. Equal parts violent and hilarious, as expected.
9. 'Solo: A Star Wars Story'
Release date: May 25
Starring: Alden Ehrenreich, Woody Harrelson, Emilia Clarke, Donald Glover, Thandie Newton, Phoebe Waller-Bridge, Joonas Suotamo, and Paul Bettany
About: The movie is billed as a "space western" and will focus on the origin story of fan-favorite Han Solo.
10. 'Upgrade'
Release date: June 1
Starring: Logan Marshall-Green, Betty Gabriel, and Harrison Gilbertson
About: A man who is paralyzed by injuries he sustained during a mugging is "upgraded" when scientists implant a chip in his body that gives him control of his body back—and then some.
11. 'Ocean's 8'
Release date: June 8
Starring: Sandra Bullock, Cate Blanchett, Anne Hathaway, Mindy Kaling, Sarah Paulson, Awkwafina, Rihanna, and Helena Bonham Carter
About: An all-female reboot of the Ocean's 11 franchise, Ocean's 8 follows a team of thieves intent on stealing a very valuable piece of jewelry at the Met Ball.
12. 'Incredibles 2'
Release date: June 15
Starring: Craig T. Nelson, Holly Hunter, Sarah Vowell, Samuel L. Jackson, John Ratzenberger, Brad Bird, Michael Bird, Huck Milner, Jonathan Banks, Bob Odenkirk, Catherine Keener, Sophia Bush, Phil LaMarr, and Isabella Rossellini
About: In this sequel to Pixar's 2004 hit, The Incredibles, Elastigirl takes centerstage, saving the world while Mr. Incredible takes a turn as the stay-at-home parent.
13. 'Jurassic World: Fallen Kingdom'
Release date: June 22
Starring: Chris Pratt, Bryce Dallas Howard, B. D. Wong, James Cromwell, Ted Levine, Justice Smith, Geraldine Chaplin, Daniella Pineda, Toby Jones, Rafe Spall, Isabella Sermon, and Jeff Goldblum
About: Owen and Claire must return to the island to save dinosaurs from extinction. Casual.
14. 'Ant-Man and the Wasp'
Release date: July 6
Starring: Paul Rudd, Evangeline Lilly, Bobby Cannavale, Michael Peña, Tip "T.I." Harris, Judy Greer, David Dastmalchian, Michael Douglas, Michelle Pfeiffer, Laurence Fishburne, Hannah John-Kamen, Randall Park, and Walton Goggins
About: Ant-Man teams up with Hope van Dyne, the new Wasp, for a brand new mission. It's the first MCU movie to have a female character in the title.
15. 'Skyscraper'
Release date: July 13
Starring: Dwayne Johnson, Neve Campbell, Chin Han, Roland Møller, Pablo Schreiber, Byron Mann, Hannah Quinlivan, and Noah Taylor
About: "The Pearl" is the Titanic of skyscrapers—it's the biggest, the best, and said to be impenetrable. Like the Titanic, it's also not actually those things. Terrorists break in and The Rock has to save the day.
16. 'Mission: Impossible—Fallout'
Release date: July 27
Starring: Tom Cruise, Henry Cavill, Ving Rhames, Simon Pegg, Rebecca Ferguson, Sean Harris, Angela Bassett, Michelle Monaghan, and Alec Baldwin

About: The IMF spy team has to track down stolen plutonium, but they're being babysat by the CIA after a different mission went wrong. Lots of action. Lots of espionage. Quite possibly one of the best action movies of all time. Not exaggerating.
17. 'The Meg'
Release date: August 10
Starring: Jason Statham, Li Bingbing, Rainn Wilson, Ruby Rose, Winston Chao, and Cliff Curtis
About: Literally, it's about a giant killer shark—a megaladon shark to be exact. Think Jaws meets Jurassic Park.
18. 'Peppermint'
Release date: September 7
Starring: Jennifer Garner, John Ortiz, John Gallagher Jr., Juan Pablo Raba, and Tyson Ritter
About: Jennifer Garner made her big return to action with this not-so-awesomely-reviewed movie about a mom who seeks revenge against a cartel that killed her husband and daughter. However you feel about this film, no one can disagree with the fact that Garner is a bad-ass.
19. 'The Predator'
Release date: September 14
Starring: Boyd Holbrook, Trevante Rhodes, Jacob Tremblay, Keegan-Michael Key, Olivia Munn, Sterling K. Brown, Alfie Allen, and Thomas Jane
About: It's a good year for classic sci-fi fans because the Predator is returning to the big screen. This movie, the fourth in the franchise, takes place between Predator 2 and Predators. Basically, the Predators are accidentally brought back to earth and the good guys have to save humanity.
20. 'Venom'
Release date: October 5
Starring: Tom Hardy, Michelle Williams, Riz Ahmed, Scott Haze, and Reid Scott
About: Venom, one of Spider-Man's most iconic villains (you might remember him from Spider-Man 3, but no one blames you if you blocked all memory of that movie out), gets his own film.
21. 'Robin Hood'
Release date: November 21
Starring: Taron Egerton, Jamie Foxx, Eve Hewson, Jamie Dornan, Ben Mendelsohn, and Paul Anderson
About: A gritty take on Robin Hood's origin story filled with crossbows and a hot cast.
22. 'Mortal Engines'
Release date: December 14
Starring: Hugo Weaving, Hera Hilmar, Robert Sheehan, Jihae, Ronan Raftery, Leila George, Patrick Malahide, and Stephen Lang
About: This movie, from Lord of the Rings director Peter Jackson, is about a post-apocalyptic future when cities have become motorized and travel around terrorizing people/each other. Yes. Full cities. In the steampunk-vibey movie, London is the villain.
23. 'Aquaman'
Release date: December 21
Starring: Jason Momoa, Amber Heard, Patrick Wilson, Willem Dafoe, Yahya Abdul-Mateen II, Temuera Morrison, Dolph Lundgren, and Nicole Kidman
About: Aquaman (a.k.a. Khal Drogo himself, Jason Momoa) must deal with growing tensions between people polluting the oceans and his own people, who want to invade the surface and put a stop to said destruction.
24. 'Bumblebee: The Movie'
Release date: December 21
Starring: Hailee Steinfeld, John Cena, Jorge Lendeborg Jr., Rachel Crow, and Pamela Adlon
About: The movie is a prequel to Transformers, taking place in 1987, twenty years before the events of the first flick. Hailee Steinfeld stars as the girl who learns her yellow Beetle is more than just a car.
Kayleigh Roberts is the weekend editor at Marie Claire, covering celebrity and entertainment news, from actual royals like Kate Middleton and Meghan Markle to Hollywood royalty, like Katie Holmes and Chrissy Teigen. She's a Ravenclaw who would do great things in Slytherin. To learn more about her, google "Leslie Knope eating salad GIF.