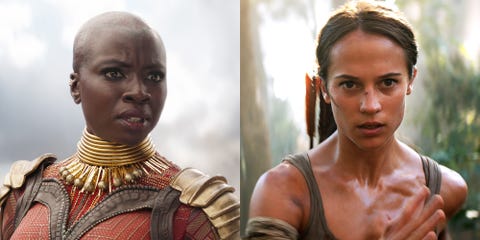 Walt Disney Pictures + Warner Brothers
If you're a fan of outlandish fight scenes, high stakes, and Marvel's Chris trifecta, then this is going to be a very good year for you. 2018's movie slate is packed with action films—and yes, a lot of them are based on comic books. Here's what's in store.
9
'Solo: A Star Wars Story'
Release date: May 25
Starring: Alden Ehrenreich, Woody Harrelson, Emilia Clarke, Donald Glover, Thandie Newton, Phoebe Waller-Bridge, Joonas Suotamo, and Paul Bettany
About: The movie is billed as a "space western" which will focus on the origin story of fan-favorite Han Solo.
Release date: December 21
Starring: Jason Momoa, Amber Heard, Patrick Wilson, Willem Dafoe, Yahya Abdul-Mateen II, Temuera Morrison, Dolph Lundgren, and Nicole Kidman
About: Aquaman (a.k.a. Khal Drogo himself, Jason Momoa) must deal with growing tensions between people polluting the oceans and his own people, who want to invade the surface and put a stop to said pollution.