Editors handpick every product that we feature. We may earn commission from the links on this page.
68 Movies That Are Fully Just About Sex and Not Much Else
Fifty Shades is just the tip of the sex iceberg.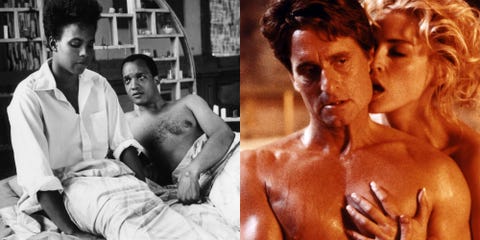 This list is about a very specific theme of film: Movies that are about sex and not much else. Don't get me wrong, these are great movies in their own right, but they're also stuffed with sex, sexual tension, and sexual tension broken by more sex. In other words, the perfect film to watch when you're in the mood for something super-sexy, but don't feel like a porn film (though, if you're looking for those, you can find some great ones here). Sometimes the sex is an integral part of the plot, sometimes it's just a happy byproduct of sexy situations in the storytelling, but either way, the heat level on these movies is a minimum of five fire emojis.
Here's the thing about sexy, sexy movies: They truly come in all shapes, sizes—and genres. Need proof? If so, just keep reading because the following list contains drama films, comedy films, and porn films disguised as mainstream movies (I'm looking at you, 9 Songs). But what they all have in common is sex. Like, a lot of sex. The whole plot is basically just about sex. You get the gist.

This content is created and maintained by a third party, and imported onto this page to help users provide their email addresses. You may be able to find more information about this and similar content at piano.io