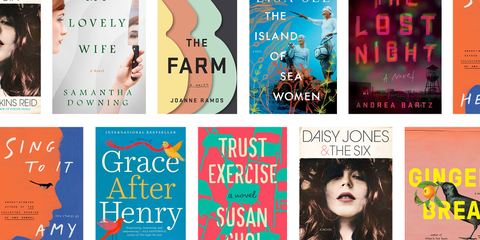 Design by Morgan McMullen
Scene: It's the first week of spring. The parka has been thrown into the back of the closet. Walking outside of the house doesn't require a pair of tights underneath an already too-tight pair of jeans. Sanity has been restored. Now imagine all of this with an incredible new book in hand, heading to the park to soak up all of the Vitamin D you've been lacking for the past four months. Okay, we can't exactly make it a reality yet, but you'll start to feel better knowing you can dive into these 12 highly-anticipated 2019 book releases, below.
(P.S. If you love books, considering joining our online book club, #ReadWithMC. Find out more here.)
'The Lost Night' by Andrea Bartz
I Know What You Did Last Summer meets The Girl on the Train in Andrea Bartz's addictive debut novel, which follows magazine fact-checker Lindsay as she tries to figure out the mystery of her best friend's suicide.
Released February 26
'The Island of Sea Women' by Lisa See
For centuries, women on Korea's Jeju island have been free-diving into the sea, a practice explored through this fictionalized story of two friends who struggle to stay close amid war, family rivalries, and a shifting cultural landscape. It's riveting, historical, and heartbreaking all at once.
Released March 5
'Daisy Jones & The Six' by Taylor Jenkins Reid
This novel (which Reese Witherspoon is already adapting into a series) follows the rise and fall of a rock group and its complex female front woman. Told through a series of articles and band interviews, it's like a deep dive into the archives of the best band you've never heard of.
Released March 5
'Gingerbread' by Helen Oyeyemi
Helen Oyeyemi's playful, enchanting novel nods at Hansel and Gretel while spinning its own story of a quirky mother and daughter and the family gingerbread recipe that follows them through the years. It's a modern-day fairy tale with a mysterious twist.
Released March 5
'Grace After Henry' by Eithne Shortall
After her fiancé, Henry, dies tragically, Grace sees him everywhere—in restaurants, in shops, even in Andy, a ringer for her former love who knocks on her door one day. A huge hit in the U.K., Irish author Eithne Shortall's Dublin-set romance novel allows its characters to experience grief with a mix of lightheartedness and gravity.
Released March 12
'Sing to It' by Amy Hempel
Fifteen beautiful, deeply affecting short stories—like the tale of a man volunteering at a dog shelter to stop euthanizations—highlight the shared connection we're all searching for. It will feel like a relief to slip into Amy Hempel's compassionate world for a few hours.
Released March 26
'My Lovely Wife' by Samantha Downing
We're calling it now: Samantha Downing's creepy, sexy debut thriller, inspired by the real-life 1977 kidnapping of Colleen Stan, is going to be the next Gone Girl. When a suburban husband and wife accidentally commit their first murder, the secret reignites a long-lost spark in their relationship—and ends up forming a dangerous new hobby for them.
Released March 26
'Trust Exercise' by Susan Choi
This twisty novel follows two freshman drama students in love and the disturbing role their theater-arts teacher plays in their relationship. It seems a straightforward enough story—until the roller-coaster second half makes you doubt everything that came before.
Released April 9
'The Moment of Lift' by Melinda Gates
Feel inspired by Melinda Gates in her first book, where she shares the lessons she's learned throughout her years of work and travel as one of the most powerful women in the world—and the magic that happens when we all make a conscious decision to lift each other up.

Released April 23
'The Farm' by Joanne Ramos
Though it's fiction, Joanne Ramos's novel will feel especially poignant right now: Jane is an immigrant from the Philippines who moves to New York's Hudson Valley to be a surrogate for the "perfect baby," for which she'll be extremely well compensated. The downside? She can't leave the facility's grounds for nine months, every move she makes will be heavily monitored, and she must sever all ties to her old life. It will leave you questioning what it really means to live the American dream.
Released May 7
'The Bride Test' by Helen Hoang
A year after the release of her critically-acclaimed The Kiss Quotient, Helen Hoang returns with The Bride Test—a refreshingly real depiction of Khai Diep, a man with autism who believes he'll never find love or be loved. That is, until he meets Esme Tran from Vietnam and things get a whole lot more complicated.

Released May 7
'The Learning Curve' by Mandy Berman
Mandy Berman perfectly captures an all-too-familiar academic love triangle between college friends Fiona and Liv and their charming college professor, Oliver Ash. Berman explores power dynamics and identity issues that the women are forced to face when Ash's sketchy past reveals he's had a relationship with a former underage student.

Released May 28
•••
A version of this article appears in the March 2019 issue of Marie Claire.