The 26 Sexiest Movies on Amazon Prime
From kinda hot to totally NSFW.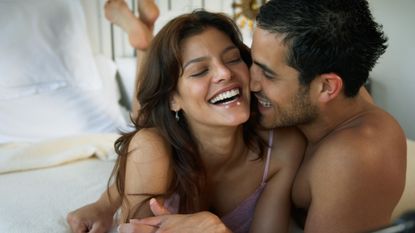 (Image credit: Getty)
You signed up for Amazon Prime for the two-day shipping, but you're staying for, well, partly for the two-day shipping, but also for the growing library of streaming content. Amazon Prime's streaming platform is best known for its original series like Man in the High Castle and Transparent, but the back catalog of movies is impressive—and, if you know where to look, very sexy. Like Netflix, Hulu, and most of the rest of the streaming world, Prime Video features a rotating selection of new (okay, new-ish) and classic movies. One category of movies you're unlikely to find a curated list of on your home page? Hot movies for when you're in the mood. Nestled in among the hundreds of titles on Amazon Prime are some NSFW movies for when you feel like watching something sexy. We did the hard work for you and found the best of the best.
'Permission'
Release date: February 9, 2018
Starring: Rebecca Hall, Dan Stevens, Jason Sudeikis
The sexy story: An adorable couple were each other's first love, and over a decade later they're planning to get married…which is why they decide to explore having sex with other people first. Beautiful sex scenes are interspersed in a sweet story about what it really means to spend the rest of your life with someone.
'Anatomy of a Love Seen'
Release date: July 18, 2014
Starring: Shannon Hinnendael, Jill Evyn
The sexy story: A few weeks after their painful breakup, two actresses who fell in love while starring together in a romantic movie have to go back for reshoots of some of their most intimate sex scenes. It's got great sex scenes and an interesting movie-within-a-movie format.
'Neon Demon'
Release date: June 24, 2016
Starring: Elle Fanning, Jena Malone
The sexy story: Elle Fanning plays an aspiring model who moves to L.A. to kickstart her career and soon finds herself in a creepy, sexy world of other models who will go to any length to get the beauty and youth she possesses.
'The Voyeurs'
Release date: September 10, 2021
Starring: Sydney Sweeney, Justice Smith, Ben Hardy
The sexy story: An ode to the all-too-serious erotic thrillers of the 1980s and 1990s, the story follows a sweet couple who become interested—and then obsessed—with secretly watching their enchanting across the street neighbors.
'All About Sex'
Release date: January 16, 2020
Starring: Dillon Lane, Natalee Linez, Emma Deckers,
The sexy story: Contrary to the name, this movie is more than just about sex—it's about three best friends navigating their professional and personal lives while also dealing with the pressures of dating. But don't worry: There's lots of sex too.
'Sirens'
Release date: April 28, 1994
Starring: Hugh Grant, Tara Fitzgerald, Sam Neill, Pamela Rabe, Elle Macpherson, Portia de Rossi, and Kate Fischer
The sexy story: A conservative married couple are asked to sit for an artist working on a risqué new exhibit. While the husband and artist argue, the wife finds herself drawn to the other models posing for the painter.
'Good Dick'
Release date: January 19, 2008
Starring: Marianna Palka, Jason Ritter, Tom Arnold, Mark Webber, Martin Starr, and Eric Edelstein
The sexy story: A man who works at a video story becomes obsessed with—and eventually begins stalking—a reclusive woman who regularly visits the pornography section of the store.
'Dangerous Liaisons'
Release date: May 24, 2012
Starring: Zhang Ziyi, Jang Dong-gun, and Cecilia Cheung
The sexy story: Loosely based on the 1782 novel of the same name by Pierre Choderlos de Laclos (the same source material that brought you Cruel Intentions), this version of the story is set in Shanghai in the 1930s and stars South Korean actor Jang Dong-gun and Chinese actresses Zhang Ziyi and Cecilia Cheung.
'Moulin Rouge!'
Release date: June 1, 2001
Starring: Nicole Kidman, Ewan McGregor, John Leguizamo, Jim Broadbent, and Richard Roxburgh
The sexy story: You know, just the musical-infused love story of a young poet and the sexy star/courtesan he falls for.
'The Handmaiden'
Release date: June 1, 2016
Starring: Kim Min-hee, Kim Tae-ri, Ha Jung-woo, and Cho Jin-woong
The sexy story: A Korean con man hatches a scheme to seduce a wealthy Japanese widow to get her inheritance. Everything seems to be going fine until the con man catches feelings and genuine sexiness ensues.
'Under the Silver Lake'
Release date: April 19, 2019
Starring: Andrew Garfield and Riley Keough
The sexy story: Andrew Garfield stars in this surreal, dreamlike tale of a man in Los Angeles who gets caught up in a mystery when his beautiful neighbor goes missing.

WATCH IT
'Keep the Lights On'
Release date: September 7, 2012
Starring: Thure Lindhardt, Zachary Booth, Julianne Nicholson, Souleymane Sy Savane, and Paprika Steen
The sexy story: If you like sexy with a side of heart-wrenching, consider this movie, which explores the struggles two men—a documentary filmmaker named Erik and closeted lawyer named Paul—face in trying to maintain their relationship.
'The Lover'
Release date: January 22, 1992
Starring: Jane March and Tony Leung
The sexy story: The movie takes place in 1920s Saigon and follows the illicit affair between a poor French teenage girl and a wealthy Chinese heir. The girl finds that the relationship gives her power for the first time in her life and she doesn't let it go to waste.
'The First Time'
Release date: January 21, 2012
Starring: Britt Robertson, Dylan O'Brien, Craig Roberts, Joshua Malina, James Frecheville, Christine Taylor, and Victoria Justice
The sexy story: The First Time is, as the name implies, a coming of age movie about firsts—the first time you really fall for someone, the first time you spend all night baring your soul and connecting emotionally, and, yes, the first time you have sex.
'Untold Scandal'
Release date: October 2, 2003
Starring: Bae Yong-joon, Jeon Do-yeon, and Lee Mi-sook
The sexy story: Based on the French novel Les Liaisons dangereuses (aka Dangerous Liasons), this Korean drama centers on a bored woman named Madam Jo who knows her husband is pining for a 16-year-old virgin named So-ok. Jo's solution? Send her cousin, Jo-won, to seduce So-ok before her husband has a chance to. And things only get more complicated (and more sexy) from there.
'Her Composition'
Release date: November 1, 2015
Starring: Joslyn Jensen, Ryan Metcalf, Paul Helou, Matthew Rosenberg, Kevin Breznahan, Margot Bingham, Okwui Okpokwasili, and John RothmanThe sexy story: A college music student finds herself blocked when it comes to composing a piece she needs to complete to graduate. So she turns to prostitution for inspiration. As you do.
'Two Night Stand'
Release date: September 26, 2014
Starring: Miles Teller, Lio Tipton, Jessica Szohr, Leven Rambin, and Scott Mescudi
The sexy story: After a decidedly not great one-night-stand, two strangers who met on a dating site are forced to spend a second day together when they wake up to find they've been snowed in by a blizzard.
'2046'
Release date: September 29, 2004
Starring: Tony Leung Chiu-wai, Faye WongGong Li, Takuya Kimura, Zhang Ziyi, Carina Lau, Chang Chen, Bird Thongchai McIntyre, Dong Jie, and Maggie Cheung
The sexy story: A science fiction writer has a series of ~steamy~ affairs with women at a hotel, all of whom inform the world of his latest book, blurring the line between reality and fiction.
'Bound'
Release date: January 9, 2015
Starring: Charisma Carpenter, Daniel Baldwin, Morgan Obenreder, Andy T. Tran, and Hayley McLaughlin.
The sexy story: The daughter of a wealthy real estate mogul falls in love with a younger man, who introduces her to the world of BDSM. Think Fifty Shades of "technically not plagiarism."
'Lila Says'
Release date: January 26, 2005
Starring: Vahina Giocante and Mohammed Khouas.
The sexy story: A quiet young poet named Chimo develops a crush on the Lila, a pretty, blonde girl who recently moved into his Arab neighborhood with her aunt. A dangerous and ultimately devastating love triangle develops when the leader of a rival gang also falls for Lila.
'The Babysitters'
Release date: May 9, 2008
Starring: John Leguizamo, Katherine Waterston, Cynthia Nixon, Andy Comeau, and Denis O'Hare.
The sexy story: A 17-year-old named Shirley takes babysitting gigs to earn money to pay for college. When Michael, a dad she works for and secretly harbors a crush on, confesses how unhappy he is in his marriage one night, she takes the opportunity to kiss him and is rewarded with a large tip. This inspires a new business idea: Shirley will make extra money by setting up her teen friends with unhappy fathers. It's *thisclose* to being a porn plot.
'The Escort'
Release date: July 28, 2015
Starring: Lyndsy Fonseca and Michael Doneger.
The sexy story: A sex-addicted journalist follows a Stanford-educated prostitute to report on a story about high class escorts.
'Palo Alto'
Release date: May 9, 2014
Starring: James Franco, Emma Roberts, Jack Kilmer, Nat Wolff, Zoe Levin, Chris Messina, Keegan Allen, and Val Kilmer
The sexy story: The movie follows three different stories of teenagers, each centering on lusty behavior, substance abuse, and other potentially-dangerous vices. If coming-of-age sexiness is your vibe (aka sexiness with a side of awkwardness and less-than-wise decisions), this one's for you.
'Adore'
Release date: January 18, 2013
Starring: Naomi Watts, Robin Wright, Ben Mendelsohn, Xavier Samuel, and James Frecheville.
The sexy story: Lifelong friends Lil and Roz grew up together and, as adults, have sons who have developed a strong bond of their own. One summer, the women embark on steamy affairs with each other's sons.
'Bliss'
Release date: June 6, 1997
Starring: Craig Sheffer, Sheryl Lee, Terence Stamp, Casey Siemaszko, and Spalding Gray.
The sexy story: A couple enrolls in sex therapy to get to the bottom of the wife's struggles to have an orgasm. The film doubled as a low-key analysis of tantric sex.
'The Virgin Suicides'
Release date: April 21, 2000
Starring: James Woods, Kathleen Turner, A J Cook, Kirsten Dunst, Josh Hartnett, Scott Glenn, Michael Paré, and Danny DeVito.
The sexy story: A group of male teens become obsessed with five sisters in their neighborhood. As the sisters rebel against their strict, religious parents, things take a dark turn.