Editors handpick every product that we feature. We may earn commission from the links on this page.
The 21 Best Thrillers of 2020 (So Far)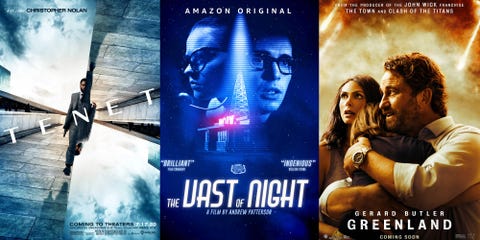 Warner Brothers/Amazon Studios/STX Films
Sometimes, you need to go into a movie knowing that you'll spend the whole film at the edge of your seat, eating your popcorn cautiously just in case a loud noise makes you choke on a kernel. So, while that doesn't look like it's going to happen for most of us anytime soon, there are still plenty of good flicks out there to keep an eye on, like these suspenseful films. These new 2020 thrillers range from psychological suspense to jump-scare movies, but they all promise a good time (if your idea of a good time is a movie that'll leave you breathless). After all, 2020 has been an interesting year, to say the least. We've also hand-picked the best romance, drama, horror, and comedy movies of 2020, if those are more your speed.
We do have to note that while some of these jump-in-your-seat thrillers were set to come out in 2020 because of the coronavirus pandemic, a couple of release dates have changed. We've updated those dates below, and we'll keep the films on here because they were initially slated for 2020. Also, who doesn't like having something to look forward to? From a doll that turns deadly to the 2020 revival of The Grudge, here are the thrillers you need to see in 2020.
This content is created and maintained by a third party, and imported onto this page to help users provide their email addresses. You may be able to find more information about this and similar content at piano.io