The 60 Best Feel-Good Movies of All Time
Get ready to turn that frown upside down.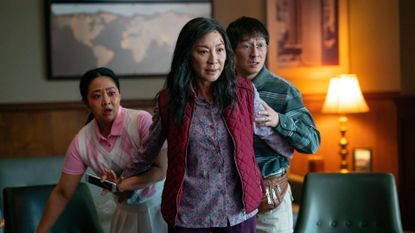 (Image credit: BFA / Alamy Stock Photo)
Marie Claire Newsletter
Celebrity news, beauty, fashion advice, and fascinating features, delivered straight to your inbox!
Thank you for signing up to Marie Claire. You will receive a verification email shortly.
There was a problem. Please refresh the page and try again.
We've all been there: When just about everything that could go wrong does. Maybe you missed your train when you were already running late. Or maybe your morning coffee ended up coloring your blouse on the way to work. Whatever the case, we've all had bad days, bad weeks, and even bad years. You could sit and mope—or you could turn to the magic of cinema to escape. And when the best movies of all time don't fit the bill, you need something uplifting. We're talking about the best feel-good movies—the ones that, when the world feels like it's on fire or crashing down (or both), make it all just melt away and life seem better and happier.
To help get you out of your slump, we movie lovers at Marie Claire have brought you this list of the best feel-good movies that have made us laugh, and/or cry—happy tears, that is. In these movies, you can expect to see some elements of humor, a touch of drama here and there, and, of course, happy endings. Rom-coms like When Harry Met Sally and 13 Going on 30 are classics to turn to, but we've also included some recent dramas and old-school animated movies, too. And though feel-good movies all have the same good vibes, what "feels good" is different for everyone. Hence why we've ordered this list by genre so you can head to your favorite easily. So grab your comfiest blanket, a glass of wine, and curl up with one of the best feel-good movies of all time.
Best Feel-Good Comedy Movies
'Booksmart'
Four years of fun in one night? What could possibly go wrong! Beanie Feldstein gives a masterful performance in Booksmart—a hilarious movie about two high schoolers who attempt to do everything they didn't do throughout high school right before they graduate.
'Legally Blonde'
"...What, like it's hard?" Do yourself a favor and watch Reese Witherspoon, Jennifer Coolidge, and more iconic women in Legally Blonde if you're looking for a good laugh, the perfect movie for girls' night, or a reason to go to law school.
'Elf'
Just because Elf is a Christmas movie doesn't mean you can't enjoy it whenever you need a laugh. Will Ferrell as Buddy the Elf is nothing short of cheerful, even when he encounters mean New Yorkers. It's a film that will make you laugh and look forward to the holidays, no matter the time of year.
'The Princess Bride'
Right from the start, you know The Princess Bride is a feel-good movie, since it's literally the story a grandfather tells his grandson to make him feel better. This magical movie has everything to put you in a good mood—"Fencing, fighting, torture, revenge, giants, monsters, chases, escapes, true love, miracles..."
'Grease'
The catchy music. The dancing. The incredible makeover. Everything about Grease screams a good time. From the opening cartoon credits to when Sandy and Danny drive off into the sunset, you won't be able to stop yourself from singing along. At times it's cheesy, but its energy and nostalgia will stand the test of time.
'Mamma Mia!
A musical movie with a stacked cast and chock full of ABBA songs—what's not to love? This feel-good film will immediately transport you to the Greek islands and put you in that carefree summer mood with its fun story. Rather than plan for her wedding, Sophia (Amanda Seyfried) is more concerned with finding her birth father so she invites three potential men to her wedding in the hopes of nailing down her father.
'The Parent Trap'
Whether you re-watch this one for the Lindsay Lohan excellence or the scenes with Daddy Quaid or the dose of childhood nostalgia, The Parent Trap will warm your heart.
'Little Miss Sunshine'
The family at the heart of this indie dramedy has a lot going on—they're struggling with depression, drug abuse, body image, and that just cracks the surface. And, honestly, they're not awesome at dealing with those issues. But there's something about watching the purposeful not-perfectness of it all come together that just cheers your soul. And if nothing else in the movie does, young Abigail Breslin's dance number in the finale definitely will.
'13 Going on 30'
It's Big with a woman. In this romcom classic, an '80s teen makes a wish to fast-forward to her 30s and wakes up 17 years older and looking like Jennifer Garner—but still with the mind of a 13-year-old. Mark Ruffalo shines as a kind of sullen, reluctant love interest.
'Father of the Bride'
The best wedding movie of all time? Maybe. A great movie to watch and feel happy butterflies inside whether you're in the wedding mindset or not? Definitely. A bit dated? Sure, but supremely enjoyable anyways.
'Willy Wonka & the Chocolate Factory'
This movie is a classic for a reason and if you haven't given it a true, start-to-finish rewatch since you were a kid, you're only hurting yourself. (Of course, you can and should feel free to skip forward through the depressingly mis-named "Cheer Up, Charlie," number, which almost ruins the movie and is just the worst.)
'Clueless'
No need to fix perfection ("As if!" Sorry, had to). Itself a remake of Emma (see below), this is the role that made Alicia Silverstone a household name. Matching her with the ageless Paul Rudd with just a hint of his future sense of humor, this is the most perfect example of a "two people who hate and also love each other" plot, partly because it fits perfectly into the OTT '90s setting. Also, those styles are back—proving yet again that Cher, one of my fave characters ever, was totally ahead of her time.
'Groundhog Day'
It might feel like you're living the worst day of your life and every day is the same, but this classic Bill Murray movie will remind you that A) that is not true and B) even if it were true, eventually, you can do some pretty amazing things living the same, seemingly-worst day of your life on repeat.
'Bringing Up Baby'
A screwball comedy involving a search for a missing dinosaur bone and a pet leopard? Brought to the screen by legends Cary Grant and Katharine Hepburn? Yes. Please.
The 40-Year-Old Virgin'
A lot of Judd Apatow movies could go on this list, but The 40-Year-Old Virgin beats out some of his other films, for me, because it's sweet to its core. (Bridesmaids felt like a loooot of yelling and crying.) Here, the men—including Paul Rudd, looking the same as he did in Clueless—have a goofy, ridiculous rapport. The secret genius of the movie is that NONE of them know how to date or talk to girls, but we love them anyways.
'Jumanji: Welcome to the Jungle'
Who knew that a remake that's geared for kids would be so good, and actually kind of tender? The best way I can describe this is it's like The Breakfast Club, inside an old video game, in the middle of the jungle, with a bunch of comedians. The Rock and Kevin Hart, in particular, constantly riff like BFFs and it's just a plain delight. There's a reason why this got a sequel, and it's because this movie formula is absolutely perfect.
'School of Rock'
The movies I loved as a kid are always the first ones I turn to for a pick-me-up. Even if this one did pass you by in 2003, the adorable tale about slacker rock star Jack Black teaching a bunch of kids to compete in the battle of the bands is such a sweet and hilarious film to watch. Plus, it's filled with classic rock jams and original music that holds up today!
'The Birdcage'
If you don't know this film (or only know vaguely of the musical), you're in for a treat. This farcical case of bait-and-switch is so silly and sweet, it's bound to lift your mood. When Robin Williams plays the straight man—pun intended—against Nathan Lane and Gene Hackman, you know the movie's bonkers in the best way. The portrayals were nuanced at the time for being forward-thinking and compassionate about gay relationships (a bit less progressive now, but still watchable). And it's funny, without being cruel.
'The Big Lebowski'
TBH, this movie might have taken a few viewings before I really got it. At first it seems like the height of randomness. Nothing really happens to The Dude, aside from his car getting destroyed and his rug getting peed on ("It really tied the room together!"). But that's its brilliance. Jeff Bridges is totally unflappable, just abiding with the ridiculousness around him. Maybe have a glass of wine before you watch it for the first time and just go with it.
'A Cinderella Story'
There's been plenty of Cinderella iterations over the years, but nothing tops this one starring Hilary Duff and Chad Michael Murray. Jennifer Coolidge also stars in this rom-com and has some of her most legendary one-liners of her career, in my opinion. How could we ever forget: "Droughts are for poor people, you think J-Lo has a brown lawn? People who use extra water have extra class."
'Aquamarine'
This teen comedy was way ahead of its time fashion-wise. Who else remembers desperately wanting a pair of starfish earrings after watching this? It basically invented Mermaidcore before Mermaidcore was a thing. Plus, it's just a heartwarming story. Two young girls (Emma Roberts and JoJo) have to help a washed-up mermaid return to the sea, and the only way to do so is to find love.
'The Sisterhood of the Traveling Pants'
Another example of peak teen comedies of the 2000s is The Sisterhood of the Traveling Pants. In case you don't know the premise, four best friends all magically fit in the same pair of jeans, so they decide to ship them around to each other as they each go off on their own summer plans. It's funny, endearing, and it'll make you cry both happy and sad tears.
'Confessions of a Shopaholic'
Rebecca Bloomwood (Isla Fisher) is a bonafide shopping addict with debt up to her eyeballs, yet she still manages to land a job at a financial magazine, which lends itself to some hilarious moments. I think we can all relate to Rebecca in one way or another, making this movie very watchable, plus the fashion is sure to leave you smiling.
Best Feel-Good Romance Movies
'Pretty Woman
This rom-com gem is truly a modern-day fairytale. In one of her most iconic roles, Julia Roberts stars as a prostitute who keeps a wealthy businessman (Richard Gere) company for a week, only to end up falling in love with him. Admittedly, the film's message doesn't hold up as well today, but its funny and romantic moments will leave you smiling and with butterflies in your stomach. And gosh that ending will go down in rom-com history.
'Love Actually'
With several interwoven love stories all taking place during the holiday season, it's impossible not to feel good while watching this movie. A stacked cast makes up eight different couples who all are connected in unexpected ways. They somehow all come together by the film's end in a story that's just heartwarming.
'To All The Boys I've Loved Before'
The first time I watched this movie, I couldn't stop telling everybody I knew that I wish this was around when I was in high school. Lara Jean's intense feelings for her crushes feel incredibly real and not overdramatized, unlike so many teen romantic comedies that have come before it. At its core, this series is as feel-good as it can get.
'About Time'
This underrated romantic dramedy is about a man who learns that he's inherited his family's ability to travel back in time and uses his power to help him overcome his own anxiety and awkwardness that's messed up his potential meet-cutes with his future wife. It sounds a little cringe-y on the face of it, but the execution is actually, somehow, not.
'When Harry Met Sally'
Aside from the lack of cell phones and '80s fashion, much of the movie is still timeless. Nora Ephron was the best screenwriter of her time (and all time, TBH), and listening to Meg Ryan and Billy Crystal deliver the perfect line readings while their characters fall in love is like sipping a cup of warm tea. I could, and probably have, fallen asleep to this movie—it's poetry.
'La La Land'
The classic technicolor musical is always a good time, with those grand set pieces and lovely songs that made Gene Kelly and Irving Berlin legends of the Golden Age. La La Land captured that magic in an updated version that's such a fun time (even though the film's ending is pretty depressing). Just the first freeway dance sequence is enough to put a smile on your face.
'Crazy Rich Asians'
Aside from the ridiculous premise underpinning the movie (why, exactly, does Nick Young not tell his girlfriend that a) he's unbelievably wealthy and b) his family's the most intense? He's lucky he looks like Henry Golding, otherwise that would be a dumpable offense), the film's both an alternate reality of expensive real-estate/fashion/lifestyle and a sweet story of two kinda-mismatched people making their relationship work despite their families.
'Emma'
If you like Austen films like Pride and Prejudice and Sense and Sensibility, this throwback love story is your perfect match. Gwyneth Paltrow is sweetly mischievous, even if her English accent is a bit fuzzy. The film's packed with stars: among others, a young Toni Collette, the gorgeous Jeremy Northam, and Ewan McGregor in a spectacularly bad wig.
'The Princess Diaries 2: Royal Engagement'
I know: The first movie is so cute and lovely and beloved by so many. But the second one has a really young and darling Chris Pine, and an Anne Hathaway who's really grown into the role. Their romance is really cute...and then actually, kind of hot. Considering that we might get a third movie, this one would also be perfect prep for that glorious day in which we peek into the lives of the hopefully still married royal couple.
'27 Dresses'
I know Katherine Heigl gets a bad rap, but there's also a reason she was so popular back in the day. This was at the height of her rom-com popularity, and it's the perfect vehicle for her. Anyone who's even been in ONE wedding can empathize with this poor woman who's had to plan 27 "special days" for her friends and acquaintances. Added bonus: A young James Marsden, looking cute and acting snarky, to ground the film from becoming too saccharine.
Best Feel-Good Dramas
'Downton Abbey: A New Era'
A New Era captures every little detail you loved about the original series—the stunning costumes, the old-school drama, and of course, Isobel and Violet's cheeky bantering—in all its glory on the big screen. The latest installment of the beloved series sees the Crawleys head to France when the Dowager Countess mysteriously inherits a villa from a man of her past. Plus, it's so much fun to see how the house reacts to being the set of a Hollywood movie.
'Little Women'
Okay, so there will be tears while watching Greta Gerwig's remake of Little Women, but hear me out! Saoirse Ronan, Emma Watson, Florence Pugh, Eliza Scanlen, Timmy Chalamet, and Laura Dern's performances (yes, there are a lot!) are incredible. Then there's the storyline itself. While watching Jo grapple with her career and love, we're reminded of our own choices and what really matters in this life. It's pure and it's excellent.
'Good Will Hunting'
As a Bostonian, I can tell you that the film gets a lot right about the city and its inhabitants. As a movie fan, I've always known that Robin Williams is the beating heart of this movie—every time he's on screen, you breathe a sigh of relief. He's like the therapist for the viewers as well as Matt Damon's troubled genius Will. It's a more sad movie now, but the film honors Williams' memory in the best way.
'Akeelah and the Bee'
This is one of those movies that inspires you and makes your soul feel lighter all at once. The movie follows a young girl from South Los Angeles named Akeelah (Keke Palmer) as she studies for a spelling bee with her mentor (Laurence Fishburn) and it's sweet and wonderful and makes you feel things. It's just infinitely worth a watch, okay?
'The Greatest Showman'
Feel-good movies tend to have a central character who beats the odds to achieve their dream, and The Greatest Showman definitely falls into this category. This musical starring Hugh Jackman is a rags-to-riches story of a visionary with dreams of putting on a show unlike any other, and spoiler alert: he does. This film is a spectacle on a different level than any circus you may have seen when you were a kid.
Everything Everywhere All At Once
This genre-bending A24 movie became an unexpected hit and for good reason. The story follows an aging immigrant woman who just wants to file her taxes but goes on an unexpected adventure through parallel universes. It's trippy, action-packed, and its emotional message will want to make you hug your family a little tighter.
'The Devil Wears Prada'
The Devil Wears Prada is an absolute must-watch for anyone who needs a pick-me-up. It's delightful to see Andy (Anne Hathaway) grow into her own as a writer and conquer her difficult boss and boyfriend, aka the real villain of the story. Whether you're a fashion fan or not, you'll appreciate Andy's comical struggles and her triumphant ending.
'Forrest Gump'
Forrest Gump is one of those movies everyone should watch at least once. Gump, a slow man with a big heart, takes us through his life's story, with major historical events like the Vietnam War and the Watergate Scandal in the background, as he sits at a bus stop. There are moments in Gump's tale where you'll laugh and certainly cry, but all in all his mantra is one you'll never forget: "Life is like a box of chocolates, you never know what you're going to get."
Best Feel-Good Action/Thriller Movies
'Dungeons & Dragons: Honor Among Thieves'
From start to finish, this movie is nothing short of a good time. Chris Pine excels as the charming leader of a pack of thieves and is paired perfectly with the dry sarcasm of Michelle Rodriquez's warrior type. OG Dungeons & Dragons fans will appreciate how closely this adaptation sticks to its source material, but everyone will appreciate the action sequences, laugh-out-loud jokes, and the dashingly handsome Pine.
'Thor: Ragnarok'
Superhero movies may not be the first thing you think of when it comes to feel-good films, but you'll see why the third Thor installation made this list within the first five minutes. Thanks to the hilarious direction of Taika Waititi, this Marvel film doesn't take itself too seriously. Alongside the fun action sequences, there are plenty of moments that will make you laugh out loud.
'Inside Man'
This Spike Lee-directed heist movie is perfectly paced, expertly shot, and flawlessly executed. Yes, you know who committed the crime immediately (or do you?) but the how is what makes the story tick. Then you can rewatch it to catch all the clues you missed the first, second, or third time around.
'Top Gun'
Is this a controversial pick? Yeah, kind of (people have been debating whether the movie is, in fact, "good" for a while now). If you've never watched, it's as ridiculous as you've been led to believe. Yes, there is a shirtless volleyball scene. Yes, it's exactly as funny as it sounds. But in there is a classic Tom Cruise performance, a very handsome Val Kilmer, and a pre-America's sweetheart Meg Ryan in a prototypical '80s film that, if you ask some people, is secretly filled with hidden meaning.
'Ocean's Twelve'
The first film is incredible, no doubt. But the sequel is just an excuse for extremely hot, funny people to cavort around Europe and get up to some crime in their spare time. This was also the reason all these stars made the movie, I'm pretty sure, and it's clear they're enjoying themselves as much as we are.
'Deadpool'
Deadpool is the superhero movie many have tried to recreate, yet have failed to do so. Ryan Reynolds has the kind of deadpan sarcasm that's laugh-out-loud funny, and honestly, I'm not 100 percent sure he's even playing a character. It's a fun origin story that's packed to the brim with violence, pop culture references, and witty tidbits.
Best Feel-Good Family Movies
'Puss in Boots: The Last Wish'
This may be the first time you see the Puss in Boots on this list, but it's not the last. That's because Puss is nothing short of adorable and makes for a great adventure on screen. The Last Wish sees our favorite booted feline team up with Kitty Softpaws (voiced by the legendary Salma Hayek) in order to get his nine lives back. This feel-good film not only features animation that's a feast to the eyes, but it also has a surprisingly refreshing take on anxiety and mental health. Oh, and Florence Pugh sounds mean and nasty as Goldilocks.
'The Little Mermaid'
With incredible original songs and off-the-charts chemistry, 2023's live-action The Little Mermaid blows the original out of the water (get it?). Halle Bailey was practically born to play Ariel with her pipes and her chemistry with Jonah Hauer-King, AKA Prince Eric, induces butterflies in the stomach every time they are on screen together. The underwater scenes are a joy to watch, as is Melissa McCarthy's go as the evil sea queen Ursula.
'Ella Enchanted'
I may be well into my 20s, but I still turn to this movie time and time again whenever I need a good cheering up. It's just physically impossible to be sad during the energetic musical numbers in this movie, especially the ending's 'Don't Go Breaking My Heart.' It follows Ella (Anne Hathaway), a young woman who's been cursed with the "gift" of obedience since she was a baby. In her journey to find the fairy godmother who gave her the gift, she teams up with Prince Char (Hugh Dancy) and falls for him, despite his annoying fan base. It may be a little bit cheesy, a little bit predictable, but it's oh-so-good.
'My Neighbor Totoro'
If you're not particularly a fan of animated movies, I urge you to watch My Neighbor Totoro. Studio Ghibli's masterful storytelling and visually stunning animation are unlike anything you may have seen before. In this tale, two sisters move to the countryside with their parents and befriend several forest spirits. It's hard to stop smiling at the adorableness in this movie.
'Harry Potter and the Sorcerer's Stone'
While the first installment in the Harry Potter series is far from the best, its childlike imagination and world-building make for the perfect set-up for the series' more weighty films. Harry, Ron, and Hermione are just figuring out how to navigate Hogwarts in The Sorcerer's Stone, and it's delightful seeing them enjoy their magical classes. Watching Harry open his first Christmas present will never fail to bring a tear to my eye.
'Up'
Yes, I know the first few minutes of this Disney film are incredibly sad, but if you can make it through the tearful beginning, the rest of the film is super endearing. A grouchy old man and an upbeat adventure scout make an adorable (and hilarious) pair as they travel to Paradise Falls. It's a charming story that will surely make it to the top of your list of Disney favorites.
'WALL-E'
WALL-E is a cute-as-can-be robot with a curious personality whose mission is to help clean up a trash-ridden Earth. Then he (?) meets EVE, a high-tech robot created to find proof of life on Earth and the two soon embark on a galaxy-crossing journey. Who knew a Disney adventure movie about robots could be so charming and thought-provoking?
'Mary Poppins'
There's no other movie that quite defines the magic of Disney like Mary Poppins. This modern fairy tale follows a literal magical nanny as she uses music to cheer two kids up. With fun songs, animated sequences, and Poppins' chipper attitude, the entire film exudes joy. I dare you to be sad while watching this film.
'Paddington 2'
If you haven't, you should read why Paddington 2's Oscar snubs are a total travesty. The first film is sweet and tender, but the second one offers both those things AND a scene-stealing performance by Hugh Grant AND a brilliant metaphor for Brexit, all wrapped up with heartwarming gooey marmalade.
'Toy Story 3'
Ok, yes, the first two are pitch-perfect and defined our childhoods. But, much like the third Star Wars, this brings home the trilogy without missing a beat. In the coming-of-age tale that is Andy and his toys, this reckons with the final chapter—and its inevitable farewell—with grace. Those last (sniff) five minutes (sob). Watch, cry happy tears, watch again.
'Spider-Man: Into the Spider-Verse'
Who knew an animated superhero film could be 1) beautiful, 2) touching, and 3) absolutely perfect for even non-Marvel fans to enjoy? No big spoilers, but John Mulaney as Spider-Ham and Jake Johnson as a Spider-Man who eats pizza and has gotten fat are just two of the genius voice casting choices in this brilliant film.
'The Emperor's New Groove'
The Emperor's New Groove is the Disney movie that doesn't quite feel like a Disney movie. The movie's infamously troubled production resulted in a wacky, irreverent buddy movie instead of the sweeping romantic epic the filmmakers had originally envisioned, but the end result is also amazing, underrated, and great for a quick pick-me-up if you're feeling down.
'Shrek 2'
Ok, the first Shrek movie is a classic that helped set off a new age of digital animation. However, the second is a much funner time (and I don't just think that because I saw Shrek 2 first.) Watching the swamp ogre adapt to the big city is a hilarious ride, and the Fairy Godmother as a badass villain is a superb reimagining. Plus, this is the movie that introduces us to Puss in Boots! What else could you want from a feel-good film?
Celebrity news, beauty, fashion advice, and fascinating features, delivered straight to your inbox!
Andrea Park is a Chicago-based writer and reporter with a near-encyclopedic knowledge of the extended Kardashian-Jenner kingdom, early 2000s rom-coms and celebrity book club selections. She graduated from the Columbia School of Journalism in 2017 and has also written for W, Brides, Glamour, Women's Health, People and more.