Editors handpick every product that we feature. We may earn commission from the links on this page.
13 Shows to Watch After 'Bridgerton'
Bridgerton may be over (for now), but your obsession with gossipy period dramas is just getting started.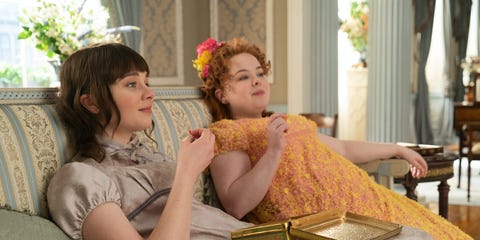 For far too long (like, literal centuries), Jane Austen's work has been one of just a handful of options available for people looking to read and watch period pieces that don't uphold the stodgy and excessively patriarchal customs of past centuries. Fortunately for fans of both feminism and empire-waist dresses, however, recent years have ushered in a surge of empowering retellings of old-fashioned stories—as seen most recently in Shonda Rhimes' first project under her new Netflix deal, Bridgerton.
The first season of the series focuses primarily on Daphne Bridgerton, a high-society young woman determined to marry for love, rather than status. She's surrounded by equally fascinating women bucking their prescribed societal roles in their own ways, including a sister who has much bigger plans for herself than a traditional life of domesticity, and an anonymous gossip columnist who not only has immense power and influence over Regency society, but also supports herself financially with this work. Bridgerton is further modernized by the sly insertion of classical versions of current pop songs in the background, and by its depiction of Georgian society as far more racially diverse than it probably was (though historians believe there's a good chance Queen Charlotte really was Britain's first mixed-race royal).
In short, it's a near-perfect show, and it would be perfectly acceptable if, after racing through that jaw-dropping finale, you're now staring wordlessly at your TV, wondering what to watch next that will recapture even a little bit of the magic of Bridgerton. We've got you: Here are 13 shows in the same vein as Bridgerton that will tide you over until it's time to return to our beloved London ton.
This content is created and maintained by a third party, and imported onto this page to help users provide their email addresses. You may be able to find more information about this and similar content at piano.io