The Most Awkward Moments of the 2021 Golden Globes
The awards show had some serious "chaotic Zoom call" energy.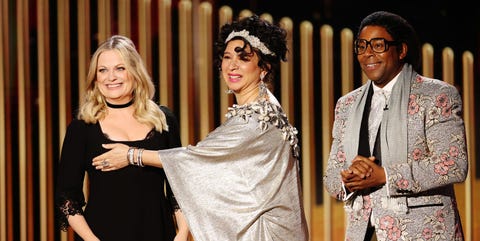 Christopher Polk/NBC
Getty Images
The 2021 Golden Globes kicked off awards season on Sunday night with a bang—an exhausting, confusing bang. Due to some chaotic Zoom call energy and hosts literally on different coasts, the Golden Globes had no shortage of awkward moments to keep viewers' eyebrows raised. Don't get us wrong, they tried. And there were even a few funny and memorable moments—Barb & Star's cameo! Chloe Zhao's best director win! Jane Fonda! Gorgeous fashion (looking at you Anya and Angela)! Dogs! Kids! Chadwick Boseman's posthumous win!—but overall Zoom fatigue, technical difficulties, and bored/tired celebs made three hours feel like Three. Hours. Here are the most awkward moments of the 2021 Golden Globes—take note Grammys, SAGs, and Oscars.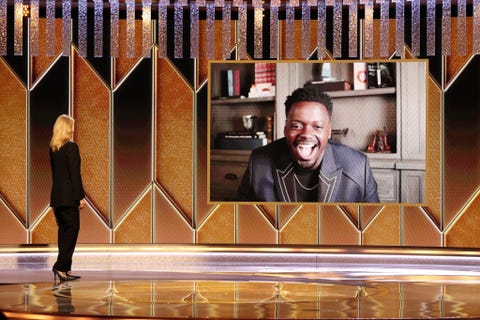 Christopher Polk/NBC
Getty Images
Someone forgot to unmute Daniel Kaluuya.
The Judas and the Black Messiah actor won the first award of the night for best supporting actor in a motion picture, but viewers didn't get to hear his acceptance speech due to a muted mic. It was all the more awkward in light of recent revelations about the Hollywood Foreign Press Association's lack of Black members and treatment of people of color. Furthermore, Kaluuya won the award for his portrayal of Black Panther chairman Fred Hampton, who, as the actor has previously noted, was erased and silenced in his life. Presenter Laura Dern seemed just as embarrassed by the snafu, but thankfully they were able to get Kaluuya's mic working. Kaluuya handled the situation gracefully but joked, "You did me dirty" when coming back online.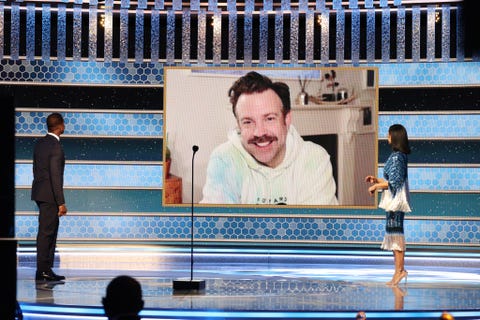 Christopher Polk/NBC
Getty Images
Jason Sudeikis was...checked out?
Or high. The actor snagged the award for best actor in a musical or comedy series for his role in Ted Lasso, but he seemed incredibly nonplussed by the entire thing. Sudeikis delivered a rambling acceptance speech clad in a tie-dye hoodie (relatable) with many wondering if his state of mind had to do with his recent divorce.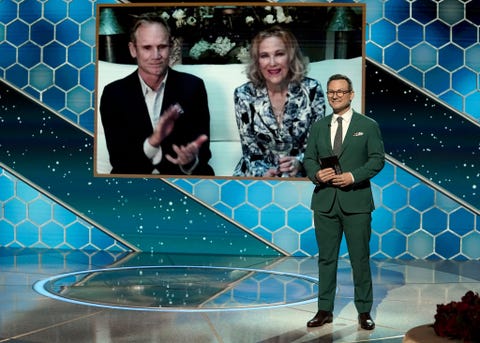 Peter Kramer/NBC
Getty Images
Catherine O'Hara's acceptance speech "bit" flopped.
Though it hurts me to say anything bad about Catherine O'Hara's comedy, it can't be denied that the Schitt's Creek actress tried and failed to get some laughs during her acceptance speech for "Best Performance by an Actress in a TV series - Musical or Comedy." Her husband jokingly "played her off" via some iPhone orchestra music but due to bad video quality, everything was garbled and viewers were confused about what was going on.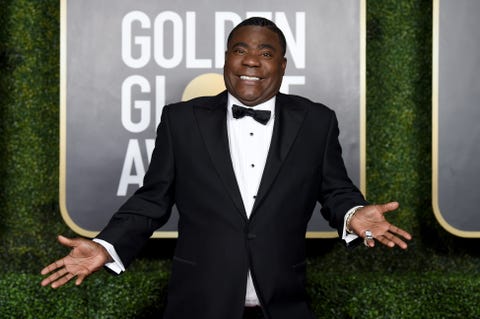 Dimitrios Kambouris
Getty Images
Tracy Morgan flubbed the name of Disney/Pixar's 'Soul.'
Morgan awarded the winner of Best Score to "sowl" instead of "soul." He quickly realized his mistake, but before he could correct himself, it cut to the acceptance speech. Hosts Tina Fey and Amy Poehler expertly poked fun at the moment later on in the broadcast, but it was awkward in the moment, nonetheless.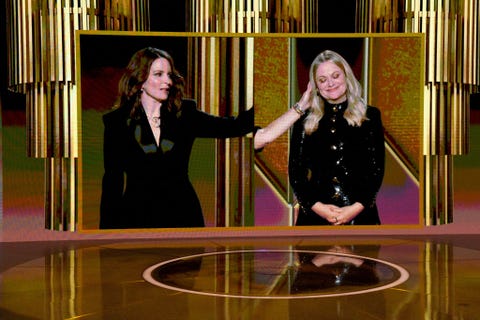 Bi-coastal hosting does not make sense.
Let's be clear here: This was not Tina or Amy's fault. The hosts—who have a proven track record at hosting awards shows—tried to make relevant jokes but because they were inexplicably in different places (seems like they could've easily and safely had them be together) it was impossible for them to feed off each other's vibes or keep the night's energy up.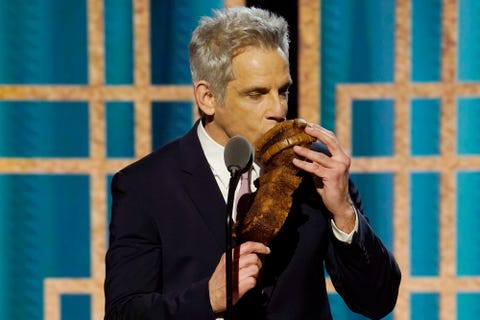 Peter Kramer/NBC
Getty Images
Ben Stiller ate bread.
It was a joke about baking during the pandemic, I think? Hey, there are worse things to watch than the comedian consuming carbs, but in the very long award show, bits like this just felt random instead of a welcome funny interruption.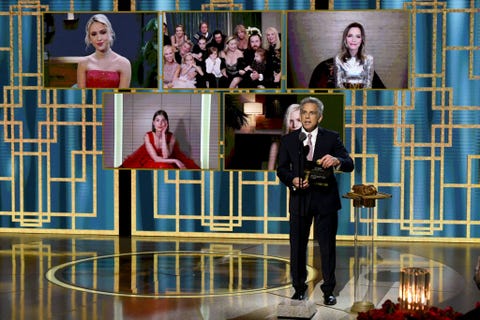 The Zoom fatigue was real.
Blame the pandemic or blame production, but the awards show seemed to drag on because we were all just watching a screen within a screen. The celebrities often looked bored while quarantined alone in their hotel rooms (Al Pacino basically fell asleep). And then there were times they had the celebrities, via screens, make small talk before their categories were called, leading to awkward chit-chat and stars being unsure if they were on camera or not. Dan Levy summed it up best when he shouted into the void, "Are we on??"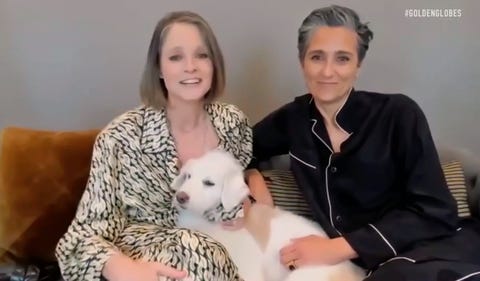 Jodie Foster thanked Aaron Rodgers.
Yes, THAT Aaron Rodgers. Don't get us wrong here, we love everything about this Jodie moment from the puppy to the pajamas. But Foster made us all furiously Google when she thanked the football player during her acceptance speech for Best Actress in a Supporting Role for The Mauritanian. (Turns out, her co-star, Shailene Woodley, is engaged to the athlete, so this was either a subtle joke or a sincere congrats?)
This content is created and maintained by a third party, and imported onto this page to help users provide their email addresses. You may be able to find more information about this and similar content at piano.io