The 'Who Killed Sara?' Cast: Your Complete Guide
Get to know Sara, Alex, and the Lazcanos.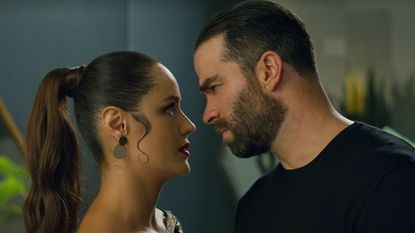 (Image credit: Netflix)
Netflix is known for its engrossing crime dramas that center on sex, power and investigations. The streamer's latest hit Who Killed Sara?, a.k.a. ¿Quién mató a Sara?, delivers all that and more through as we watch ex-convict Alex Guzman dig up dirt on the powerful Lazcano family, who were involved in his sister Sara's mysterious death 18 years ago. Alex was wrongfully imprisoned for Sara's death from a parasailing accident, and he believes that one of the Lazcanos killed her. In addition to a gripping plot, Who Killed Sara? boasts a cast that may be familiar to avid viewers of Mexican soap operas and telenovelas. For those of us who are seeing most of these actors for the first time, here's your guide to the excellent cast.
1/13
Manolo Cardona as Alex
Ex-convict Alex Guzman is released from prison after serving 18 years for his sister Sara's death. Alex didn't kill Sara; he was convicted for the homicide after Sara's boyfriend's father convinced him to take the fall. Now free after his wrongful imprisonment, Alex is going after the powerful family he believes is responsible for Sara's death.
Cardona is a Colombian actor who rose to fame through prominent roles in the soap opera ¿Por qué Diablos? and the biographical drama Rubirosa. He also played Eduardo Sandoval in the first two seasons of the Netflix thriller Narcos. But his IMDb isn't all drama roles; he also starred the Disney film Beverly Hills Chihuahua.
2/13
Ximena Lamadrid as Sara
Sara appears in frequent flashbacks about the circumstances leading up to her death. She was dating Rodolfo Lazcano and was pregnant with his child when she died. In her time hanging around the Lazcanos, she learned many of their secrets, so there are plenty of suspects for her murder.
Lamadrid is a Mexican actress who appeared in small film roles before Who Killed Sara?. Last year she appeared in the Sofia Coppola film On the Rocks on Apple TV+.
3/13
Ginés García Millán as César
César is the powerful patriarch of the Lazcano family. He's a mogul who owns a casino in Mexico City and is respected in the city. He's also an adulterer with a lot of secrets and a reputation to uphold. When Sara's death threatened his family, he threatened Alex to force him to take the fall.
Millán is a Spanish actor who has worked in TV, film, and theater. He recently appeared in another Netflix crime drama, White Lines, and the Amazon historical drama El Cid. Before his acting career, Millán was a professional soccer player, playing for the clubs Valladolid Juvenil and Promesas.
4/13
Carolina Miranda as Elisa
Elisa is the youngest of the Lazcano siblings; she just arrived back in Mexico City from studying abroad. She's been kept in the dark about Sara's death, and she teams up with Alex to discover the truth about her family.
Miranda is a Mexican actress known for her roles in telenovelas including Los Rey and Las Bravo. In 2017 she won a Produ "Revelation Actress" award for her role in Señora Acero.
5/13
Alejandro Nones as Rodolfo
Rodolfo is the presumed heir to the Lazcano family business and lives with his wife Sofía and his stepson Bruno. He was also Sara's boyfriend, and is still shaken from her death 18 years ago. At the start of the show he's Alex's prime suspect for Sara's murder.
Nones is a Venezuelan actor and model best known for his roles in the telenovelas Corona de Lágrimas and Pasión y Poder. He also competed on the fifth season of Mexico's version of Dancing with the Stars, Mira quién baila, in 2017.
6/13
Eugenio Siller as Chema
José María, a.k.a. Chema, is the last of the three Lazcano siblings. He lives with his partner, Lorenzo, and they're searching for a surrogate to have a baby. He has a contentious relationship with his parents, who haven't accepted his sexuality. He was also on the boat when Sara died, and has secret videotapes of the lake trip.
A multi-talented star, Siller has acted in many hit series in Mexico, including the soap operas Al Diablo con los Guapos and Mi Pecado. In 2014 he co-starred in Reina de Corazones and also co-wrote and sang its theme song, "Te Esperare." He also appeared in the reality show Los 5 Magnificos, where contestants had to perform circus-type acrobatics.
7/13
Claudia Ramírez as Mariana
Mariana is the matriarch of the Lazcano family and the devoted wife of César. She will do anything to protect her family, and throughout the show we learn the extent to which that's true.
Ramírez is a Mexican actress with a decades-long career, most well-known for her roles in the long-running show Sexo y otros secretos and the 2001 film Streeters.
8/13
Juan Carlos Remolina as Sergio
Sergio is Cezar's business partner and right-hand man, working with him in both his legitimate business and seedier matters. Sara discovers one of his secrets shortly before the lake weekend, one that would ruin his reputation. He was also present at the lake weekend.
Remolina is a Mexican actor with more than 34 years of experience, according to his IMDb page. He's best known for his role in the HBO Latin America original series Sr. Ávila, which won an International Emmy Award in 2017. He was also a founder of the National Theatre Company of Mexico (Compañía Nacional de Teatro), according to his IMDb.
9/13
Héctor Jiménez as Elroy
Elroy has worked for the elder Lazcanos for years, both in their casino and as a general assistant. The Lazcanos took him in as a child after he was orphaned. Elroy was on the boat at the time of Sara's accident.

Jiménez is a Mexican actor with a prolific film career. He's most well-known in America for his co-starring role in the Jack Black comedy Nacho Libre. Who Killed Sara? is his second TV series, after a starring role in the action show Run Coyote Run.
10/13
Ana Lucía Domínguez as Sofia
Sofia is Rodolfo's wife and mother to Bruno. She's trying to get pregnant with her first child with Rodolfo while parenting the troubled Bruno. Eventually we learn she has her own secrets, which shake the foundation of her marraige.
Domínguez is a Colombian actress who's starred in multiple soap operas and telenovelas. She co-starred in Señora Acero alongside Carolina Miranda. She has also co-starred in multiple shows with her husband, actor Jorge Cardenas.
11/13
Luis Roberto Guzmán as Lorenzo
Lorenzo is Chema's devoted partner. He's enthusiastic about starting a family with Chema, but he's also wary of Chema's family. He doesn't know about Chema's secret videotapes of the lake weekend.
Guzmán is a Puerto Rican actor best known for his title role in the Mexican series El Pantera. Also, according to his IMDb, he auditioned for the music group Menudo and didn't make it. though he's friends with several former members.
12/13
Fátima Molina as Clara
Clara's a childhood friend of Chema who re-appears in his life as he and Lorenzo are searching for a surrogate. Though she's happy to be their surrogate, everything isn't smooth sailing, thanks to the elder Lazcanos' disapproval and her jealous ex who won't let go.
Molina is a Mexican actress and singer. She's most well-known for appearing in the Telemundo series La Doña, and starring in the drama series Tres Milagros.
13/13
Leo Deluglio as Alex Joven (Young Alex)
Who Killed Sara? includes multiple flashbacks where we see the lead up to and the aftermath of Sara's death. Back then, Alex was working as a personal trainer for Rodolfo; in fact, his job is where Sara and Rodolfo meet. His friendship with Rodolfo and Chema gets him an invite on the ill-fated lake trip.
Deluglio is an Argentinian actor known for his multi-season role as Diego Padilla in the Telemundo soap opera La Doña.
Contributing Culture Editor
Quinci LeGardye is a Contributing Culture Editor who covers TV, movies, Korean entertainment, books, and pop culture. When she isn't writing or checking Twitter, she's probably watching the latest K-drama or giving a concert performance in her car.