Your Weekly Tarot Reading
Here's what's in the cards for you the week of May 2.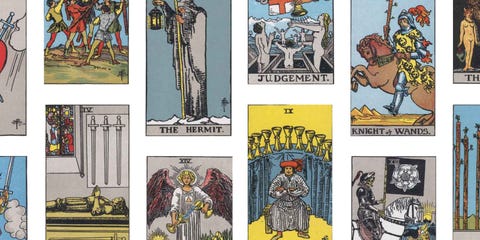 In this horoscope-filled world, we decided to do something a little different: Tarot card readings for the masses. Here you'll find a card drawn and interpreted just for you, based on your zodiac sign—and fair warning: This stuff is creepy-accurate.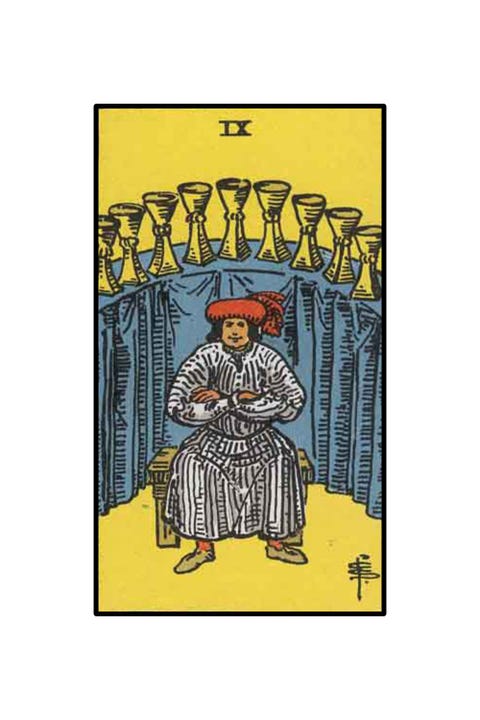 Aries, you have done it again. The Nine of Cups is yours for a second time: You are a powerhouse of wish fulfillment. Welcome May's fresh and glorious start. Work feels playful. Your co-workers are particularly cooperative. Romantically, unexpected gifts are showered upon you from an unexpected person. Friday's new moon provides an amazing opportunity to try something new. Embrace adventure this weekend. Take the helm of a sailboat. Try off-roading. Attempt an activity that will make your blood race. You'll dominate, as always. Let's face it: you pretty much always get your way. But here's the rub. Are you focused on the present or does impatience obscure satisfaction? Are you smelling spring flowers or are you hyper focused on summer objectives? Are you enjoying the warm body lying next to you or is it another conquest to be checked off? It is not worth visiting Paris if you aren't really there. Obsessing over the future renders the present invisible. Your gifts and talents make the incredible possible. Focus your time and attention on everything you have worked so hard for.
Tarot Tip of the Week: Your wish is granted.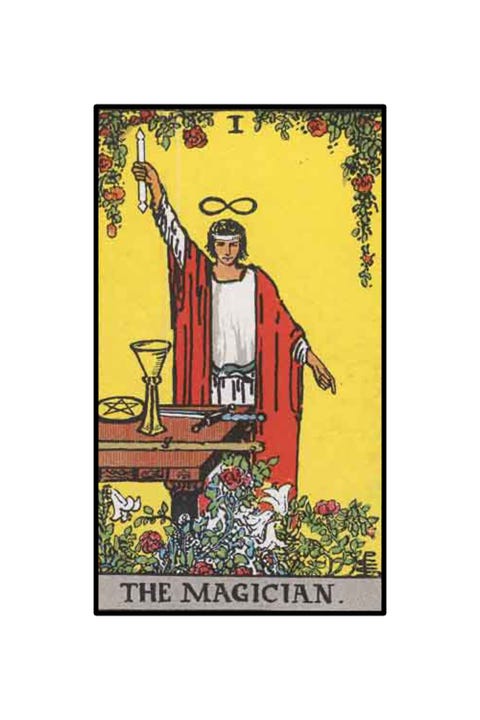 Dear Taurus, your birthday season was extra good to you this year. You deserved every last second of it. The Magician is your card of the week. May begins with you dripping charm and charisma like your Taurus sister Gigi Hadid. Take center stage in all areas. Your living situation requires fine-tuning. Speak to your landlord, conference with your roomies, or call in landscapers. Let them know what needs to be done. They will listen. Take the same approach in your love life. State your needs. Articulate your desires. If someone is bringing you down, if they choose to wallow, let them. It's their choice, not yours. Don't let someone else punish you with their decisions. Go your own way. You deserve a good time. You've earned it. On the work front, your wattage has been turned way up. Expect to be singled out and recognized. State your limits ahead of time to avoid being assigned extra work. Consider the fresh shiny year stretching in front of you—it's as full of possibility as Friday's new moon. Make a wish. Watch it come true.
Tarot Tip of the Week: As you wish, it is done.
Gemini: Three of Pentacles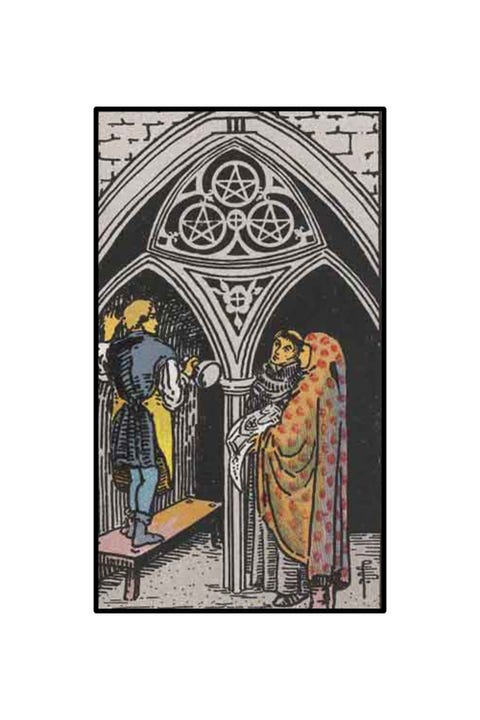 Gemini, the Three of Pentacles, the card of collaboration, is your card of the week. It is time to call in the experts. Receive estimates. Take advice where offered. Get a makeover and lesson at your favorite beauty counter. Throw yourself into collaborative projects. Take meetings. Listen to the ideas of others like it is the first time you've heard them. Then, throw your genius into the mix. Superstar Prince was a Gemini who thrived on creative collaboration. Honor his memory by mentoring a protégé. The best part of collaboration? You can allow the energy and enthusiasm of others to inspire. You'll arrive at places you never would have found on your own. Friday's new moon provides a blank slate opportunity—it's an especially powerful time to work on long-term project: anything from home improvements to fertility treatments. The darkness of the moon is an opportunity to look inward. Where does your talent lie? What single thing do you want the most of all? Make a solemn, pinky swear to yourself that you will make it happen. Because you will.

Tarot Tip of the Week: Collaboration is key.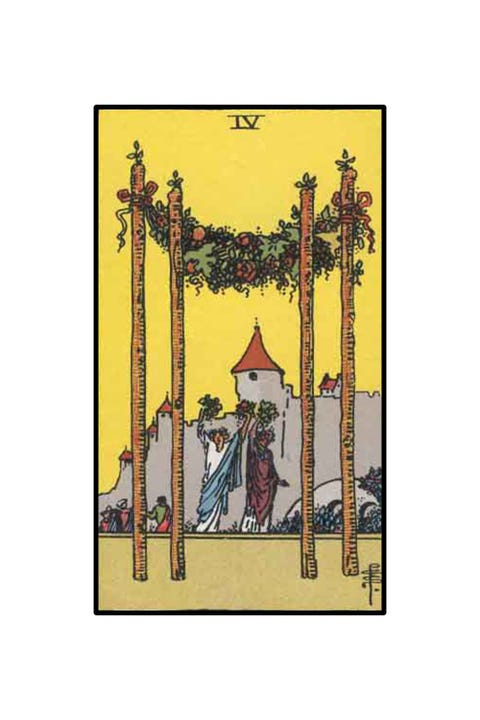 Cancer, the Four of Wands is your card of the week. A literal May Day celebration dances across the Tarot card. That means it is time to party! Your week begins with a bang. Treat Monday as if it's Saturday. May Day (May 1st) history is rooted in ancient festivals of rebirth. What is reborn for you? What fresh, new ideas are percolating in your lovely head? Get them out and on paper or on the computer screen. Let them live and breath. The energy of the universe supports you. Throw pessimism to the wayside. Fours in Tarot represent a solid foundation—like a cube or square with quadruple sides. Enjoy the structure you've created. You have what you need. Friday's new moon and dark sky mean that you can act like no one is looking. Be greedy. Be selfish. Put your needs first. Then enjoy paying them back. Double indulge your partner. Give them something they'll remember for days to come. As this week sides into next, you'll receive knowing smiles and tasty memories
Tarot Tip of the Week: Time to celebrate.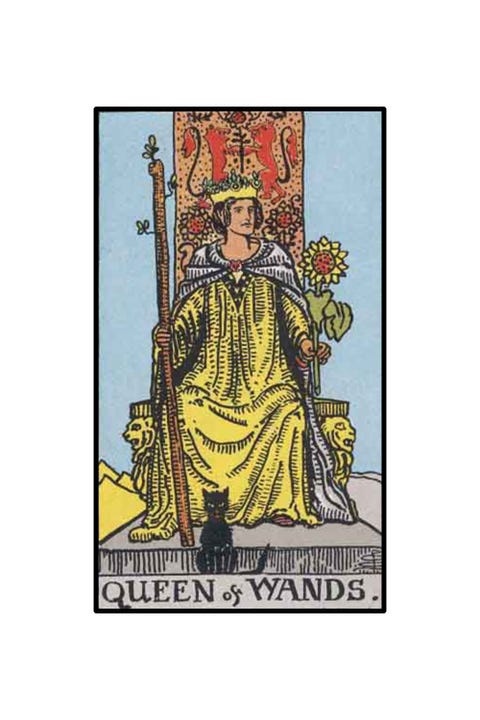 Darling Leo, welcome to your sweet spot. The Queen of Wands is your card of the week. Think of her as the Samantha from Sex in the City card. She's the charismatic queen of fire—everyone around you adores, worships, and applauds you. Those with careers in the arts and sciences enjoy extra recognition. Ready for that well-deserved raise? At work, ask for what you need. Hunting for work? Your opportunity is right there. Personal action is rewarded with immediate results. All moves are met with opportunity. Avoid procrastination and get the word out. Advertise for that roommate. Finish the proposal. Let someone know you are crushing on them hard. Tell your partner what you need. Better yet, skip the words and just show them what you want. Get ready to receive. This is the universe responding to your call. The black cat on the card implies loyalty and feminine prowess. You can trust your inner circle. Spend extra time in blood pumping situations. Hit the sauna. Try Bikram yoga. Power up and radiate out.
Tarot Tip of the Week: Your charisma shines bright.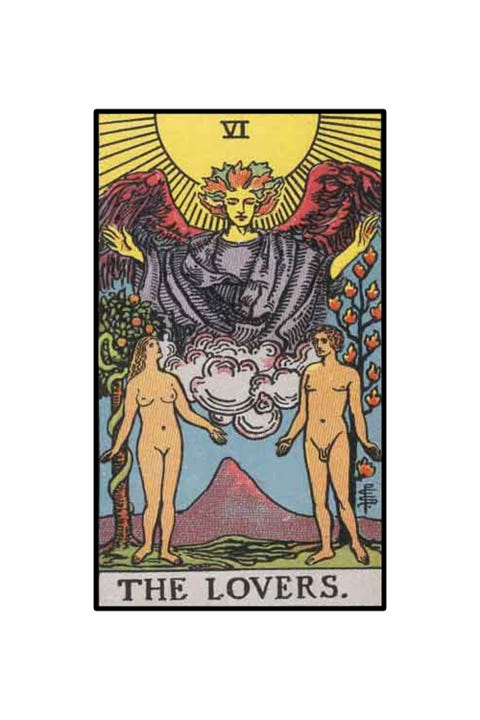 Virgo, toss your best made plans to the wayside this week. You got the Lovers card—a delightful shake up in your neatly planned and organized life. If you schedule anything, make it an afternoon indulgence. While you are the more modest of the zodiac, it's okay to embrace vulnerability in your love life. Swap practicality with passion. The Lovers card also implies an important choice. Remember that every action, even inaction, holds consequence. The present choices you are making should support the future you desire. If something is not serving your higher good, choose to let it go. How can you tell if a choice is in your best interest? Weight the pros and cons. Envision where you want to be. And don't second-guess the choices you've made in the past. It does not serve you.
Tarot Tip of the Week: Let passion fill you.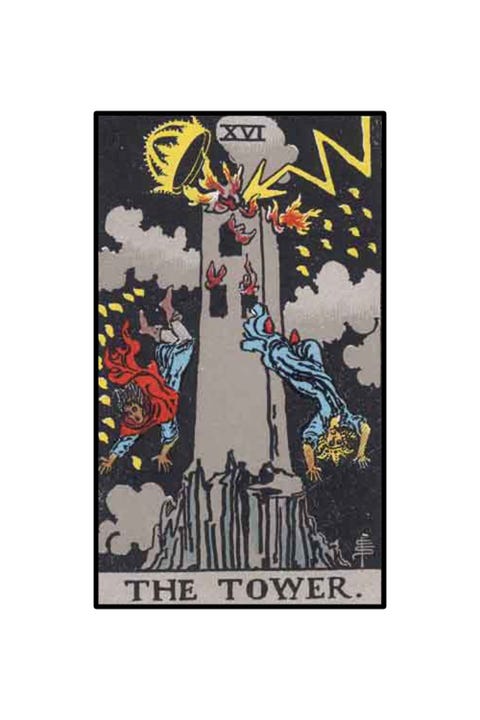 Heads up, Libra. The Tower is your card, representing upheaval. Expect a little craziness this week. An unhealthy friendship ends in a squabble. Denied truth emerges with a family member. An explosive situation reveals vulnerability. But the turmoil acts as realignment for things that weren't working well to begin with. Welcome all changes. Sometimes, wish fulfillment, our dream job offer, or a new love, causes tumult. The employment opportunity of a lifetime arrives—but they want you to relocate to Tokyo. You fall madly in love—but with your best friend's ex-boyfriend. It's fascinating to see what unexpected ramifications our dreams hold when they are granted. You make compelling choices when your calm and loving energy is challenged by resistance. This week's shake up moves you in surprising directions. The extra activity makes for a rapid-fire week. Friday's new moon brings the opportunity for renewed balance and restoration. Treat yourself to something nice. You've earned an indulgence. Hunt for sapphire, diamonds, and emeralds when jewelry shopping. Jewel-toned jade green and blue-colored clothing support your inner glow.
Tarot Tip of the Week: Upheaval provokes needed change.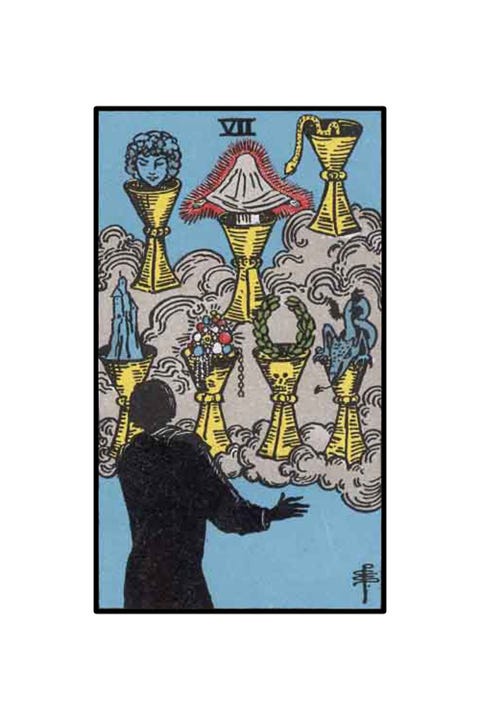 Opportunities await this week for you, Scorpio. The Seven of Cups reflects dreaming and fantasy. Something you've always wanted hangs before you. Dreams are the gateway to the possible. Imagined scenarios are easy to reach for when you recognize them. If life were a buffet table, what would temp you? What are you hungry for? Success? Travel? Romance? Wealth? All of these options are at your fingertips. Selection, though, is key. Laser focus on what you want and it will be yours. Romantically, Friday's new moon provides the opportunity to wipe the slate clean and begin again. The new moon is dark and Scorpios thrive in dim, hidden places. Bring someone into your darkness and reveal yourself to them. Scorpio, you stand at the halfway point of your birth year. Look across the calendar: There's Halloween, six months away, temping you with tricks, treats, and mystery. Work with Mars retrograde—not against it—as May begins. Do so by taking stock, reflecting on the past, and reassessing your current position. You've made leaps and bounds. So what next?
Tarot Tip of the Week: If you can dream it you can make it happen.
Sagittarius: Page of Wands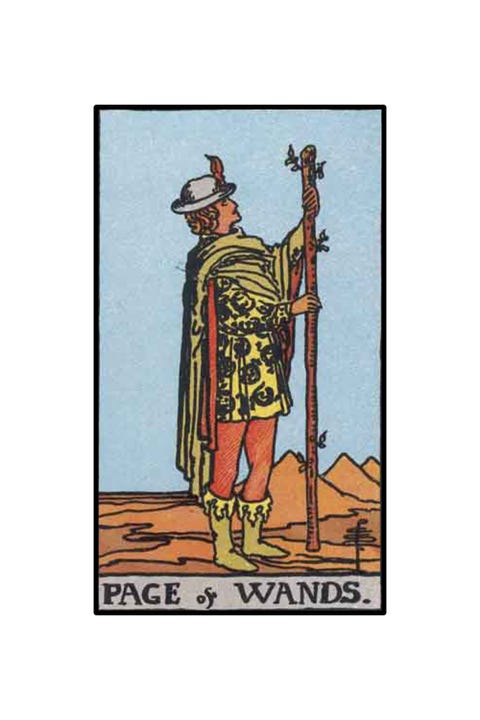 May brings you a playful energy, so delight your inner child. Engage in activities that feel like play. The Page of Wands is the incessant traveler of the Tarot. Plan a trip. Visit an amusement park. Go someplace fun. Purchase a whimsical item for your home. Hang a disco ball in the living room. Spend time with little ones in your life. You solve challenges at work by finding playful solutions. Offer prizes (for yourself or others) when goals and objectives are met. Wands are the suit of passion so romantic role-play results in delightfully unexpected results. Set limits and then test them. Find your parter's edge. Let them lead you to yours. Create a safe word for outside the bedroom. Reserve the word for escalating arguments and bickering too. When needed, state the word and give yourself a time out before you say something that can't be taken back. Friday's new moon offers a fresh slate. This is a great opportunity to resume with an old acquaintance or hobby. You'll enjoy picking up where you left off.
Tarot Tip of the Week: Play, play, play.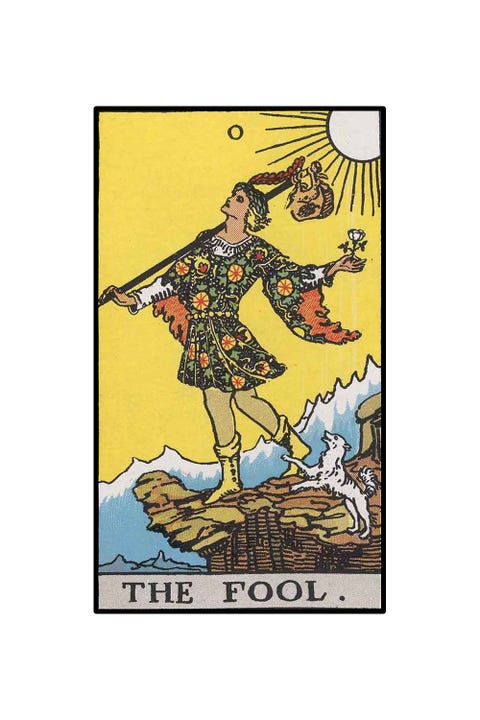 Go for it Capricorn! This is your golden shining month—the moment you have been waiting for. Jump. Leap. Fly. The universe has placed your ducks in a row. Respond with action. Show the world what you are made of. The Fool begs you to hold your head high and take a risk. Romantically, put yourself out on a limb. Failure is impossible because you already have a solid support system. You know you are loved. Release fear of rejection. Suppress your ego and tell someone how you really feel about them. Offering love and affection is never a bad thing. The world needs all the love you can give it. Additionally, the expression of deeply held feelings leaves the bearer feeling lighter, no matter the outcome.
Animal relationships assume extra importance. As May kicks off, shower pets with extra love. Consider adopting a warm and fuzzy friend—you won't regret it. Acknowledge spirit and animal guides by acting on their advice and messages. Thank them by walking in gratitude this week. A weekend trip to the mountains rewards you in unexpected outcomes.
Tarot Tip of the Week: It's now or never.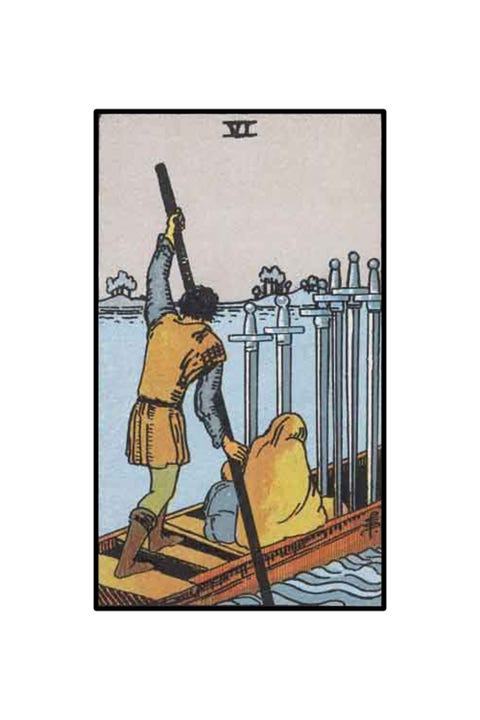 Unique Aquarius, you decorate the world with your presence and intelligence. The Six of Swords is a gateway card. This threshold offers passage toward a new reality. A door opens. Potential looms. Romantically, you are ready to leave a relationship or behavior behind you. Bring along only what is needed. Leave the extraneous. You only have room for the things that count. You have glimpsed the distant shore—it's indeed as good as it looks. Relocation efforts, job searches, and tying up lose ends meet with success. "Moving" energy courses through the Six of Swords. Scan real estate listings and make your plans. You will find arrangements falling into place quickly. This is a sign you have made the right decision. Co-workers and colleagues sometimes misinterpret your intense focus as detachment. Reassure those around you that their efforts count. Acknowledge your supporters when you are recognized for outstanding work. Friday's new moon offers an opportunity to reassess your financial situation. Examine the systems you have set in place. It's an excellent time to listen to an advisor and accept financial help.
Tarot Tip of the Week: Better times lie ahead.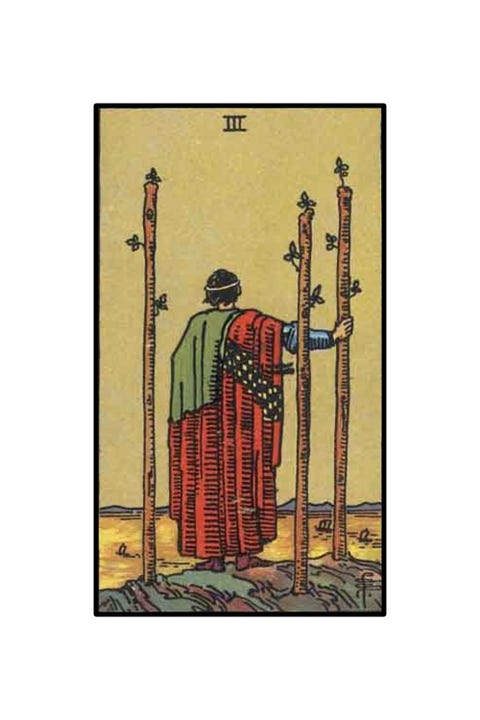 Dear Pisces, don't keep your amazing ideas under wraps. Just because you "see" it doesn't mean the rest of us do. Put your thoughts on display. Be clear in your expression. May's fresh start fills you with energy—it cascades through you. Freelance and entrepreneurial Pisces, take advantage by improving your online presence. Revamp your website, refresh your blog, and tweak your marketing. Reach out for support and inspiration. Collaborating with others will propel you quickly. Partnerships are key and funding is imminent. Don't be the backseat driver. Take the wheel in all areas of your career. Friday's new moon sets the stage for romantic exploration. Allow passion to take the front seat. Overcome hesitation. Try something daring. Experiment. Sample something new. Move outside your comfort zone. Lose yourself in order to find yourself. Do this with or without a partner. Passion colors all things, not just romance. Live romantically in every area of your life. Flirt with success. Temp your own genius. Fan the flames of excitement so they ignite every engine inside you.
Tarot Tip of the Week: Set the wheels in motion.
This content is created and maintained by a third party, and imported onto this page to help users provide their email addresses. You may be able to find more information about this and similar content at piano.io