39 Totally Free Gift Ideas
You're welcome.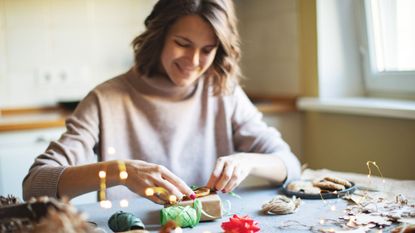 (Image credit: Getty Images ¦ yulkapopkova)
With all the gifting that comes with the holiday season, your bank account is probably in need of some out-of-the-box ideas that don't involve more shopping. Besides, creating gifts for the ones that matter most always gets a better reaction than say, that seriously expensive gift you splurged on at the last minute that you hoped they would like. (I'm still in mourning over making this mistake last holiday season.) Ahead, 39 thoughtful ways to show someone you care that won't require spending any cash at all. Promise.
1/38
A Year's Worth of Outings
Grab twelve envelopes, and in each one slip a piece of paper with plans for a free date/outing you can do together that month. At the start of each month in the new year, have your friend open up the envelope to see what fun lies ahead for you two.
2/38
Visit a Museum Together
Contrary to popular belief, plenty of museums are waiting for you to explore their galleries for free. A quick search on the interweb will give you lists on lists of places open for free to the public in your area. Feel free to check out the paying ones, too; sometimes they offer free days, thanks to funding from their sponsors.
3/38
Put Together a Time Capsule
Grab a box with a lock, or at least a lid, and place in it fun memories from this year or years past, like popular clothing items, photos, tickets, or anything sentimental to the both of you. When done, make sure you write on top for them not to open until a specific date.
4/38
Go Look at Holiday Lights
Weather permitting, check out some of the festive holiday lights in your town. It's not only free and super festive, but a great way to get some fresh air. If you're feeling luxurious, you might want to pick up some hot cocoa.
5/38
Do Something Nice In Their Name
Clean up trash on the beach, donate to their favorite charity, serve meals in a soup kitchen, or give blood in their name. It's not the most glamorous gift, but it's definitely the most thoughtful.
6/38
Make A Tell-Me Notebook
Have a blank spiral notebook lying around? Fill it with questions you've always wanted to know about them, like what their first house was like or their favorite childhood memory, and ask them to write it down for you. We recommend writing a question every two to three pages to give them plenty of room to write.
7/38
Create a Board Game
Take your family's favorite game and put some new spins on it. Whether that's replacing the Guess Who characters with your favorite celebrities or creating Cards Against Humanity cards that fit your family's vibe, game night quickly become the family activity you don't want to miss.
8/38
Make Your Own Personalized Coupon Book
The best kind of love language? Helping people. Whether that's offering to do errands or chores for them or just sit around and listen, helping out your loved ones feels good. So grab some notecards and a binder ring and fill out the slips of papers with small tasks you can do to help your friend out. Don't forget the expiration date!
9/38
Go On a Picnic
Nothing feels freer (and is more free) than enjoying the great outdoors. Tell your friend you'll organize an outing at your favorite park with a blanket, homemade snacks, and maybe a game or two to play on your picnic. Don't forget to make a playlist for the outing to make it a little bit more special.
10/38
Do a Book Exchange
Ever heard of the saying, "The best gift you can give someone is a book"? If not, consider this your gift-giving lesson of the day. Grab your favorite book (okay, maybe not your very favorite), or a book you really enjoyed, and exchange it with one from your friend's collection. You'll both get an idea of what genres you enjoy, and maybe next year you can buy them a new one as a low-budget upgrade.
11/38
Package Holiday Ingredients in a Jar
When you're not exactly skilled in the cooking department, or just don't have the time to whip up treats for Christmas, you can package some surplus ingredients into a giftable treat jar. Consider giving a mason jar filled with hot chocolate ingredients, a pretty five-bean soup mix, or oatmeal.
12/38
Gift All Your Free Samples
So you know how you add all those free samples to all your Sephora orders, and then they just end up sitting in the bottom of a drawer? Give the gift of new beauty items by putting them all in a cute little bag and giving them to your beauty-savvy friend. Friends, siblings, and family members who travel a lot can pop them in their makeup bag for easy, portable use on their trips.
13/38
Give the Perfect Piece of Jewelry
Obviously, this comes with the caveat that no one likes feeling like they're getting leftovers/hand-me-downs. But there's a really nice way to gift someone a piece of jewelry that you don't wear and they will. Pick something new or tarnish-free from your collection, stick it in a nice jewelry box, and explain how you should have just bought it for them in the first place.
14/38
Make a Bouquet
I mean, who doesn't love getting flowers? If you have a garden or a flowerbed, fantastic. If you have a great neighbor with one and they owe you a favor, great. If you have a local flower store that might sell you a few stems on the cheap, great (technically not free, but not pricey either). Just make sure, if you happen to be walking through a park and snap off a few buds, that you're not breaking the law or making the local warden mad.
15/38
Coordinate the Perfect Photoshoot
Listen, you already take pictures of your friends anyways, so why not make it easy on them? Set up a space with a lot of light, do their makeup, lend them your clothes that they're always borrowing (more on that in the next slide), and take a million pics for their 'Gram grid. This is especially useful if your friend hates taking pics of themselves or wants to update their social media content.
16/38
Let Them Have That Thing They Always Borrow
Same caveat here about gifting your old stuff, but if your friend or family member is always "borrowing" a tee from you (read: stealing and wearing, 24/7), just complete the transition formally and give it to them. It'll be the perfect inside joke between the two of you for the next 47 times they wear it, and now they no longer need to ask your permission!
17/38
Make a Calendar
Want to design a beautiful, custom calendar for a friend, family member, or S.O.? To get crafting, all you'll need to do is grab some extra computer paper from your printer and colored pencils. Tie it together with any leftover ribbon you have from gift-wrapping, and it'll be the perfect addition to their home as we approach the new year. (Note: If you're totally in love with the calendar in this picture and are able to spare some extra cash, we've included a link to shop below *just* in case.)
Rifle Paper Co., $26
18/38
Make a Sugar Scrub
While we wish every day was a spa day, you can give some TLC with a homemade sugar scrub. It takes under 10 minutes to make, and all it takes is two simple ingredients: granulated sugar and olive oil.
19/38
Prepare a Veggie Basket
If your well-stocked garden is your pride and joy, wrap up the literal fruits of your labor with a hand-selected basket of fresh goodies—from veggies to fruits or jams—for your foodie recipients to cook with on their own time (peas, potatoes, swiss chard, carrots, and asparagus are top picks for winter vegetable gardens, FWIW) .
20/38
Offer Flower Bulbs
Winter's a better season than ever to gift someone a budding bulb and it's an easy present for both beginners and green-thumb gurus. You can pluck them from your garden or source them for cheap from your local nursery, and the bulbs can grow anywhere in a garden where the ground is cool and the soil drains well.
21/38
Offer to House-Sit
Whether they're wrangling a puppy or taking care of a child at home, offer your sitting services by gifting them a night out on the town or a weekend away without having to book a sitter.
22/38
Personal Cleaning Services
There's no better way to show appreciation for a hard-working parent than gifting an all-over house cleaning as a little stocking stuffer with whatever else you've got up your sleeve. Especially as the holidays get more hectic, the 'rents will appreciate you letting them put their feet up a bit and relax while you take care of the cleaning.
23/38
Beauty Counter Makeover
Cosmetic counter makeovers are free and *everywhere*. In case you want to go luxe, remember that high-end cosmetic boutiques like Chanel require a reservation.
24/38
Put Together Your Own Cookbook
Does your friend or family member like to cook? Bake? Mix drinks? If so, compile recipes you love, along with any treasured family recipes. Choose themes relating to his or her life and introduce each section of the cookbook with a little personalized note. If they went to school down South, include a Southern comfort food section. Do they love Roald Dahl? There's a whole trove of Roald Dahl-themed recipes waiting for you to find them.
25/38
Make a Mixtape
Okay, so it doesn't have to be an actual mixtape (who even has a cassette player anymore?), but creating a custom playlist is a sweet gesture, especially when you choose songs that are meaningful and relevant to your relationship. Burn the playlist to a CD—yes, an actual CD—and decorate the case rather than just file-sharing the music. It's nice to have something physical to unwrap.
26/38
Food, Obviously
Yes, buying groceries costs money, but you probably have most of the ingredients you need already. Plus, cooking costs nowhere near as much money as dinner at a stuffy, expensive restaurant. Cook a romantic dinner or go full-on Martha Stewart and give baked goodies to all your friends. It's a gift everyone will appreciate.
27/38
Get Creative
Exercise your right brain and create some thoughtful art or flex your crafting muscles. Your friend probably doesn't want a cheesy art project with her initials on it, but she might appreciate a pillow cross-stitched with a quippy quote from her favorite movie, hand-painted mason jars to round out her hipster kitchen set, or a pair of hand-made earrings. Hint: Browse Etsy for inspiration!
28/38
Create a Photo Album
Give Instagram a run for its money with a good old-fashioned photo album. If you hold onto things like ticket stubs and mementos from times together, include them scrapbook-style.
29/38
Design a Scavenger Hunt
Have your S.O. relive your favorite moments together—and test their memory—by placing clues at your shared favorite spots across your city/hometown/wherever. Think: places where he or she made you laugh so hard you almost peed your pants, spot where you had your first kiss, your go-to coffee shop. Need inspiration? Think: What Would Leslie Knope Do?
30/38
Make a Movie
Make your friend a movie they'll watch for years to come. Record all your mutual friends talking about why they love that friend. Ask their parents for adorable, vintage footage from their childhood years to include. Finish it off with your own personal message.
31/38
Write It Down
A simple concept that's priceless: writing out how you feel! Write a letter, poem, short story, or maybe even a comic (time to use those art skills) about the first time you met. In the age of digital, nothing stands out more than a message that was handwritten.
32/38
Find a Free Event
Every city has no-cost cultural events. Do your research on local gatherings and you could bring your friend to a concert, museum, festival, street market, lecture, or gallery.
33/38
Framed Photograph
A gift as old as time: a photo in a frame. Spice it up with a vintage one from your local charity shop. I love writing secret messages on the back of the picture for the person to find later (think of it like two gifts in one!)
34/38
Memory Jar
Find a trusty mason jar and fill it with notes of some memories you and perhaps a special someone have shared. Sometimes we can't remember everything, but it's special when someone does.
35/38
Handwritten Family Tree
Before ancestary.com, a physical drawing of your family tree was the hot item at any family reunion. Well, we're saying: BRING IT BACK! Nothing brings a family more together than reminding them of how they got together.
36/38
Netflix Night Punch Card
Always telling your friends you'll watch that one show, but never actually do? Enter the Netflix punch card. You'll watch a season or a certain amount of episodes of whatever show the other one wants to watch. Stream wisely!
37/38
Paint Chip Bookmark
This DIY from Mama Miss is the perfect little gift for every book lover. Head out to your local hardware store and find your paint chip of your choosing. If you're cool with spending a little extra, find a matching embroidery thread in the same color at your local craft store and get down to business.
38/38
Souvenir Box
Ever come home from a trip and find you have a lot of little things like restaurant matchbooks, a currency that's kinda unusable, postcards too cute to pass up? Put it to use with a Souvenir Box. Cherish all the little details of your vacation in box form. It's the little things sometimes (pun maybe intended.)
•••
For more celebrity news, beauty and fashion advice, savvy political commentary, and fascinating features, sign up for the Marie Claire newsletter.
Celebrity news, beauty, fashion advice, and fascinating features, delivered straight to your inbox!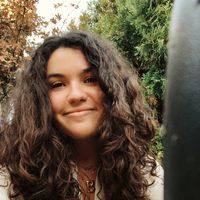 Bianca Rodriguez is the Fashion & Luxury Commerce Manager at Hearst Magazines, covering fashion, beauty, and more for Cosmopolitan, Elle, Esquire, Harper's BAZAAR, and Town & Country. She likes lounging about with a good book and thinks a closet without platform sneakers is a travesty.