'Downton Abbey' Star Joanne Froggatt Takes Us Behind the Scenes
Anna gives us the scoop just in time for the season finale.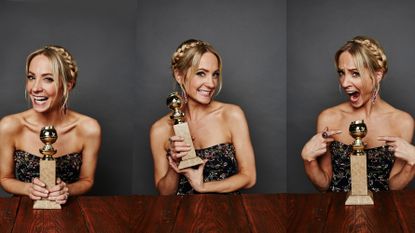 (Image credit: Archives)
I will bet my paycheck (okay maybe just $5) that you have fantasized about setting foot in Downton Abbey's famed Highclere Castle, the gorgeous real-life estate—with real people still living in it—that the show is built around. Or maybe you've dreamt about wearing the amazing clothes, or about hearing the prim-and-proper cast let it fly when the cameras aren't rolling.
It's because Downton Abbey, with all its visual richness and dramatic plot lines and across-the-pond allure, is one of the most mythic shows of our time. Fans cannot get enough. I know because I am one of you.
So what is it like behind the scenes? On a recent Friday afternoon, I chatted with British star Joanne Froggatt, who plays beloved lady's maid Anna Bates, to find out. She's one of my favorite characters on the show—pure of heart but always finding herself in the thick of the action—and has sprung to the foreground with impressive performance after impressive performance. Last season her character endured a brutal rape, and Froggatt's portrayal of the stunned, pained, complex fallout earned her a Golden Globe at this year's awards. "Playing this role brought it home to me that this sort of thing happens—a lot," she says of the timely plot point, which has resonated deeply with fans. "I received so many letters from women sharing their own experiences."
Sparing you any spoilers, Froggatt's season 5 storyline manages to be its most gripping yet. And as someone who personifies the trusted eyes and ears of Downton, who better to give us the inside scoop?
Here's what she told me:
That's not the real downstairs
"The real downstairs at Highclere is very modernized; the downstairs you see on the show is on a soundstage. All the downstairs rooms—the kitchen, the servants hall, that's one big set. Now we really only use the house for the main rooms, like the large dining room and the main hall."
Actually, lots of what you see is a replica
"Our design team is incredible. Just so good it's mind-blowing. There's a fire at the beginning of season 5 at the house, but because of the risk of smoke damage, they had to build a set of Edith's bedroom where the fire was and the corridor outside. It was so strange shooting those scenes because it was exactly like Highclere. I forgot I wasn't there! It was weird."
They're wearing authentic undergarments under those dresses
"In the first few seasons, we had to wear corsets under our dresses to get the correct shape under the clothing. Putting the corset on makes you feel very different—it helped me get into character."
Hair and makeup is pretty unforgiving for the downstairs crowd
"I don't really wear any makeup on the show—foundation and that's it. No mascara. In my real life, I would never, ever leave the house without mascara. I don't go to the gym without mascara. Sometimes they do give me a tiny little bit of blush though—we had to add some during a scene where I was sleeping because I'm very pale and they were worried I looked dead!"
Not even the cast knows if this will be the last season
"There are always rumors! The truth is we have no idea—we're just taking it season by season now. We started with a three-season deal, then we got asked to do another two, then one more, and now we're just going to see how it goes."
The season finale of Downton Abbey airs on Sunday, March 1 at 9 p.m. EST on PBS. Wanna watch together?
You should also check out:
'Downton Abbey's Joanne Froggatt Delivers a Moving Message to Rape Survivors in Her Golden Globes Acceptance Speech
Nooooo: 'Downton Abbey' Might End This Year
'Downton Abbey' Star Allen Leech Addresses the Possibility of a Mary/Branson Romance
Marie Claire email subscribers get intel on fashion and beauty trends, hot-off-the-press celebrity news, and more. Sign up here.
As the editor of Cosmopolitan, Jess oversees the editorial for all of Cosmo's efforts across print, digital, video, and emerging platforms. Previously she served as the digital director of Marie Claire, where she tripled the readership, and she's held print and hybrid posts at Glamour and Teen Vogue. In 2013 she launched an interactive e-commerce platform for a fashion-tech startup, and in a former life she was a ballet dancer and NYU film student. She lives in Manhattan with her scruffy dog George.