Celebrities and Politicians Pay Tribute to Martin Luther King, Jr. on Social Media
#IHaveADream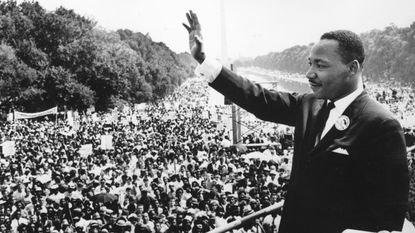 (Image credit: Archives)
It has been nearly 50 years since the death of Martin Luther King, Jr., but his inspiring example and powerful words are as impactful and important now as ever. In recognition of MLK Day, celebrities and politicians have taken to their Twitter and Instagram accounts to honor the iconic civil rights leader's life and legacy.
"Dr. King taught us to recognize the dignity and worth of every human being," tweeted congressman John Lewis. "He was the moral compass of our nation. #IHaveADream (opens in new tab)"
Michelle Obama included a shout-out of support for Congressman Lewis in her MLK Day note, writing, "Thinking of Dr. King and great leaders like @repjohnlewis (opens in new tab) who carry on his legacy. May their example be our call to action."
President-elect Donald Trump, too, shared a message on Twitter: "Celebrate Martin Luther King Day and all of the many wonderful things that he stood for. Honor him for being the great man that he was!"
While Bernie Sanders attached a call to action to his MLK tribute, reminding politicians that it is not enough to simply tweet nice things about Dr. King on his namesake holiday—if you truly believe in what he stood for, you must take action and carry out his vision.
Many celebrities also took to their social media platforms to salute King and share their favorite photos and quotes.
Zendaya posted a video on Instagram in which she visits the spot in Washington D.C. where King delivered his famous "I Have a Dream" speech at the Civil Rights March in 1963.
Alicia Keys shared the song "Why? (The King of Love Is Dead)" by Nina Simone, which was written as a tribute to King. Keys wrote: "Why?"was written for MLK &it beautifully honors his life's work. Today more than ever I share the sentiment #MLKDAY (opens in new tab)"
We even saw a collaborative homage of sorts take place on Twitter. Fifteen stars—starting with Chance the Rapper and continuing with such prominent names as Kerry Washington, Oprah Winfrey, Jennifer Lopez and Lady Gaga—came together to each tweet a line from "I Have a Dream."
Scroll down to see more messages and tributes to Martin Luther King, Jr.
I am an experienced editor, writer, and creative strategist, specializing in fashion, beauty, and lifestyle content for digital media outlets, as well as video and social platforms. While I currently operate as a freelance contributor/consultant, with such clients as The Zoe Report, my 10+-year background in the industry was cultivated at the dot-coms of elite publications, including Harper's BAZAAR, ELLE, and Marie Claire.