4 Erotic Novelists on What Exactly Makes 'Fifty Shades' Sex Scenes So Over-the-Top Steamy
And how you can cop those secrets for your own sexy times.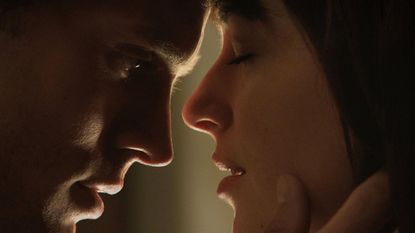 (Image credit: Alamy)
Fifty Shades Darker opens in theaters February 10th, and Christian and Ana's explosive and boundary-breaking sex scenes will once again rile up audiences all over the world.
Since imitation is the sincerest form of flattery, and we all have to start somewhere, MarieClaire.com asked four erotic novelists for insight into what makes those sex scenes tick—and how to turn fiction into fact. The five tools you'll need for amazing sex—according to author Tiffany Reisz? Tension, foreplay, emotion, creativity, and fearlessness. Let's break them down.
"You can create tension by simply holding back, even when you're turned on. Whether that means taking a break from manual stimulation and stringing kisses along their neck; or doing a sexy little striptease; or taking off one item of clothing before you go further—you can build up your arousal and add playfulness to your sex life. Basically, tension can be fostered by taking your time." —Rachel Kramer Bussel, editor of the Best Women's Erotica of the Year series
"The actual mechanics of sex are fairly simple: Tab A in Slot B (Or, Tab A in Slot A—I love Slot A). So if you want to add spice to your sex, do it with dialogue. I can still remember with crystal clarity something an ex-boyfriend whispered in my ear one night while misbehaving. Words have power. People say things during sex they could never get past their lips during any other type of interaction." —Tiffany Reisz, international bestselling author of The Original Sinners series
"Instead of simply rushing into sex, say 'I'm going to [*fill in the blank*].' You can even up the ante by saying something like, 'I'm going to lick you in your favorite spot...if you're good,' and add tension by keeping the other person on edge, hoping they're good enough to get rewarded." —Rachel Kramer Bussel
"When you're in the bedroom with someone, you're at your most vulnerable. Even if you're having wild and crazy swing-from-the-chandelier sex, you're the most exposed you'll probably ever be. Multiply and use your emotions to enhance sex. Don't hide them. If you're feeling playful, build on that with role play. Feeling aggressive? Tell your partner what you want—or what you want to do to them—in explicit detail. Then do it." —Tara Sue Me, New York Times bestselling author of The Submissive Series and Lessons from the Rack
"Vanilla simply means not kinky (i.e. no BDSM). You can get very creative with vanilla sex. Read each other erotic stories to get into the mood. Dress in costumes. Meet up separately at a bar and pretend you're total strangers. There are lots of ways to be creative—even without tying each other up. You never know if you like something until you try it, and keeping an open-mind in bed is important. But if your partner is pressuring you into pushing the limits, then things have gone too far. Establish safe and healthy limits and then play within the lines. Go outside only when you both are ready." —Tiffany Reisz
"Be confident enough to ask for what you want and let someone know what doesn't work for you. I've had readers email, telling me how they really want to try some of the things they've read in my books, but their partner doesn't even know they're reading 'that kind of stuff.' Well, one guaranteed way to experience your desires is to keep them secret from your partner. You can't know how they feel unless you bring it up. And much of the time, your mate will probably be on board. They may have even been holding back their own desires, afraid to tell you. At worst, if your fantasy is not theirs, you've had the discussion and can maybe find a compromise that flips both your switches. At the end of the day, most of us have dirty minds. Share yours with the person you're sleeping with." —Roni Loren, New York Times bestselling author of Off the Clock and Loving You Easy
Follow Marie Claire on Facebook for the latest celeb news, beauty tips, fascinating reads, livestream video, and more.