These Backstage Oscars Photos Show the Moment the Accountant Messed Up the Envelopes
Didn't your mom ever tell you not to play with your phone during red carpet events?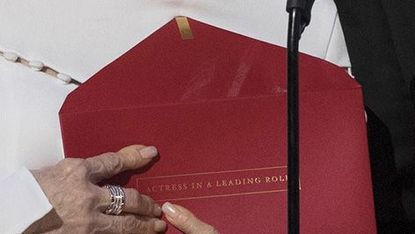 (Image credit: Archives)
Three days have passed since the unprecedented Best Picture fiasco (opens in new tab)—which singlehandedly turned the 2017 Oscars from uneventful to infamous—and we're still piecing together (opens in new tab) exactly how La La Land was erroneously announced (opens in new tab) as Best Picture instead of the night's actual winner, Moonlight.
We know that presenter Warren Beatty was handed the wrong envelope backstage—the one meant for Best Lead Actress winner Emma Stone (opens in new tab)—and that accounting firm PricewaterhouseCoopers were to blame. But the details beyond that are still fuzzy, so much so that Beatty himself is calling on the Academy president (opens in new tab) to "publicly clarify what happened as soon as possible."
Now, Variety (opens in new tab) has released new photos from backstage that show how PricewaterhouseCooper' Brian Cullinan came to make his critical error. Let's walk down this road of clusterfuckery together, shall we?
11:53 p.m. ET
Beatty hugs Best Actor winner Casey Affleck backstage (opens in new tab). Cullinan can be seen nearby, holding two red envelopes in his left hand, along with his cellphone. As Variety's story suggests, these two envelopes most likely contain the winners of the final two categories of the night: Best Actress and Best Picture.
Let's take a closer look:
One of these envelopes—notably, the wrong one—ended up in Beatty's hand.
A few minutes later...
Beatty watches the monitor backstage as the Best Actress award is presented. (Congrats, Emma Stone! (opens in new tab)) Cullinan is beside him.
12:05 a.m. ET
Cullinan tweets a now-deleted picture (opens in new tab) of Emma Stone backstage. Reports emerged after Sunday's debacle that he was asked not to tweet (opens in new tab) during the ceremony. So inevitably people think this was the moment he got distracted (you had one job, Brian!) and hey, we've all been there—just not on a stage this public.
12:12 a.m. ET
Dunaway announces that La La Land has won Best Picture. Below, she's pictured holding the wrong envelope—for Best Lead Actress, which Cullinan had handed Beatty backstage.
You know the rest. The La La Land producers made their way to the stage and were midway through their acceptance speeches when they were alerted to the error. Watch the WTF moment here:
Three-and-a-half minutes after the incorrect announcement, Cullinan appears on stage, where his colleague Martha Ruiz hands him the correct envelope. Below, La La Land producer Fred Berger (the "We lost, by the way" (opens in new tab) guy) speaks at the microphone while Cullinan confers with Ruiz and production staff.
And there you have it. PwC already confirmed (opens in new tab) in a statement Monday that Cullinan was responsible for handing Beatty the wrong envelope, and that he "feels very, very terrible and horrible" about the mistake.
Here's Cullinan and Ruiz in happier times.
The next time you're having a bad day at work, spare a kind thought for Cullinan.
Follow Marie Claire on F (opens in new tab)acebook (opens in new tab) for the latest celeb news, beauty tips, fascinating reads, livestream video, and more.
Emma Dibdin is a freelance writer based in Los Angeles who writes about culture, mental health, and true crime. She loves owls, hates cilantro, and can find the queer subtext in literally anything.