'Physical: 100' Season 2: Everything We Know
The South Korean competition series may continue its search for the "perfect physique."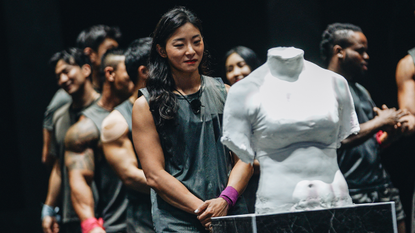 (Image credit: Courtesy of Netflix)
Netflix's survival competition show Physical: 100 has become a ca n't-miss show for fans of series like Survivor, American Ninja Warrior, and the oft-compared Squid Game. The streaming giant's original series gathers 100 super-strong people—with the roster including national athletes, bodybuilders, MMA fighters, special forces soldiers, and fitness influencers among others—to compete in various challenges to see who has the "most perfect physique." Over the course of nine engrossing episodes, all available to stream as of Feb. 21, the fitness-obsessed men and women were eliminated until only one contestant remained, walking away with 300 million won (about $245,000 USD).
Though the series first made waves for its Squid Game-esque aesthetics and the celebs among the stacked cast, Physical: 100 (opens in new tab) has also gone viral for the great sportsmanship and camaraderie among the cast. As the intense challenges push the players' bodies to their limit, their fellow contestants will cheer each other on and root for each other out of respect for everyone's abilities. Even viewers who aren't sporty at all (guilty) can be drawn in by the good vibes and constant awe for everything the players' bodies can accomplish.
Fans are already calling for a second season of this new hit series, and luckily the production team seems very up for it as well. Read on for everything we know about a potential Physical: 100 season 2.
Has 'Physical: 100' been renewed for season 2?
The final moments of the season 1 finale (opens in new tab) included a hint that the show's creative team, led by producer Jang Ho-gi (opens in new tab), have high hopes for a second season. As the show's final shots displayed the representation of season 1's "most perfect physique," in the form of a plaster bust of winner Woo Jin-yong's torso, the show's voice-from-above narrator gave this cryptic statement:
"Various physiques exist in the world. Our search for the perfect physique will continue."
Judging by ratings, the season 2 renewal is an "not if, but when" situation. Season 1 was the first unscripted show ever to hit No. 1 on Netflix's Non-English TV list, and has remained in the Top 10 for the past month. Those numbers even surpass the widely popular Korean dating show Single's Inferno, which has already been picked up for a third season (opens in new tab).
When could 'Physical: 100' season 2 come out?
Once season 2 is renewed, the Physical: 100 team could hopefully start working on a new competition very soon. They'll have to make big decisions, such as whether they'll keep the same challenges or try to make a new game to keep contestants and viewers on their toes, plus there's the casting and the actual construction of the extravagant sets. Based off the schedule for Netflix's other Korean unscripted series Single's Inferno, which took a year to return for season 2 (opens in new tab), Physical: 100 season 2 could arrive in early 2024.
Contributing Culture Editor
Quinci LeGardye is a Contributing Culture Editor who covers TV, movies, Korean entertainment, books, and pop culture. When she isn't writing or checking Twitter, she's probably watching the latest K-drama or giving a concert performance in her car.