'Queen Charlotte: A Bridgerton Story' Season 2: Will It Happen?
We'd love to see more of the young queen.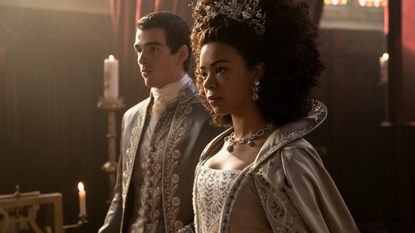 (Image credit: Liam Daniel/Netflix)
Queen Charlotte, Netflix's first-ever Bridgerton spinoff, only arrived on the streamer Thursday, but fans of the record-breaking romance franchise are already obsessed with the prequel's new look at the titular monarch's marriage to a young King George III. The spinoff follows the young fictional royals through the first months of their union, showing how a young woman from northern Germany started down her path to becoming the glamorous, formidable ruler from the flagship series.
The love story and reign of Charlotte and George could be its own multi-season series—and we'd watch actors India Amarteifio and Corey Mylchreest, who lead the cast of Queen Charlotte, in anything—but the six episodes of Queen Charlotte may be all we'll get. Here's what we know about whether the spinoff will continue.
Has 'Queen Charlotte' been renewed for a second season?
As of now, it seems that Queen Charlotte will not continue on into a second installment. The spinoff is officially a limited series, and has been referred to as such ever since the first announcement. From what we could find, there's currently no plans for a second season of the prequel.
That said, limited series have turned into longer-running shows. The White Lotus is the most well-known recent case, and became an anthology show after season 1 became an Emmy-sweeping hit. If Queen Charlotte gets amazing ratings and the cast and crew are interested, we could get a surprise renewal.
What have the cast and crew said about a possible 'Queen Charlotte' season 2?
Rhimes has hinted that she (like the show's many fans) would be up for a return to the world of Queen Charlotte if the opportunity arises.
"There have been questions, but I'm not having conversations about it yet," she said in an interview with Entertainment Weekly. "I could live with Charlotte and George forever, but we told a very specific, closed-ended story that I think is a complete tale of this complicated, imperfect love. But I'm not ruling anything out because I never know."
Several stars of the series also told EW that they'd love to return to their characters, including Amarteifio (Queen Charlotte), Arsema Thomas (Lady Danbury), Sam Clemmetts (Brimsley), and Freddie Dennis (Reynolds). The possible returns of Thomas, Clemmetts, and Dennis would be great news for fans who have questions about their lives in between the ending of the prequel and beginning of Bridgerton.
What could 'Queen Charlotte' season 2 be about?
The prequel ends with each of the characters on the paths to their futures in Bridgerton. Young Charlotte and George are happily married and set to face around 50 years of political and social happenings, including the births of another 14 children. Lady Danbury has decided that she will not be married again in her life, and seems to have stopped her flirtation with Lord Ledger. Also, Queen Charlotte's present-day storyline (which takes place between Bridgerton season 2 and the forthcoming third season) ends with one of the royal children announcing that they are expecting, meaning that George's line will continue on. The final emotional scene sees Charlotte and George celebrating the arrival of their grandchild.
Future episodes with the young Queen Charlotte characters could explore a turbulent time in Charlotte and George's marriage, with the writers maybe taking inspiration from real-life history. Fans on social media have also expressed interest in what happens to Lady Danbury next, and whether she ever continued the affair with Lord Ledger, or even resumed her flirtation with Charlotte's brother Adolphus. The biggest unanswered question from the spinoff is the fate of Reynolds, who has not showed up as the King's Man in Bridgerton or Queen Charlotte's present-day scenes. His and Brimsley's romance is enough for its own spinoff, but we'd gladly take even just another season with the couple.
Would the members of the 'Queen Charlotte' cast show up in 'Bridgerton'?
If Queen Charlotte remains a one-and-done limited series, that means that viewers likely won't see the return of the spinoff's cast, including Amarteifio, Mylchreest, Arsema Thomas as Young Lady Danbury, and Sam Clemmett as Young Brimsely. That would be a real shame, since the cast does an amazing job portraying the past of some of the most beloved Bridgerton characters. However, there is a chance that the new cast could make appearances on the Bridgerverse's flagship series.
Hear me out: Queen Charlotte gives just a brief look at the young characters' lives. There are at least 50 years of major events in both the monarchs' reign and the ton's history to explore, from young Violet Ledger's debut and eventual courtship with Edmund Bridgerton, to young Charlotte's efforts leading the Great Experiment forward. Even if the series only decided to focus on Charlotte's past, a good flashback or two would give viewers the chance to swoon over Amarteifio and Mylchreest's chemistry again.
Where can we get more 'Queen Charlotte'?
In case six episodes weren't enough to fill your Queen Charlotte fix, Bridgerton series creator Shonda Rhimes has teamed up with Julia Quinn, author of the original novel series, to co-write a book based on the show's fictional queen. The novel, also called Queen Charlotte, hits shelves on May 9, just five days after the spinoff's premiere. (If you can't even wait that long, Entertainment Weekly has an excerpt.)
Per The Hollywood Reporter, the novel will be based on the spinoff series, detailing "how the young Queen's marriage to King George sparked both a great love story and a societal shift, creating the world of the Ton inherited by the characters in Bridgerton."
"Queen Charlotte has been such a moving character to write and now having the opportunity to work with Julia to adapt this story into a book is such an exciting opportunity," Rhimes told the outlet at the time. "I can't wait for fans of this universe to read the story of a character that has resonated so deeply with our audience."
The book marks Queen Charlotte's debut into the Bridgerton book franchise, as the original show character isn't in the eight Bridgerton novels. However, if you just want to scratch your overall Bridgerverse itch before season 3 drops, those eight books are also available.
Will there be more 'Bridgerton' spinoffs?
Though no other spinoffs have been announced as of Queen Charlotte's premiere, the title postscript A Bridgerton Story hints that further expansions of the Bridgerton universe are very likely. Plus, at the time of Queen Charlotte's announcement, Netflix chief content officer Bela Bajaria shared her excitement about the future of franchise.
"Shonda [Rhimes] and her team are thoughtfully building out the Bridgerton universe so they can keep delivering for the fans with the same quality and style they love," Bajaria said at the time. "And by planning and prepping all the upcoming seasons now, we also hope to keep up a pace that will keep even the most insatiable viewers totally fulfilled."
Celebrity news, beauty, fashion advice, and fascinating features, delivered straight to your inbox!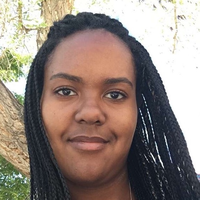 Contributing Culture Editor
Quinci LeGardye is a Contributing Culture Editor who covers TV, movies, Korean entertainment, books, and pop culture. When she isn't writing or checking Twitter, she's probably watching the latest K-drama or giving a concert performance in her car.